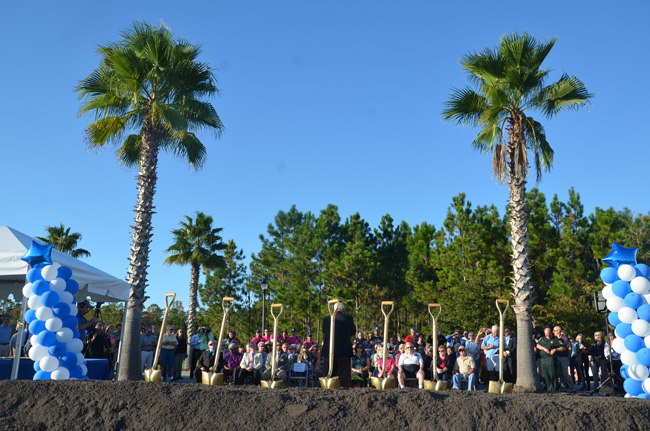 It took 15 years, and it'll be 16 before the city actually moves into its permanent home. But in the glow of a kindly sunset that seemed to take with it the bitter conflicts that had surrounded Palm Coast's tortuous march to its own city hall, the city on Wednesday broke ground on the building it can finally call its own as seven shovels turned dirt into history.
Mayor Jon Netts celebrated the occasion in words that richly threaded Palm Coast's nomadic years to Wednesday's moment. No one could see the building behind Netts as he spoke, of course: it's Town Center's empty field. But Netts, turning symbolism into masonry, made the crowd of some 150 see it anyway: "It on this site in Central Park that together we will unify as a diverse population to make our future together with pride and respect," Netts said. "It is my earnest conviction that Palm Coast City Hall will ultimately be a hub of energy for our citizens to experience confidence in their government, and where expanded commercial and social activities will be stimulated. Our new city hall will become our symbol of friendship and diversity, connecting public servants to Palm Coast, the community that we love, the place where we always count on each other in very special ways."
Netts repeatedly returned to the theme of diversity, unity and friendship as "what is most important to make our future together" and what had made the young city's past. Officials from every local government, with Flagler Beach's exception, were in the crowd, including many past Palm Coast City Council members who had more than  a hand in keeping the city hall project flickering—among them ex-Mayor Jim Canfield and ex-council members Holsey Moorman, Alan Peterson and Frank Meeker, who is now a county commissioner. All the current city council members were present.
The building's first edition will spread to a modest 32,000 square feet—a cottage, compared to, say, the mansions of Newport, R.I. It's a far cry from the 70,000-square foot structure planned by the council and a former city manager in 2005 and panned by voters, who rejected by an 82-percent margin a borrowing scheme to fund it. (Dick Kelton, the city's first manager and a Palm Coast resident, was not present.)
---
Mayor Netts threads Palm Coast's nomadic history into a permanent home symbolizing unity, diversity and energy.
---
The building is designed by Orlando's C.T. Hsu and Associates, the designers of that city's Amway Center, among other showcase projects. But Palm Coast's signature building is designed to, in the mayor's words, "portray the small-town atmosphere" of the city, and take advantage of more pastoral than urban surroundings, such as the lake and surrounding parkland on what will be the back end of the building.
Initial projections of the building's cost were put at $6.9 million. That's been lessened to $6.6 million at last count. The council pledged that the cost will not translate into higher taxes. The money is drawn mostly from the general fund, thanks to a $5.8 million "loan" the fund had made to the Town Center redevelopment agency (a sub-segment of city government), and that the agency repaid earlier this year. For the council to claim that property tax dollars will not pay for the new building is not quite right: that $5.8 million is property tax revenue. But the council is right, for now, to say that property taxes have not been raised to pay for the new structure. In subsequent years, if the council needs to raise more revenue because it doesn't have that $5.8 million cushion in its reserves, it will mean that taxes will have been raised at least in part to account for the spending on City Hall.
The cost will also be covered by about $1.2 million in building permit fees, to pay for what part of the new building will be devoted to the building department. Palm Coast taxpayers will also be saving more than a quarter of a million dollars a year that has been spent on rent at City Market Place since 2008.
In future years, the grounds have room for a $2.1 million, 8,000-square foot addition that will include meeting chambers and community meeting space. Money for that expansion is not available, so a construction date for that segment has not been set. There's room for further expansion as well. Meanwhile, even after the city moves into its new home, weekly workshops and council meetings will be held at the Palm Coast Community Center on Palm Coast Parkway (assuming the supervisor of elections, who has periodically decreed that building part of her fiefdom, doesn't leave an occupying force there).
For Palm Coast, the journey to its promised land—Palm Coast Holding donated the site as part of its Town Center development—has had something of a Sinai-travelogue theme to it since the city incorporated in 1999. Netts, who was first elected to the council in 2001 and is easily the city's longest-serving elected official, recalled how Palm Coast's administration started in a two-room office at the current Community Center, then moved to ITT's headquarters at 1 Corporate Drive—the building that became school board property and has recently been all but condemned—then to Palm Harbor shopping center (now morphing into Island Walk), occupying the space the public library used to occupy.
The administration then moved to the colossal building on Commerce Boulevard, which Palm Coast sold for $3 million to Palm Coast Data in 2008. (Palm Coast Data is getting ready to offload that building.) The city then moved into offices at City Marketplace, reviving that beleaguered strip mall as it faced in foreclosure and stretching its stay there to what will end up being half the city's life, before the move to Town Center in late 2015.
"The reality is none of these locations met the needs of a newly incorporated city government," Netts said. "None gave the city of Palm Coast a genuine heart and a home. This very first true city hall in Town Center will become a welcoming and gathering place for residents in future generations. The handsome yet modest structure can be a one-stop shopping for everything city-related."
The city is looking for its move to what will be 160 Lake Avenue–("a place for enduring traditions, memories and community spirit," in the mayor's words) to spur further development in Town Center.
Netts had a long list of acknowledgements, among them the architects, Gilbane, the Providence, R.I.-based building contractor, the administration's city hall team, past and present council members "who not only had the vision but a plan to help make today's groundbreaking a reality,"  and the public. Oddly absent from his acknowledgment was the one person who likely more than any other, council members included, ensured that the project would remain viable to its ground-breaking day in spite of at-times fierce opposition: City Manager Jim Landon.
The mayor's speech was followed by a series of ceremonial ground-breaking moments as one group after another turned dirt. For those who wanted to take a little dirt home, the city had packaged some in small glass containers—"get the dirt on Palm Coast," Superintendent Jacob Oliva quipped in a phrase School Board Chairman Andy Dance relished repeating. Several candidates for political office were present, but none politicked as crassly as a volunteer for Greg Feldman, the independent candidate for State Senate, who handed out literature right after Netts's speech.
"When people think about a city they often think about the physical infrastructure such as fire stations, parks and water plants," Netts had said in his final words. "What makes Palm Coast so special is our human infrastructure, our interactions, our diversities and our friendships. Thank you for joining us today for today's ground breaking ceremony, a truly epic moment in Palm Coast's history. Today we take the next step toward our future."