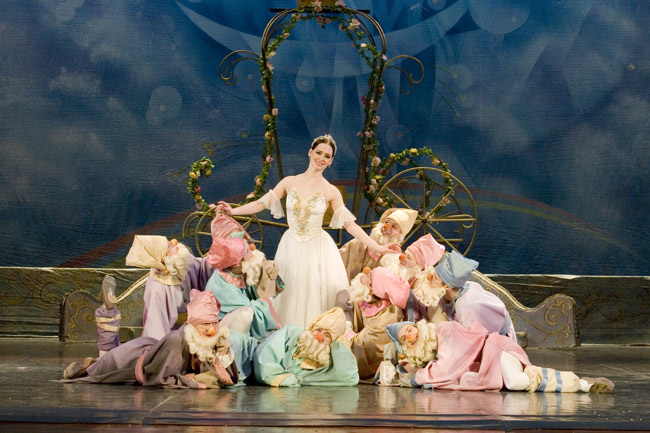 There are thousands of variants of Cinderella around the world.  The State Theater of Russia brings its own to the Flagler Auditorium Thursday evening at 7:30. The production may hail from the East, but this version of the folk tale carries all the universal themes of oppression and punishment, risk and reward, beauties and princes, castles and magic, and all that other jazz, says Olga Nepomnyashchaya, the show's artistic director.
"The teachings in Russia are enormously different than in America," says Nepomnyashchaya. By "teachings" it seems she means the application of an art form, but really, she's talking about flexibility, an apt word when speaking about ballerinas. Formerly a ballerina herself, Nepomnyashchaya is talking about the telling of a story or the passing down of a tradition: Russians aren't afraid to change, exaggerate, or tweak story tropes to make their productions more relatable or interesting.
With that, this isn't strictly the Russian Cinderella tale, which, in its popularized version, has a love-seeking Marco Polo, not a prince, passing through the Mother Land in search of the girl missing a shoe. What the State Theater of Russia has tried to do here is, in Nepomnyashchaya's words, is to insert Russian Cinderella into American Cinderella. However, they do it with a complete Russian cast. Among them are many distinguished Russian artists and winners of international ballet competitions, she says, with dancers that range between the ages of 16 and 40. The State Theater of Russia has toured throughout France, Germany, Holland, the Czech Republic, India, and Africa. Their two other shows are Romeo and Juliet and The Nut Cracker.
One alteration to the Cinderella story that American audiences have come to expect, the roles played by her mice friends, as depicted in the Disney version, for example, have been usurped by gnomes. Although, this change might add a certain color to the show, allowing a further showcase for more of their dazzling costumes which the New York Times called "graceful," in this case, there was a practical reason as well. "It would be weird to have people dress like mice. They wouldn't look as good as gnomes," Nepomnyashchaya says.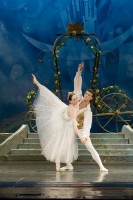 Another difference is the way in which the stepsisters and stepmother are portrayed, says Nepomnyashchaya. "In the American story, they are seen as very mean and wicked. Here they are more comical and easier to watch. In this production, the stepmother is actually played by a male dancer, a cartoon-like exaggeration with the intent at earning her, or him, a longer, more imposing shadow for Cinderella to escape from under. These particular interactions, where the stepmother and stepsisters are quarreling with one another, are what Nepomnyashchaya enjoys most about the show, she says.
One direction that Nepomnyashchaya was sure she didn't want to go in with this interpretation, with which she was in agreement with all the other creatives, was the more graphic Brothers Grimm portrayal, where, at the end of the tale, both stepsisters get their eye-balls plucked out by a couple of sore-winner pigeons as Cinderella rides off with the prince. "Russians like to enjoy themselves. They don't want to be scared out of their minds. Horror's more of an American thing," she says.
Nepomnyashchaya liks the Times's sum-up for the ballet: "full of enchantment."
"You couldn't use a better word for the story," which like all ballets, is performed or told without words. That's the beauty of ballet, she says. "It's all about the way it all comes together with the dancing, the singing, the dressing, the world we create for the story," all areas that fall under her shadow as artistic director. "Cinderella's a fairytale and that's what we give them," she says, meaning the audience. "It's a great night."
All the decorations are hand-painted. There are five different background scenes changed on a constant basis for the three acts—all brought to life in iridescent oils. A staple of Russian art is bright and vibrant colors that add a sense of vigor. One doesn't have to look further than the Kremlin in Moscow—the historic fortified complex that includes four palaces and four cathedrals. It houses the Russian Federation president, but looks sort of like an ice cream sundae on drugs.  Or, for that matter, the popular stack-up Matryoshka, or just "Russian," dolls. You'll certainly notice that in the ballet, as color is key in telling the story. The forests are lush and viridian, the whole-stage-taking-up castle luxurious and palatial.
"Sometimes when the light shines just right you can't even tell it's a backdrop," Nepomnyashchaya says.
The stepsisters all have their own distinctly contrasting colored gowns in blue, green, and red, while Cinderella eventually will emerge in her awe-inducing white gown to meet her Prince Charming, before, of course, a giant hand-painted clock strikes midnight. At which point, through a trick in the lighting, you'll see her transform right in front of you back into her veritable cleaning rags of clothes.
One need only view a slide show of Byzantine art to get the sense that State Theater's take is likely very different than either the 1950 Disney movie or the 1998 movie, Ever After: A Cinderella Story, starring Drew Barrymore, Angelica Houston, and Dougray Scott, which back then was called a "new take on the classic fairytale."
Although, Cinderella's night at the ball isn't timeless, the story remains that way. When the clock hands rolls around to midnight, the soon-to-be princess isn't tired yet and, with this State Theater of Russia two-and-a-half-hour production, American audiences can be sure that a story they think they know won't get tired, either.