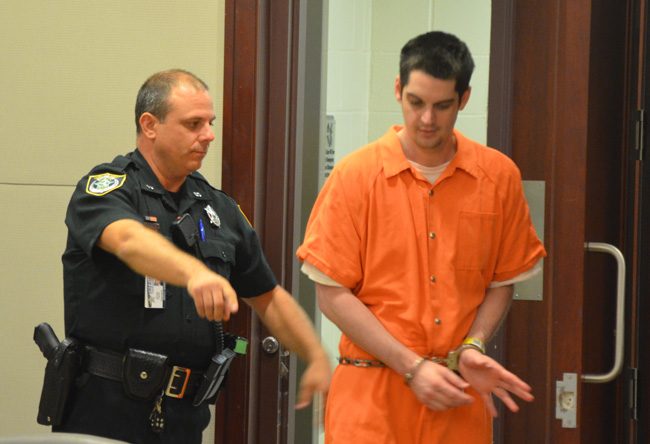 Christopher Hollinger, the 24-year-old Palm Coast resident accused of getting two girls drunk and raping them at Long Creek Preserve last year, was found guilty on several counts of lewd and lascivious battery today and sentenced to 20 years in prison, followed by 20 years' sex-offender probation.
Hollinger appeared in shackles and the orange jail suit he's worn for the past 490 days at the Flagler County jail–time that will be subtracted from his 20 years–and tendered his plea to Circuit Judge R. Lee Smith in Flagler County court this afternoon. His victims, who were 14 and 15 years old on March 15, 2016, the night of the assaults, sat in the courtroom with family and the State Attorney's Office's victims' advocate.
The plea agreement was negotiated between his attorney, Josh Davis, and Assistant State Attorney Joe LeDonne. Absent the agreement, which entailed dropping an aggravating factor from the charges, Hollinger could have faced up to a minimum, mandatory sentence of 50 years in prison. That aggravating factor is automatic under Florida law once that kind of sexual offence involving a minor is found to have taken place in the witnessing presence of another minor.
But the elimination of that aggravating factor also signaled–at least in Davis's view–that the prosecution did not have the evidence to convict Hollinger on forcible rape, as opposed to statutory rape. In other words, the case ended on the undisputed fact that Hollinger had sex with two under-age girls when he was 23, which under any application of the law–even if Hollinger did not know they were underage, as his attorney says may have been the case–is rape by definition, since children cannot legally consent. Hollinger had told detectives as much after getting his Miranda warning: he'd spoken to them about the acts, in a recorded statement. That, in the end, was what he was convicted for.
He'd been at Long Creek Preserve because that's where he used to go with his brother to fish, his attorney said, and that's where he went to remember his brother: Dalton Coxwell, the 9th grader from Matanzas High who killed himself just before Christmas 2013. That night in 2016 he encountered the two girls whom he'd never known before. It was 2 a.m., they'd snuck out of the sleep-over they were having. He got them drunk on Jack Daniels, himself not drinking much, then, the girls weakened–as they described it to police–he forced them to perform various sexual acts, according to his arrest report.
Smith wanted to hear from the victims before accepting the plea. They asked to read statements. Hollinger's mother, there with a half dozen family members, did not address the court.
One of the victims, who was 15 at the time of the assault, was already in tears when she approached the podium to present her victim's impact statement, before Smith accepted Hollinger's plea.
The victim's advocate stood near her. The girl struggled to collect herself, tried to read, couldn't for a while, then started, reading from her phone through tears at a fast clip and describing in a lengthy, anguished statement difficulties just waking up in the morning, having a conversation with someone, crossing paths with someone.
She acknowledged sneaking out that night but not to say that she deserved that violent and undeserved a consequence: she was a freshman in high school, her friend was in middle school, they were on spring break.
She then directed her words at her assailant, without looking at him. "Twenty years is nothing compared to how long I'll be affected by this," she told him, even as she said "I'm getting stronger every day." She ended with words of sympathy for his family as he himself, only a few feet away to the right, sat, his head slightly–only slightly–hunched for the first time that afternoon, unemotional.
The younger girl then walked toward the podium. She spoke more briefly. "I don't trust guys because you took that one away," she said. She doesn't sleep at night "because I blame myself even though I know it isn't my fault." She has nightmares. "My anxiety is worse than ever because of you," she said. "You made us suffer, so now you'll get to know what it was like to feel trapped." She added, "This isn't something you can forget. It's going to stay with us all our lives. Enough said, I hope you don't forget anything I've said."
The younger victim's mother–her mom, rather, as she referred to herself : she is only biologically her grandmother–was next, and last, to speak to the judge.
"My daughter, she has nightmares," she said. "I hear her screams, 'get off me.' She sleeps with me, she's a baby, he left her in dirt, both those girls didn't deserve what happened. She was on her period. She was crying, 'please stop.' He didn't rape her once, he raped her twice. Frontwards, backwards. And then when he's finished with her, he went to the other one. And as my daughter is puking her guts out, he's raping the other child." She said she, like her daughter, has to live with what happened. "I do not blame his family, I have no animosity toward his family. Do I hate this gentleman? Yeah. He tormented my child. She still has nightmares."
Then she called him a sex predator rather than an offender, which drew a different sort of attention from the judge. Until then he'd been raptly paying attention to her words and emotions, but her accusation of Hollinger as a "predator" slung the judge back into to legal ramifications of the plea: when she was soon done, he asked her if she disagreed with the negotiated plea, which specified that Hollinger would be branded a sex offender, not a predator. But the mother stepped back and pointed at LeDonne, the assistant state prosecutor, and said she had full confidence in him and the deal he'd negotiated.
In any case, Smith said he could not have changed the plea agreement. He could only have either accepted it or rejected it.
He accepted it, calling Hollinger up to the podium.
It isn't clear to what extent Hollinger himself was understanding what was going on. He stood almost at attention, or at as much attention as his shackles and the circumstances allowed him. He answered the judge politely and in a clear voice, "yes sir, no sir." That was the extent of his answers, except when he was asked how much education he'd completed. He said he'd graduated high school, though Davis, his attorney, clarified to the judge that it had been a certificate, not a diploma through the traditional steps. He'd left Matanzas High School and been enrolled at the now-defunct Heritage academy. His IQ, his attorney explained in an interview later, was barely a shade above 75, suggesting that his competence to go through the process should have been an issue. But it wasn't. He was deemed competent.
Then Smith, the judge, went through the many steps of explaining the plea agreement and ensuring that Hollinger understood every step. He said he did. Including the 20 years of probation that are to follow the prison sentence.
Hollinger will have a daily curfew from 10 p.m. to 6 a.m., for those 20 years. He'll be prohibited from living within 1,000 feet of anywhere children regularly congregate, such as schools, day cares, parks, even malls. He will have to complete a sex-offender treatment program at his expense, and will be prohibited from accessing the internet until approved by his treatment program. He'll also be subjected to warrantless searches anywhere–on his person, in his home or in his vehicle–at his probation officer's discretion.
But even though the prison sentence is for 20 years, he could be released in 15, around the time when he's 40: he's eligible to be released after serving 85 percent of his prison sentence, or after 17 years, and with the year and a half he served already at the county jail, that reduces his time in prison to about 15 years.
When he was escorted to the station near the clerks where those who have been found guilty are fingerprinted and swab bed for their DNA, Hollinger again behaved as few people who have just been sentenced to long prison terms ever do, again raising a question as to whether he was fully aware of what had just taken place: at one point, between fingerprints, he stretched, as if mimicking a bailiff nearby, and on a couple of occasions smiled as he exchanged brief words with a bailiff or two. Before being escorted out of the courtroom he was allowed briefly to exchange one last instant with his family.
"The facts of the case are that he is out by himself at night at the place where he and his brother used to go," Davis said, striving to draw a less brutal portrait of Hollinger than was drawn in court. "He is approached by these two girls. He wasn't at a park, he wasn't at a school, he wasn't looking for anyone. He was by himself." He was too old, he said, "and they weren't old enough, but the picture that was painted, the evidence suggests that that's not correct, and that's why we entered the pleas to the charges that we did."
As Davis's explanations skirted closer to blaming the victims, he clarified: "Do I believe in the end or did what he plead to was having sex with a 14 and a 15 year old? Yes. But did he hunt them down and drug them up and ravage them? The evidence does not support that." He added: "I don't think the kids are lying. I don't think the kids made that up. But like I said, they're children, and it just didn't to me seem like the evidence supported their story. It supported the plea, of course."