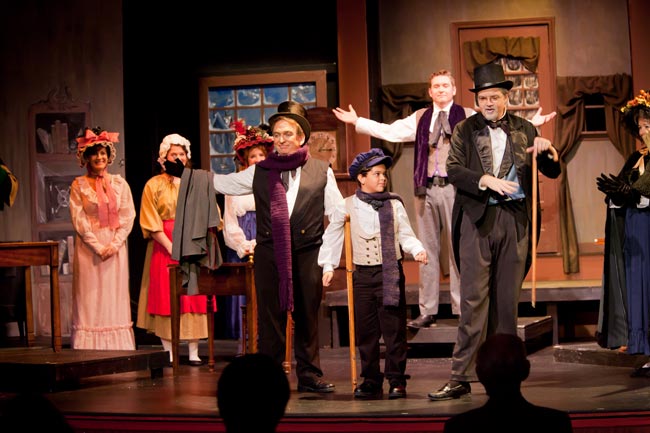 Christmas may roll around only once a year. Good theater doesn't have to be that stingy. Between the Flagler Playhouse and the City Repertory Theatre (and the rare miss aside), we've had more than the usual share of recurring gifts in our little cultural Kalahari this year. The Playhouse's latest production of "A Christmas Carol," which opened this weekend and runs through the next, is one of those: an hour's pleasure as familiar as the cozy folds of an old couch, at the mercy of one of the planet's most beloved stories, and in the commanding hands of some of the Playhouse's most recognizable actors, plus many more.
The veterans include Bruce Popielarski, the workhorse of local stages (he can be as convincing as a bisexual burglar with a Brooklyn accent as he can be a suburban Londoner, and here takes up three roles and stage manager duties), Nancy Howell as narrator (her voice is as rich as the costumes she designed for this production, some of which will make you feel the dank chill of Scrooge's study) and Monica Toner, well cast again in a couple of roles that bring out what she does best: effervescence.
The play features a large cast, including a grandfather-grandson combination and a pair of mother-child combinations, which add to the warmth of the production. One of the children in those combinations is the lanky bahumbugging Aaron Ligget, who gives us Scrooge as a 12-step program by way of Marley's and the three other ghosts. The other mother-child combination is not a pair of actors, but they're nevertheless on stage throughout: 11-year-old Michelle Lynn and her violin, who gracefully provide the near-continuous and skilled soundtrack to the play, hence the need for Michelle's mother Laura to turn the pages of a voluminous score. Lynn is a violinist with the Flagler Youth Orchestra. (Ghosts of Gerald Fords past might suggest that it can be hazardous to your art to play the fiddle and chew gum at the same time.)
Of course you know how the story turns out. But don't let knowing the score dissuade you from seeing the play again. Charles Dickens intended his story to be a sort of Christmas-time thanksgiving, a booster shot of themes playing roles as important as his characters—the conquest of greed, the capacity for redemption, the dividends of generosity. It's churchy without the sermonizing dullness. This particular production is full of small details that make watching it as gratifying as opening that childhood treasure of a book that you discover on a high shelf one day, unopened for years but so fragrant with that old-book smell. There's a lovely moment when Liggett's Scrooge appears for the first time and takes off his hat in his study: a puff of dust flies off, maybe unintentionally so, but with just the right Dickensian effect. Here's Scrooge's dead soul announcing itself with that puff, which'll make the appearance of ghosts very soon not so unusual after all. We're already in the realm of the dead in that study, as the anxiety in Adam Mayo's Bob Cratchet makes very clear.
And surely there are a few people out there who don't know what "A Christmas Carol" is about, literature's foreignness to our schools being what it is. So this is the perfect occasion vividly to expose the latest generation to the story. It is a ghost story, though the ghostly chills are muted and unlikely to scare anyone about Tiny Tim's size or older. Steven Hawkes's Marley aside, incidentally, the other ghosts should relax a little and not take being stiffs quite so literally: Stephen Pigman's otherwise airy direction aside, he may have missed an opportunity for a little more humor or irony with the ghosts of Christmas past-and-yet to come, the underlying irony of the ghosts being that even they should be more alive than old Scrooge.
One more reason to see the play again: these days it must resonate more than in previous years, poverty and greed and selfishness, not to mention old Scrooge's infatuation for prisons, not being such distant 19th century concepts anymore. Almost a fifth of the county's population is in or near poverty, without work or too little work, and a larger portion is living check to Cratchety-check.
Not that Dickens was anywhere near liberal. If he was writing today he'd have had Fox for his background noise. He was, his fellow-Britisher Martin Amis reminds us, "a champion of capital punishment, applauded the cannonballing of mutinous sepoys, thought Negro suffrage preposterous, recommended imprisonment for bad language, and flogging for bigamy, and was a convinced and passionate sexist." But in "A Christmas Carol," two of his convictions stand out: his enormous empathy for children and the cruelties they endured, in a century and a country where cruelty to children was thought no more remarkable than eye-gouging contests; and his belief that "if men behaved decently the world would be decent." It's a little simple, and it's just what makes "A Christmas Carol" so easily appealing—and what led an American factory owner to give his workers an extra day off when he read the story for the first time, more than a century and a half ago.
Who knows. Maybe in the aftermath of the Playhouse's production of "A Christmas Carol" we'll see a rash of spontaneously offered days off around town. Company bosses might even skip the fruitcake as bonus and just buy their employees tickets to the play. Neither would regret it.