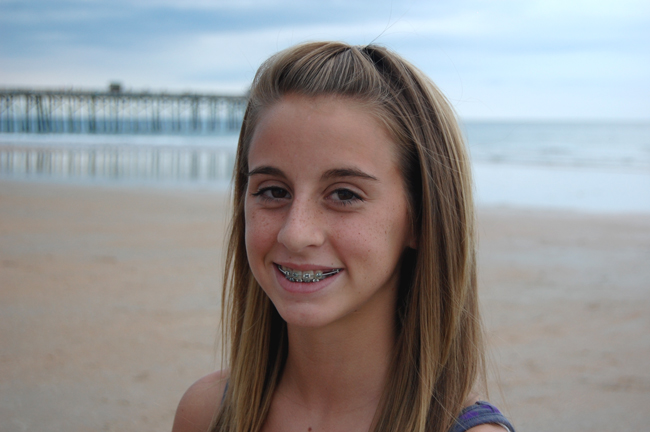 Christen is 13 years old with light brown hair and brown eyes and stands at 4 feet 10 inches tall. She is the daughter of Christopher and Christine Barney of Bunnell. Christen will be entering 8th grade this fall at Buddy Taylor Middle School, where she is in her school's leadership program.
Christen enjoys swimming, playing sports and shopping. Christen is also active in soccer and volleyball. Christen would like to make the girls varsity soccer team as a freshman in high school. She would then like to attend the University of Florida on a soccer scholarship and become a physical therapist.
Christen is sponsored by 4c's Trucking and Excavating, Inc.

Miss Junior Flagler County 2010 Contestants, Ages 12-15
Click on each name to go to contestants' individual pages
The Miss Flagler County Pageants are scheduled for Saturday, June 26, 2010, at the Flagler Auditorium. Pageants begin with Little Miss Flagler (ages 5-11) at 3 p.m., followed by Miss Junior Flagler County (ages 12-15) at 5 p.m. and the Miss Flagler County Scholarship Pageant (ages 16-23) at 7 p.m. Tickets are $5 per adult, $3 for children under 10 at the Flagler Auditorium box office: 386/437-7547 or toll-free 1-866-FLAGLER (352-4537) or at the auditorium's website. The Miss Flagler County Pageants are directed by Elizabeth McLaughlin and Zoee Forehand and sponsored by Flagler Beach's Z Wave Surf Shop. They can be reached at 386/439-9283.

Miss Junior Flagler County Photo Gallery
[nggallery id=18]