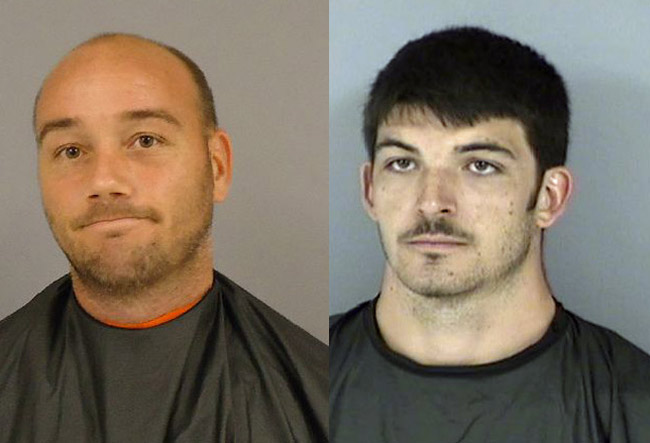 Kevin R. Evans is a 25-year-old unemployed Key West native who lives with the mother of his 8-month-old boy on Frank Place Place in Palm Coast. Wednesday morning, he was in an argument with his girlfriend. According to a police report, she had "discovered Kevin had lied to her about where he was going today."
Evans's girlfriend told him she was going outside to talk with with his friend about the argument. As she stood up and walked toward the door, Evans, who was holding the couple's infant, allegedly bit the boy in his left arm.
Evans then grabbed his girlfriend's face with his right hand, stopping her from walking outside, according to the report. She was able to back away, but Evans "continued to push her shoulders/chest while still holding the child." His girlfriend finally was able to move around him, the report states, and walk outside. Evans placed the child on the cement floor in the garage so he could continue arguing with her.
Evans was arrested half an hour later by a Flagler County Sheriff's deputy on a child abuse charge and booked into the Flagler County jail. He posted $500 bond and was released. Two years ago, he'd been jailed on a charge of driving on a suspended license. And in November 2009, he was arrested and jailed on a charge of contributing to the delinquency of minors when, one evening, he bought a case of Busch beer at a Chevron station on Ocean Shore Boulevard (State Road A1A) and handed it to three minors, according to a police report filed at the time.
In an unrelated incident on Monday, Robert Winston Tucker, another habitual visitor to the Flagler County jail and a resident of Hernandez Avenue in Palm Coast, was traveling west on Palm Coast Parkway when he rear-ended Ture Eklund, an 88-year-old resident of Canopy Walk in Palm Coast. Eklund was at the wheel of his Honda Civic. Tucker, 35, was driving a 1989 GMC truck.
Tucker kept driving.
Ture wasn't injured. He pulled into a parking area on Boulder Rock Drive and called for help.
A witness–a Palm Coast resident–told a Flagler County Sheriff's deputy that he saw the crash and followed the GMC truck all the way to Winn-Dixie, where the witness saw Tucker park his car and attempt to "pull out the bumper," according to a police report.
The deputy found the truck and matched it to the descriptions provided, and devised Tucker's identity from a state database. Tucker was not around. "While driving around in the area attempting to locate Robert," a deputy's report states, "I observed a white male wearing tan shorts and a white tee shirt at the front door of the store. After Robert [saw] my marked patrol vehicle in the parking lot, he retreated back into the store."
The deputy found Tucker hiding behind a banana display cart in Winn-Dixie's produce department.
"I was waiting for you," Tucker told the deputy when he was taken into custody. Tucker explained that he hadn't wanted to block traffic, so he kept driving to the Winn-Dixie parking lot, though the distance between the crash site and Winn-Dixie is about 1 mile. Tucker told the deputy he hadn't reported the crash because he didn't have a phone. Yet while the deputy was with Tucker, a friend of Tucker's arrived in another vehicle. The deputy asked Tucker how he'd alerted his friend to the incident. Tucker said he'd used a phone in Winn-Dixie–and that he'd gone in there to buy a banana.
Tucker was arrested for leaving the scene of an accident and failing to report a crash. His vehicle was towed by Saxon's Towing. Tucker was subsequently released, posting $1,000 bond.
Previously, he'd been booked into the Flagler jail last September for criminal violation of an injunction for protection; in June 2011 he was arrested for burglary of a home with assault and battery, and two additional counts of battery, and in 2008 he was arrested for violating his probation on a previous misdemeanor offense.