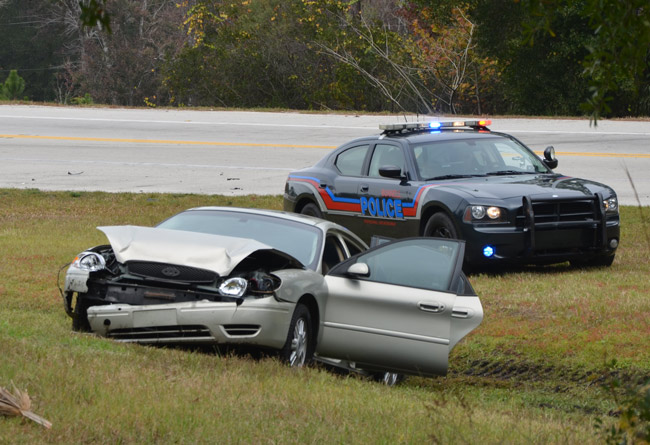 At 9:46 a.m. a Flagler County Sheriff's Office deputy observed a Taurus speeding east toward Bunnell on State Road 100–and speeding so recklessly fast that the deputy could not catch up to the car. Two minutes later, the Taurus rear-ended another car and spun around down the SR100 ramp into Bunnell, smashing into a ditch and triggering the air bags.
Two black men in the car, including driver Darryl Duffy, 21, apparently uninjured, fled the scene. The sheriff's office set chase, launching the county's Fire Flight in the air, which hovered this morning very low in the neighborhood of Saw Mill Estates, where Bunnell's upper crust lives. A K-9 unit was also called in.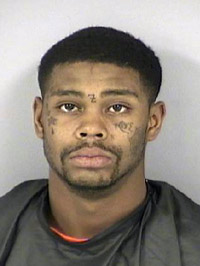 Flagler County Sheriff Spokeswoman Debbie Johnson said one of the two men was caught on Deen Road. The other was in the woods for a while longer, but was eventually caught, before noon, on North Anderson Street and East Woodland Avenue, where a cluster of cop cars, lights flashing, was still lining the road at about noon, when Roger's Towing arrive to tow the Taurus.
The other car in the original wreck was damaged, but it's unclear how much, and its three occupants were not injured. (This story originally reported two occupants. See the comment by Cynthia Nicholson, one of the occupants, correcting the record.)
Duffy, who turned 21 the day of the incident and is from Palatka, was booked into the Flagler County jail. He faces several charges, including speeding, careless driving, fleeing and eluding and resisting arrest without violence, Johnson said. He may face additional charges from Bunnell police. It's not clear if the other individual who was in the Taurus will also be charged. He posted $3,000 bond.
Why the two men were speeding east isn't known.