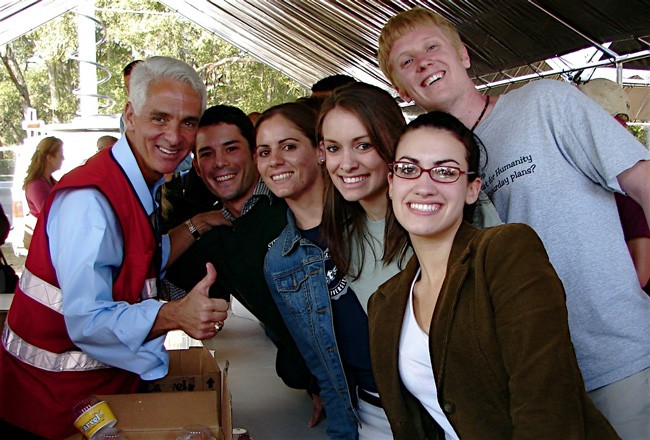 By Nancy Smith
If you've seen the new-style, all-purpose, convertible wedding dresses, you've got a glimpse of post-election Charlie Crist.
No more billboards, no more hustling for Carole's St. Pete boutique.
I'm sorry to say this, Eric Lynn. I wish you all the best, but even a year away, it looks like Charlie's got redrawn Congressional District 13 in the bag. It's his home county, it's where he always wins. I have to assume this time Charlie gets his Washington wish.
So here I am, closing my eyes and seeing Charlie fitting into the Washington scene like a bride in one of those convertible wedding dresses.
The Democrat and former Republican governor, former-Republican-turned-former-partyless Senate candidate can be anything to anybody at anytime in that dress. It's a fashion statement he owns.
Put on the full dress for formal White House functions. Zip away the Velcroed skirt for those lavish Beltway parties. Un-Velcro a little further up and there's your behind-closed-doors night-attire. Basically the same dress, remade for the occasion. That's Charlie.
It gives him enormous value in Congress.
Based on all he's done in the past, having gone from Chain Gang Charlie to Populist Charlie — based on that magic wedding-dress personality of his — the freshman congressman is going to be a go-to guy for all the blues on the Hill.
Make sure there's something in it for him, Washington, and Charlie's yours.
Need a water carrier on a federal turkey? Get Charlie.
Want another signature on a letter of support? Grab Congressman Charlie.
Need a buddy to swear up and down to Anderson Cooper your views are his? Charlie's your man.
All he needs is an invitation to a state dinner or a seat on your private jet to anywhere requiring Coppertone or, best case scenario, an invite to join a fact-finding mission to the South of France.
Promise him camera time and he'll pander to any special interest group.
As long as you don't expect this new Florida congressman to have his own ideas on real issues.
As long as you don't ask him, for instance, how to stem the tide of the rising national debt or stop the Fed from robbing the middle class by printing notes that aren't backed by anything except the "promise" of Washington. Or how to curb global warming while at the same time balancing the budget.
He'll be for clean air, clean water, clean energy — you know, "the environment." He'll be for cheap gas, good public schools, more stringent gun laws, blah, blah and blah.  Just don't expect him to elaborate past party talking points. All-purpose platitudes slickly delivered — that's Charlie's schtick.  It's Charlie making full use of his wedding dress.
Yet, on Capitol Hill, Charlie won't stand out. There are dozens in this flawed Congress like him — loving the "scene," loving the publicity and the perks and the preening, harboring delusions and taking good care of No. 1 above all. They might not be as high-profile as the man who hugged a president, who angled to be vice president or who made national news on a book tour. But these members of Congress all figured out fast how to look good to constituents back home and survive inside the Beltway while moving the needle of good government not a tick.
Charlie will, too. His convertible wedding dress should shelter him from most any storm.


Nancy Smith is the editor of Sunshine State News. She started her career at the Daily Mirror and The Observer in London before spending 28 years at The Stuart News/Port St. Lucie News as managing editor and associate editor. She was president of the Florida Society of Newspaper Editors in the mid-1990s. Reach her by email here, or follow her on twitter at @NancyLBSmith.