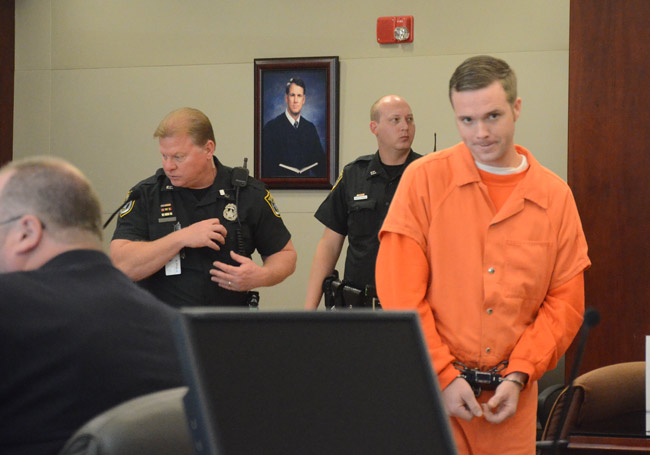 Charles Cowart, the 29-year-old man who led police on a chase through Bunnell as he rode a horse through town the afternoon of Sept. 24, at times to the cheers of bystanders, will likely not face trial on the four felony and misdemeanor charges he incurred that day.
Cowart made a pre-trial appearance before Flagler County Circuit Judge Raul Zambrano on Tuesday, when Cowart's attorney said a plea was in the works.
"We just received an offer on Mr. Cowart's case. This offer is a very rough offer," said the attorney, William Bookhammer, of the public defender's office. Bookhammer moved to continue the case until next week. "The client is obviously sitting in jail on an unrelated misdemeanor."
Cowart was in court, in an orange jumpsuit, his hands chained to his waist. The night of Nov. 19, Cowart was in the parking lot of the Unique Southern Grill restaurant on East Moody Boulevard (State Road 100), apparently drunk. A Bunnell cop was called to the scene and, according to the cop's report, saw Cowart with an open beer can, wiping down the back of a car parked in front of the restaurant. The car owner told the cop that Cowart had been running around the parking lot, and had thrown the beer can, striking the back of the car.
When questioned by the cop, Cowart became very loud and uncooperative, according to the report, said he was merely trying to clean the back of the car and trying to call his sister, though he had no cell phone. He then began dropping personal items on the ground, when asked what phone number he was trying to call, laid down "on the ground in a prone position on his stomach, yelling that he didn't want me to call his father," Bunnell Cpl. Frank Barbagallo wrote.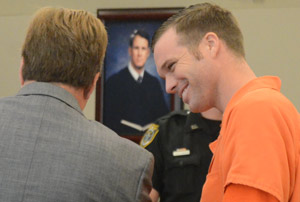 Cowart is the son of Chuck and Peggy Cowart, who own a blueberry farm in the western part of the county and are part of one of Flagler County's oldest families and long-time landowners. Their son has had many issues, legal and personal, for the past several years, including a DUI charge, the suspension of his hunting license and a 2004 grand theft charge that was dropped. The vehicle Cowart allegedly struck with his beer on Nov. 19 was not damaged. Cowart was arrested and jailed on a charge of public intoxication, and remained in jail. He was arraigned on the intoxication charge at 1 p.m. Tuesday, before Flagler County Court Judge Sharon Atack.
He appeared before  Zambrano at 9 a.m. on the other charges, which include interfering with a railroad right of way, a third degree felony; eluding police, a third degree felony; resisting arrest, a first degree misdemeanor; and animal cruelty, a first degree misdemeanor. He had allegedly exhausted the horse he'd been riding through Bunnell that September afternoon, when he claimed he was on his way to Flagler Beach to see his aunt.
Cowart pleaded not guilty to the charges in a confused appearance before Zambrano on Oct. 16, when he first intimated that he'd plead no contest. Zambrano asked the public defender whether Cowart would be interested in participating in drug court, a diversionary program that allows non-violent offenders to stay out of jail as long as they complete the program. The public defender said he'd discuss it with Cowart.
"Have you all considered drug court for him?" Zambrano asked again on Tuesday.
"Judge, I don't think drug court is going to be an option. This is going to be—I think it's going to be a straight plea. Just a straight plea, not a drug court plea," Bookhammer. The attorney said he needed to discuss the plea offer with Cowart, who had arrived in the courtroom with a broad smile, and smiled again, broadly and unusually, a couple of times, as he spoke with his attorney. He was among a small group of more usually grim-faced individuals in orange jump suits awaiting their turn before Zambrano.
The State Attorney's Office does not discuss pleas before they are made public in court. No court date was set for Cowart for next week. His next appearance is scheduled for Jan. 8, by which time Zambrano will have moved out of the bench in Flagler, to go to Volusia County. He will be replaced by Judge Joseph Walsh.
Cowart was still in jail Wednesday.

Videos of Charles Cowart's ride through Bunnell:
---
[media id=295 width=500 height=400]
---
[media id=296 width=500 height=400]
---
[media id=297 width=500 height=400]