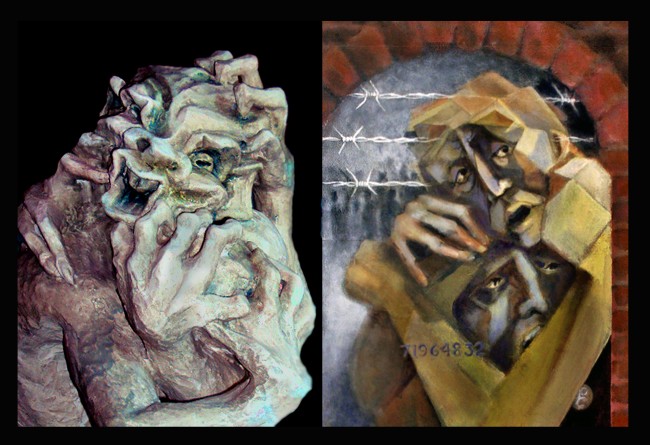 Last week JJ Graham opened "Monsters of Bigotry," a new show he curated at his Hollingsworth Gallery. Graham's decision to veil a painting submitted by Ormond Beach artist Constance Payne led Payne to withdraw the work from the show, triggering a debate about Graham's decision, the artistic validity of Payne's work, and its place in or out of the show. See the story and the painting in question, called ""Will You take Me Seriously Now," here.
Peter Cerreta, the celebrated local artist (he was the 2000 Gargiulo Foundation Artist of the Year), had a work of his own rejected for the show, a detail of which appears above, left. That work, too, like Payne's, featured a penis. Cerreta was "distressed" at the decision but did not object to having the work rejected, as gallery owners–he was one himself once–always have the final word on what goes up and what doesn't on their walls. He did have a work accepted–"Lest We Forget," above to the right–which sold. Cerreta contributed the proceeds to help buy supplies for children's art classes at Hollingsworth Gallery. Cerreta contributed the following article in response to the debate over the Payne painting.

By Peter Cerreta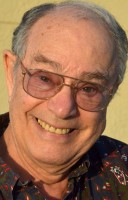 What's safe content in art? Well, let's see. Oh, yes, floras, landscapes, and so on. Content that matches something and will fit in.  They're safe. Unless they're done with a passion and stir the heart and brain of both the artist and observer. Then they don't fit in.
I believe art, to be art, must have at least three intrinsic factors:  it must have emotion, be it stoic or edgy. It must be cogent to the times–to the 21st century, if it's contemporary art. An, it must be technically proficient, and not what elephants and chimps do. After all, art is a body of knowledge.
Constance Payne's oil painting, "Will You Take Me Seriously Now," certainly meets two of the above "must haves." But as a former gallery owner, curator of shows, and practitioner of the arts for most of my life, this work is to me very weak in technical proficiency.  Payne's words paraphrased: it's not meant to be a masterpiece.  Well, Ms. Payne, every artist should reach for the golden ring and try for the "masterpiece" each and every time he or she picks up a brush or handles three-dimensional material.
Further, Hollingsworth Gallery offered you a proverbial "million dollars" in publicity by showing the piece draped.  Wow!  Regardless of the opinion of JJ Graham, your piece, although perhaps quite serious as a message in your mind, would have done more for your personal "message" than your choice of getting on the I've-been-wounded bandwagon. 
Ask any artist if he or she has gone through bad times. Ask artists if they have experienced work being rejected from an exhibit.
With all that said, I believe controversial work should be shown.  JJ offered to provide an environment that would have respectfully shown your work. I'm also distressed that my sculpture was rejected because "it didn't fit." I truly feel it did.  My piece, "Differences Should Be Good," did fit, and it was my understatement about past and present ethnic and religious intolerance.
Art must be more than a conversation piece. And not every piece that shocks for shock's sake is good, even if in a gallery or a museum.

Peter Cerreta is an artist who lives and paints in Palm Coast. See his website here, and reach him by email here.