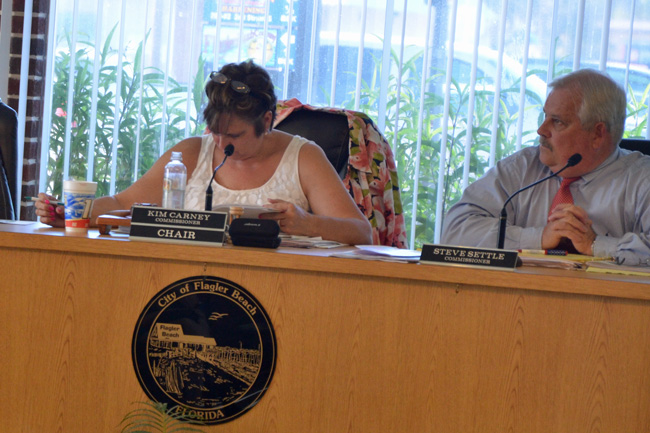 In Flagler County, the gravity center of political dysfunction has shifted. It's not Bunnell anymore, as was for a nearly year-long stretch until early summer. It's Flagler Beach.
Among local governments, the Flagler Beach City Commission has always been the most colorful, the most prone to epic debates, the least likely to congeal as a single, collegial body. But  never before has a commissioner pushed the disagreements to such a point as to attempt to unseat a commission chairman before the end of that chairman's term.
That's what Steve Settle will seek to do next week. He wants to bump Kim Carney off the chair. Carney is exactly at the mid-point of her tenure as chairman.
As on other local government boards, the chairman's position is elected by fellow members of the board. It generally rotates every year, though when board members are particularly satisfied with a chairman, they may leave him or her in for more than a year. That's been the case with Andy Dance, the chairman of the Flagler County School Board. It used to be the case with John Feind on the Flagler Beach City Commission.
Settle is not happy with Carney. The two have tangled over several issues, most notably Carney's opposition to the city's decision to buy a $600,000 fire truck, and a more recent disagreement over the wording of meeting minutes. (Settle's wife, Kate, is the deputy city clerk who sometimes handles minutes, though Steve Settle says the minutes Carney is questioning were prepared by Penny Overstreet, the clerk.)
Settle says the problem goes beyond that. He calls Carney "bullheaded," and describes her style as "damn the torpedoes." He says that may work well for an individual commissioner, but it doesn't work for someone chairing meetings. "In my mind," Settle says, "a successful chairman is someone who is a facilitator, someone who can work towards negotiated settlements, work together with four other commissioners, come to compromises if necessary and succeed in that way. When you look at that as the groundwork for successful performance, there's inconsistency."
---
An unprecedented move on a commission stocked with strong personalities.
---
Carney was taken aback by Settle's move. "I'm not a ruler. I don't rule over anything," Carney said. "I help get the general business of the city done by running an effective, efficient meeting. I have no other authority than to run the meeting. I have no authority whatsoever. None. I do have last say, most of the time the chairman has the last opinion, but other than that."
Carney was not aware of specific reasons Settle wanted her out. She called it "a personal vendetta. It's personal." She said Bruce Campbell, the city manager, tried to dissuade Settle from placing the matter on the agenda, but that Settle told him this was a commission matter, not a managerial matter.  The city charter is silent on the issue, leaving it up to commissioners to handle.
Campbell in an interview later this afternoon denied trying to "persuade or dissuade" Settle. He had a conversation with Settle and one with Carney, but, he said, "I called Steve and wondered what this was about." He termed the issue "a Steve Settle thing," and a matter for commissioners, not for the manager. He declined to make any judgments about the conduct of meetings during Carney's tenure.
"I'm going to have to wait and see what he alleges," Carney said. "I don't know what I've done that is outside my realm of responsibilities. I run the meetings. That's what the chair does. I've conversed with Bruce on how I run the meetings and I haven't heard any negative feedback at all."
To see Carney in action chairing meetings over the past six months, one thing is clear: she stands by her positions and strongly advocates for them, as do most commissioners—and on that body, all commissioners—and is not as inclined to seek consensus as, say, Feind used to be. But that's a matter of style: Commissioner Jane Mealy, who's also chaired the commission several times in her eight years, is also known for her strong positions and advocacy. She, too, had infamous, public-run-ins with Settle (though not when she chaired the commission), once prompting her to call for the commission to reexamine its public comportments. At the time, she was questioning Settle's "interference with administration." More recently, the only commissioner whose behavior has been questioned is Settle. On the other hand, Carney's reputation is more than that of a maverick: she strikes out on her own, at times blurring the line between what she stands for and what the commission stands for, causing resentment from fellow commissioners.
Her advocacy for certain issues aside, however, Carney's chairing of meetings has been unremarkable: she's conducted them as any other commissioner has, giving the public its chances to speak, giving wide berth to fellow-commissioners and the mayor to speak, calling for motions, and otherwise running meetings in the laborious way every chairman has had to do. Her chairmanship has never been an issue: no commissioner has complained or objected—until now.
When the Sept. 25 meeting's agenda was published Wednesday, this item was listed: "Discussion and possible action to consider a motion to vacate the Chair of the Commission and appoint a Chairman Pro-Tem for the duration of the current session of the City Commission. –Commissioner Settle."
The item included the background material that accompanied it. "Due to Commissioner Settle;s withdrawal of support for the current Chairperson," the memo notes, "the commission must decide whether to vacate the chair and appoint new leadership with majority support or, someone must change their vote to extend a vote of confidence (a majority) to the current chairman in order for her to continue serving."
That part of the memo is inaccurate or at least unclear in one regard: just because Settle declares that he has removed his support does not invalidate the vote that appointed Carney as chairman. The commission must take an affirmative vote, with a majority, to remove her. Otherwise, any commissioner in any 3-2 vote could declare that he or she has changed position on any previously voted matter of public policy and invalidate that vote—which, of course, is not the case. For Settle's motion to carry, he must get a second and a majority vote. That's to be decided next week.
"I don't know what he's doing," Mealy said Thursday, referring to Settle's proposal. "I was shocked to see it yesterday." Mealy said she would wait to hear Settle's case to remove Carney. But other than her time management (letting members of the public speak longer than their assigned three minutes, a minor infraction every chairman has committed) Mealy could not think of anything Carney had done as chairman that put her management of meetings in question. "There's obviously been some dissention among the commissioners but I'm not sure that has anything to do with her being chair," Mealy said. "Unless there's something that I'm not thinking about."
Mealy said how commissioners chair meetings is a matter of individual style. There's no rule book. "Every chair has seen their role differently," Mealy said. "I never felt more important than anybody else. I was there to run the meetings, and that's all I thought about."
She added, regarding Settle's proposal: "I've been trying to reason through it and haven't gotten very far."
Commissioner Joy McGrew was out of town today. Commissioner Marshal Shupe said he'll wait and see what Settle's case may be, but he also differentiated his style from that of Carney.
"As a former chairperson of a zoning board of seven members including the chair, I always felt the chair was sort of a person who facilitates the meetings and is sort of neutral when you come to a situation that needs a vote one way or the other, and I think that's where the chairperson jumps in there," Shupe said. "To me, that's the duty of a chairperson of any committee or any group like that. Facilitate, handle the meeting, make sure everybody is treated equally, and at the same time, like in our case when it comes to a 2-2 vote, granted the chairperson votes anyway, but if you get to a position were it's 2-2, that's where, especially where the chairperson votes last, it's sort of a tie-breaker situation."
Asked if he considered Carney's tenure problematic, Shupe said: "I'm not really sure I can answer that. I think it's been a little tenuous at times, but other than that, and here again, everybody perceives their role as commissioner or chairperson, city manager, in a certain way, whether it be right of way, if that's their perception, that's what everybody lives with." He added: "I think there's been some situations or circumstances or maybe even comments that have been made I don't think are appropriate for a chairperson that to have made. I can't think of anything outstanding." Shupe couldn't recall an example of such comments, but he also then stepped back from judging comments appropriate or inappropriate. "It just sometimes the chairperson to me has overstepped maybe the function of a chairperson," he said.
The proposal would have Commissioner Shupe appointed chairman for the rest of the Carney term, and Mealy appointed vice-chair.