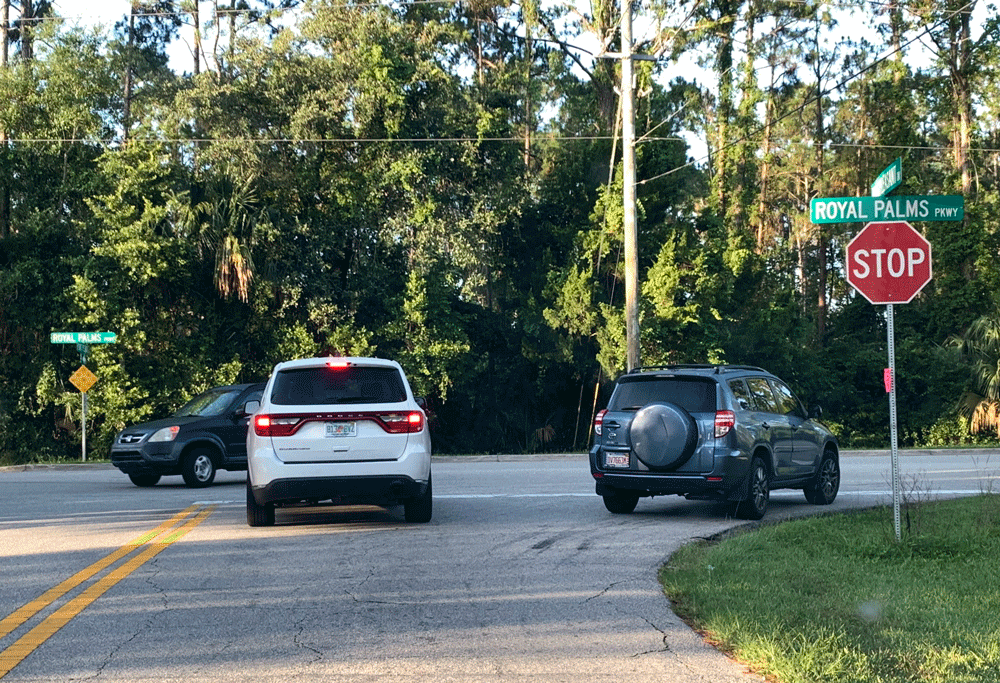 Shortly after 4 a.m. Flagler County Sheriff's deputies got alerted to an apparent car-jacking by a man who'd stolen a pick-up truck in Daytona Beach and driven to Palm Coast.
A little over two hours later, the suspect, who the Sheriff's Office had described as "a light-skinned black male in a gray hoodie with dark pants and short dreadlock-style hair" and "believed to be armed," surrendered to authorities.




In the interim, the Sheriff's Office deployed deputies, K-9 units and stop sticks and were assisted from the air by Volusia County's Air One, the emergency helicopter, which circled the south end of the P-Section for around an hour.
The suspect, identified as 18-year-old Sterling Orlando Davis Jones of Jacksonville, had allegedly stolen a work truck from another man in Daytona Beach–a work truck with identifiable company insignias. The pick-up was tracked on State Road 100, then going north in the area of the P Section north of Royal Palms Parkway, where deputies converged. Activity was especially intense around Point Pleasant Drive, Pointbury Drive and Point of Woods Drive.
By then the suspect had abandoned the pickup truck and fled on foot in an area that mixes wooded lots, lots under construction and established single family homes.
Shortly after 6 a.m. AlertFlagler, the former Code Red system, issued an alert stating that "Flagler Sheriff Deputies are in the area attempting to locate a possible armed carjacking suspect in the P-section between Point Pleasant Dr and Royal Palms Pkwy. They are looking for a light skinned, black male, wearing black sweat pants, long sleeved black shirt, short dreads, 5'6-5'8, 160-170 pounds, thin build."
About half an hour after the alert, the man was apprehended.




"At approximately 7:30 a.m., a deputy was notified by a resident about a male fitting the description walking into his backyard. At the same time deputies were notified, the male was seen running south on Point of Woods Drive onto Belle Terre Parkway," a sheriff's release stated. "The subject continued on foot but was ultimately apprehended when FCSO's Deputy Clay tackled him to the ground, both landing in a mud-filled ditch. The suspect was secured without further incident. Deputy Clay sustained minor injuries during the apprehension and was treated and released from AdventHealth-Palm Coast. Sheriff Staly visited Deputy Clay at the hospital and he is expected to make a full recovery."
The sheriff's office traced Davis-Jones's criminal history to when he was 10. He's been arrested in South Florida with 18 misdemeanor offenses and 18 felony offenses. Since 2014, Davis-Jones has been arrested with Burglary of an Unoccupied Structure, Grand Theft – Third Degree, Possession of Burglary Tools, several counts of Burglary of an Unoccupied Dwelling, several counts of Grand Theft of a Motor Vehicle, Grand Theft of a Firearm, Under 18 Unlawful Possession of a Firearm, Possession of Firearm by a Minor, Robbery with a Weapon, Aggravated Assault on Law Enforcement/EMT and Grand Theft of a Fire Extinguisher. He's currently on juvenile probation for Grand Theft.