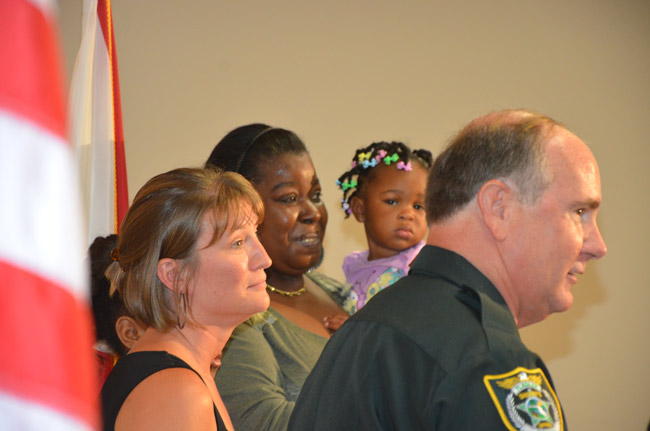 Three days ago Alicia Fennell was a panic-stricken grandmother, Kelisa Bailey was her 2-year-old grandchild just brought out of the pool, tongue lolling and lifeless, that Fennell was trying to revive, and Genice Caccavale was the 911 supervisor-operator giving Fennell a hands-on CRP lesson, over the phone, until Kelisa let out what sounded like a cough and other signs of life.
This afternoon, the trio was united in person for the first time, melting together in hugs, tears and gratefulness in a meeting arranged by the Flagler County Sheriff's Office at the county's Emergency Operations Center—for media, for Undersheriff Rick Staly to present lifesaving awards to Caccavale and Fennell, and to 8-year-old Leon'ntashia Leggette, who pulled her cousin Kalisa out of the water.
The near-drowning had taken place at Fennell's pool at her home on Zollinger place in Palm Coast Saturday evening. (See the original story here.)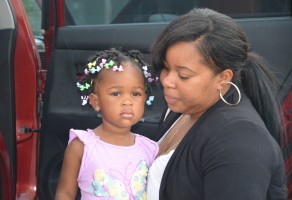 "I'm so overwhelmed, I'm so nervous, I'm about to faint right now," Fennell, 50, said.
"I didn't expect all of this. It's just part of our job," Caccavale said. "I'm glad that she's OK. It doesn't always have a good outcome, but I'm glad that she's OK, and that she's here with us."
"It's those things you hope you never have to do," Staly said, himself visibly touched by the occasion, and glad to be carrying it out.
Kalisa took in the scene first in her grandmother's arms, then in those of her mother, Peggy Bailey, who was on I-4 with a friend, on the way to Orlando to celebrate her birthday, when she got the call about the accident. She got fragmented information and didn't know at first if her daughter had—or would—survive. She turned around, and along the way began hearing more reassuring reports.
Missing from the podium were Jesse Hunter and Guy Dimier, the Flagler County Fire Rescue from Rescue 92—the unit based at the Flagler County Airport—whose role in the rescue shouldn't be diminished: they'd picked up Kelisa where Fennell had left off, as did a crew from the Palm Coast Fire Department's Ladder 25.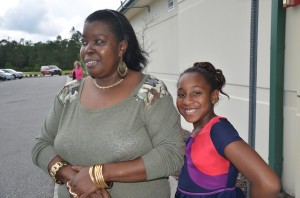 "It's amazing, it's very overwhelming, because we usually don't know what happens at the end of a call," Caccavale said. "I know that law enforcement also responded, and when they got there they were able to tell us on the radio that the child was alert and breathing, because I didn't even know that at the time. So as soon as I heard that it was like a sigh of relief to know that our efforts really made a difference and that she was alert and breathing."
911 operators work in a somewhat cavernous, rectangular room in the Emergency Operations Center, its lights purposefully dimmed so operators can focus on the bank of computer screens in front of them. Typically, four operators are on duty, plus a supervisor, though most shifts end up with four operators (including the supervisor), as the 20-operator crew remains "woefully understaffed," Staly said. (Operators start with salaries in the mid-$20,000 range.)
Caccavale thought she herself was in a state of panic when she had fielded the call from Fennell, and it was only after listening to the tape of the eight minutes that she realized that she'd been as calm as other people had said.
"She really kept me comfortable and relaxed," Fennell said, by then a little more relaxed than she'd been outside the Emergency Operations Center moments earlier, when she was getting settled to go in and face a half dozen television cameras, radio, print and web reporters—a gathering of media larger than during the wildfire briefings two summers ago, including the gathering for a (much less compelling) news conference by Gov. Rick Scott at the emergency center.
"But just to experience something like that, you know, it was just overwhelming. I just can't explain it. I just can't explain it, and just to know that it's one of yours," Fennell said. "I wanted to meet her, and I want to tell her right now how much I appreciate that and thank her so much, because without her, and the man up above, I couldn't have come through this. I wouldn't have made it. She's a hero. She's a hero. She's a godsend. She's an angel."
Kelisa peered at the whirring cameras, the tiny floodlights, the odd commotion around her, seemingly unsure what to make of it all, but looking quite composed through it all, for someone who, her grandmother said, was dead when she came out of the pool.
"When I got her, the only thing I could think of was to get her and hold her and let her feel my heartbeat so that she could regulate her breathing," Peggy Bailey, Kelisa's mother, said, recalling those first moments after she was reunited with her daughter, and after the long drive back from I-4 and Port Orange to Palm Coast. She knew her daughter was all right during the ambulance ride up to a Jacksonville hospital. "We would go over a bump, and she would pick her head up and open her eyes wide, every time we'd go over a bump, and she'd say wow."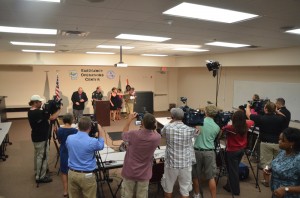 Don Petito, the Flagler County fire chief, was in the room but out of the spotlight. He spoke in a brief interview of the vitality of 911 operators on a daily basis—true first responders who are the very first voice 911 callers hear, and who are the very first voice to go out to firefighters and cops, directing them and piecing together the first shreds of intelligence in every case. "On a daily basis, they're the ones who are taking the calls, prioritizing the calls and making sure the right units are going to the calls," Petito said of the dispatchers, who seldom are seen, or even heard beyond their brief calls.
Bill Petrea had been on the job three days as manager of the 911 team, and was on his sixth day this afternoon—he moved last week from South Carolina—when he spoke of the experience. "I've been in the industry 20 years, and in 20 years I've heard CPR instructions and I've given CPR as an EMT, but I've never seen anybody walk out of the hospital, so it's really rare to give CPR instructions and actually be able to save a life. That's what makes this such a big deal, is that she was able to stay calm, follow our protocol, and you see the end result standing here today."