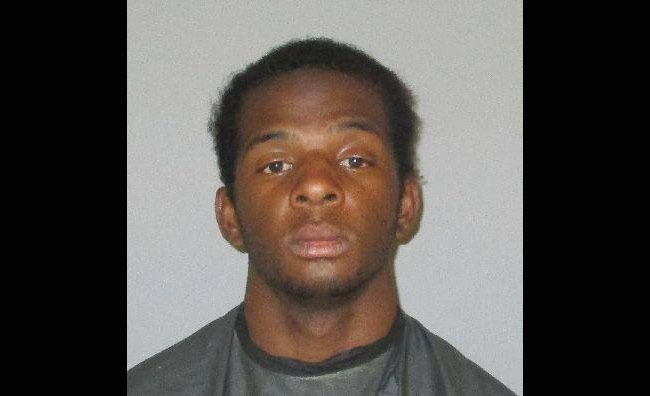 Nasir Clark, a 19-year-old homeless man, and a 15-year-old resident of Big Bear Lane in Palm Coast were arrested Monday in connection with a string of burglaries, one of them occurring the day Sheriff Rick Staly was sworn in.
That burglary took place at 64 Fleming Court. Another had taken place at 216 Birchwood Drive in Palm Coast on Dec. 31. Detectives and deputies recovered numerous items from both burglaries, leading Staly to hold a news conference to show the recovered items and pledge that arrests would follow.
Clark is accused of stealing and X-box game console, sneakers and a purse. A deputy spotted him–or, what at the time was a man concealing his face and walking in the area of the Flagler County Public Library–Monday at 4 p.m. The deputy hid his patrol car and followed the man to see where he was going. When he saw him walk into the woods, the deputy brought his car closer and eventually apprehended Clark. Details of the arrest were censored from the arrest report.
Clark faces a second-degree felony burglary charge and a third-degree grand theft charge. He does not have a prior arrest record. He remains at the Flagler County jail today on $27,500 bond. (His address on the jail's website is listed as 37 Royal Leaf Lane in Palm Coast.)
The younger defendant, who just turned 15, is charged with possession of a short barreled shotgun or machine gun (juveniles may not possess firearms), burglary while armed, grand theft, possession of a firearm by a minor, possession of pot with intent to sell, giving a false name upon being arrested and driving without a driver's license. He was turned over to the Division of Youth Services in Daytona Beach.
The recovered property, displayed at Staly's news conference, includes the following and may be tied to other burglaries:
 A Mac 10-style handgun with eight live rounds;
 A .25-caliber Phoenix Arms semi-automatic handgun;
 A pellet rifle;
 A BB-style handgun;
 A Barnett Jackal Crossbow;
 Various 9mm ammunition with live rounds;
 Several baggies of marijuana;
 An Xbox video game, controller and headphones;
 Jewelry, handbags and an iPhone 6.
This investigation is continuing. Anyone with information about either of these burglaries, or any crime that may have occurred in Flagler County, is asked to call the Flagler County Sheriff's Office at (386) 313-4911. Or to remain anonymous, call Crimestoppers of Northeast Florida at 1-888-277-2477. You may be eligible for a reward up to $1,000.