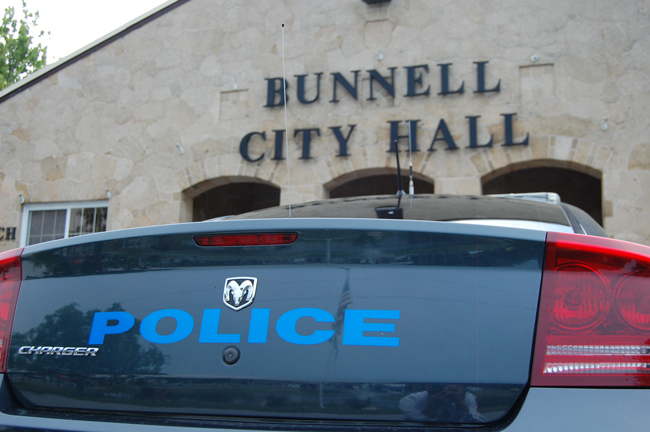 The Bunnell Police Department, where five police officers have been forced to resign or been fired for a variety of misconduct, dereliction of duty and abuse of power in the past five years, saw two more of its officers—a married couple—arrested Wednesday on misconduct, evidence tampering and drug charges. (See a timeline of Bunnell's troubled police department.)
The arrest of John Murray and Lisa Murray follows an internal administrative investigation over the past several weeks that turned into a criminal investigation by the State Attorney's office.
John Murray, 47, who's been with the Bunnell Police Department eight years, faces charges of official misconduct, tampering or fabricating evidence, and cocaine possession. A search of Murray's police-issued, marked SUV on May 3 turned up 6.8 grams of crack hidden in a green latex glove, along alprazolam, a prescription drug for anxiety, and sealed evidence that was supposed to have been turned over to the department's evidence repository. Investigators also found that Murray had supplied prescription drugs to an ex-girlfriend, withheld $1,380 he'd confiscated from a suspect, and never turned over to the department's evidence several marijuana plants seized in April 2009.
The bulk of the evidence against Murray outlines a disturbing pattern of minor traffic stops that turned into vehicles being unnecessarily diverted to Saxon's Wrecker Service, owned by Bunnell City Commissioner James Flynt. Vehicle owners would have to pay Saxon's $160 to $180, and Bunnell $350, to retrieve the vehicles.
---
Bunnell Police Chief Arthur Jones Reassures City Residents[media id=64 width=250 height=100]
Lisa Murray, 41, who's been with the department about two years (she previously worked a year in the Ormond Beach Police Department), faces two counts of official misconduct, one of them involving her improper intervention, at Flynt's summoning, and her subsequent handling of an encounter between Flynt and a used-car lot owner that got heated.
"The administration's intent is to terminate them," Bunnell Police Chief Arthur Jones said late Wednesday afternoon. "Their status right now is administrative leave. They are presently paid until tomorrow." The decision to fire them was made immediately after the criminal charges were filed.
Details in the State Attorney's charges raise questions about Flynt's role in a series of documented instances involving not just the Murray unnecessarily diverting vehicles to Flynt's towing business, but others under his supervision.
"I had no idea that these police officers were, if in fact they were, showing partiality to towing, and was definitely not a participant in the allegations," Flynt said Wednesday night. "If I have to go through a little slander with my business and my position as a commissioner to bring honesty and professionalism to our police department, then so be it."  Flynt said there'd never been a call placed to his wrecking service other than through the Sheriff's Office's dispatcher, meaning that Bunnell police officers were not directly calling in Saxon's wreckers.
Flynt's isn't the only wrecking service in Bunnell but one of three. To spread the business evenly, the wreckers are supposed to be on a rotation—each is on call for a week. The calls are supposed to come from the Sheriff's Office dispatchers. But Bunnell police officers sidestepped the rotation, benefiting Flynt's business, according to the State Attorney's report.
Flynt had another advantage: he had in his possession an 800mhz police radio that citizens cannot own, and that would have enabled him to intercept wrecking opportunities. "I was issued one as a city commissioner two or three years years ago, which was turned in previous to this conversation," Flynt told FlaglerLive late Wednesday night. "It was assigned to me. I'm a city official. It was assigned to me in my official capacity. The mayor has one," Flynt said, referring to Bunnell Mayor Catherine Robinson. He said he turned it in to the Bunnell Police Department, which owns the radios, "this week." Flynt insisted he never used the radio to listen to the police channel.
So why turn in the radio? "This morning when I was called and I was told that there were actual charges brought forth on possible wrong-doing with the towing and the Bunnell Police Department," Flynt said, "I wanted to eliminate any possibility of any further allegations being stated that I as a commissioner may have had a radio to monitor the city channel in Bunnell."
Jones, the police chief, sounded stunned when asked if Flynt had one of the department's 800mhz radios. "I don't have any knowledge of that," Jones said. "If he got one, it was before me." It was: Flynt's timeline puts his taking possession of the radio when Richard Diamond was city manager and Armando Martinez, the current manager, was police chief.
After listing several examples, the State Attorney's arrest report for John Murray states: "There are several similar incidents of Saxon's Wrecker being utilized out of rotation during the aforementioned date range by John Murray and/or members of the Bunnell Police Department, under the supervision of John Murray. On June 8, 2010, John Murray provided a voluntary statement regarding these incidents as well as the allegation of favoritism and misconduct regarding the utilization of Saxon's Wrecker to the benefit of Bunnell City Commissioner James 'Jimmy' Flynt. John Murray stated he did adjust the rotation schedule during specific traffic operations for logistical reasons. He said this ceased after he learned of the complaint by John Rogers of  John's Towing."
Murray, according to the police report, first said he changed the rotation after discussing it with his superiors, but then, said he acted alone "without higher authority when questioned further."
Bunnell as a city benefited greatly from a spike in towed vehicles, as each vehicle generated a $350 "administrative fee" for the city—enough to generate $42,000 last year, and $17,000 so far this year. The fee had the same effect as an incentive for police to impound vehicles. Impounded vehicles could also benefit the wrecker impounding them, as those vehicles become the wrecker's property if the vehicle owner is unable to pay the $350 administrative fee and the $180 wrecker's fee to retrieve the vehicle.
Mayor Catherine Robinson, asked about the pattern of police officers being fired or forced to resign over the past five years, said there was no relationship between past instances of misconduct and Wednesday's cases. "I'm not going to comment about what happened in the past," Robinson said. As for Flynt as a fellow commissioner: "I have to presume that he was not an active participant in this until someone can tell me differently and can prove it," Robinson said.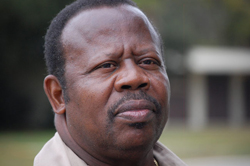 "I can assure the citizens of Bunnell that this and other related circumstances like this are going to be dealt immediately upon the observation of these violations,"  Bunnell Police Department Chief Arthur Jones said. "The public deserve it, and they deserve to have the best of the best, and that's what I'm trying to form here. We're working to make everybody accountable for their actions, their duties."
"This," Jones added, "is one incident amongst all of the good things that the guys are doing. So when you look at it overall, although it takes all the undivided attention of the public, it is the good things that we serve and protect and do, and I ask the public to look at their comfort zone, their safety as it applies to this city, and this county and this state, and I can assure you that they've got to feel that law enforcement is doing an overall good job."
John and Lisa Murray were briefly booked into the Flagler County Jail on Wednesday. John Murray posted $10,000 bond, Lisa Murray posted $5,000.