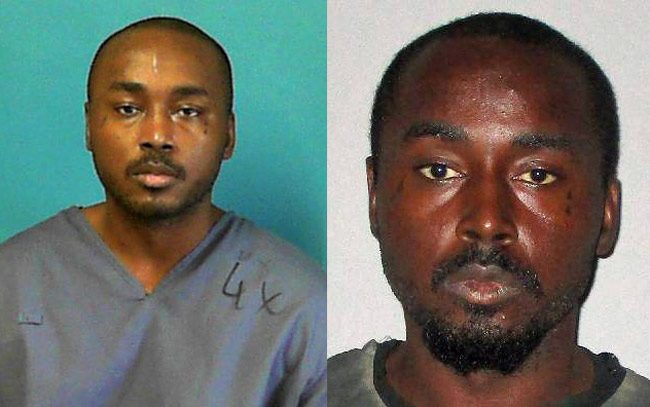 Late the afternoon of Nov. 11 Samuel Higgins and a Flagler County Sheriff's deputy had an encounter on Upsala Place in Palm Coast. Higgins, 32, was walking along the street with a woman he called his fiancée, though the woman looked "visibly shaken and nervous" to the deputy.
She told a different story to the deputy: she wasn't Higgins's fiancée, wasn't even dating him. Rather, he'd allegedly forced his way into the house where she was stating and even kicked in the door to her bedroom, threatening to kill himself if she didn't take him home. There was another woman in the house when the altercation happened, along with three young children, the youngest being 3: none of them had any idea who Higgins was, and for all they knew they were witnessing a home invasion.
Higgins, who'd been released from state prison just weeks earlier after an 11-year sentence, was charged with burglary.
At the jail he threatened to kill himself. A rescue was sent to the jail. He refused transport to the hospital. When the rescue left, he complained again of medical issue. A rescue was sent again. He was taken to Florida Hospital Flagler, where he refused treatment.
While there, a criminal history revealed that Higgins has an extensive one, with convictions from Brevard, Marion and Citrus counties on charges including arson, robbery, criminal mischief, and eight charges of battery on law enforcement officers or detention officers.
One of the charges for which he was convicted, and served prison: throwing fluids at jail guards.
That would be a hint of problems to come.
On Monday, a sheriff's deputy was dispatched to the Flagler County jail to speak with corrections deputy Ian Christensen. Christensen, hired at the jail in 2015, two weeks ago was one of the three deputies who, along with inmates, helped pulled Tyrone Oxendine, a 37-year-old inmate, from a railing from which he was trying to hang himself.
Christensen had been assigned to directly observe Higgins, likely because of Higgins's history of suicide threats. When the inmate woke up, he asked about everyone's whereabouts. Christensen informed Higgins that everyone was in the next room. Higgins then got angry, repeating the question and lacing it with racially-tinged expletives (Higgins is black, Christensen is white). Christensen told him not to use that tone with him or he wouldn't be helped, prompting another salvo of insults.
But then the insults allegedly turned to threats. Higgins told Christensen that if he saw him in the street he'd knock him out and he'd never see it coming. Christensen told him he was sorry Higgins felt that way. Higgins said he'd track down the deputy's house and vehicle and destroy both (no idle threats coming from a convicted arsonist). Then came the threats about fluids: "You know I'm going to throw blood on you, and know what, I'm also going to throw shit on you, don't think I won't."
Christensen asked the inmate what he'd done to offend the inmate, to which Higgins replied that he was going to force the deputy and members of his family to service him sexually and orally, though he—the inmate—then quickly yelled that "I'm no homosexual."
It was then that Higgins allegedly threw a liquid at the deputy's face and torso. The liquid had been in a paper cup. The threats continued, with Higgins allegedly threatening to have his brother kill the deputy's family. After the inmate was secured by other guards, Christensen went off to seek medical attention, not knowing what the liquid was.
Higgins, a resident of 807 Hymon Circle in Bunnell, was facing two felony counts for burglary with assault. He now faces an additional count of felony battery on a law enforcement officer, and because he is a prior offender released from prison less than three years ago, a conviction could severely increase his prison sentence.