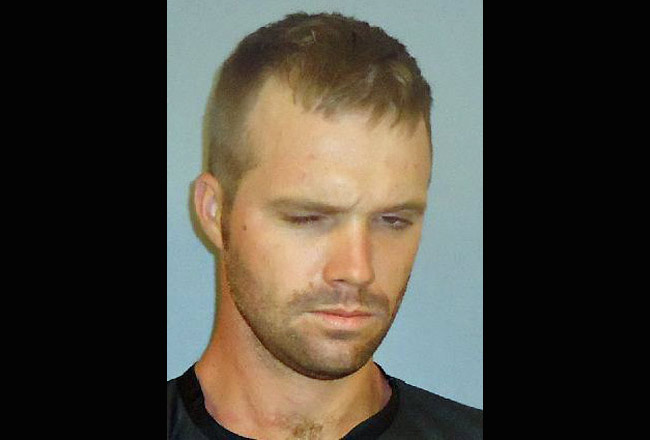 Charles Cowart, better known as Skeeter to his family and friends, has had issues. Earlier this month he was arrested and jailed on a petit theft charge. Two years ago around this time he was arrested on a DUI charge. He was sentenced to community hours. The year before he had his hunting license suspended for three years and was placed on probation after hunting deer at night with a gun and a light. In 2004, he'd been arrested on grand theft charges that were dropped. He's also survived a spectacular crash with his pick-up truck, which went airborne.
Cowart, 29, is the son of Chuck and Peggy Cowart, who own a blueberry farm in the western part of the county. They're part of one of Flagler County's oldest families and long-time landowners.
On Monday, Charles Cowart was arrested again, this time for riding a horse through Bunnell and allegedly injuring his horse and setting off a police chase that took bizarre twists, some of them literal, through streets, across railroad tracks and barbed wire as crowds gathered and gaped.
It began just before 2 p.m. when three Bunnell police officers–Lt. Randy Burke, Cpl. George Hristakopoulos and  Austin Chewning–were dispatched to North Cherry Street. The call was about a drunkard riding a horse. They saw nothing there. It was perhaps about that time that Bunnell City Commissioner John Rogers, who was having lunch with his children at the State Street Diner on U.S. 1 in downtown Bunnell, saw the horse ride by. Nothing appeared terribly out of the ordinary to the commissioner, other than a man riding his horse, which happens in Bunnell, and which he pointed out to his children.
But 23 minutes later, Chewning located the rider by the 300 Block of East Moody Boulevard, or State Road 100, right by the Flagler Playhouse. The theatrics were just beginning.
Chewning activated his cruiser's emergency lights to stop traffic, apparently out of concern for the rider–by then it was clear to cops that it was Cowart–as he crossed the boulevard on his way to South Pine Street. Cowart told the cops that he was riding to his grandmother's house in Flagler Beach. Chewning asked him to get off the horse and talk. Instead, according to the report Chewning filed, "Mr. Cowart then in an aggressive manner reared the horse back, causing it [to] run southbound on Pine Street." For everyone's safety. Burke told the dispatch center that there would be no pursuit, but that police would keep an eye on Cowart.
The trio of Bunnell cops kept track of Coward as he rode down to the area of South Bunnell–referred to as the Flagler County Housing Authority in the police report, a euphemism for Bunnell's black ghetto–"which caused a crowd of people to come out of their homes and follow us for that time," Chewning wrote.
Cowart then traveled west toward South State Street, crossing over the railroad tracks by South Bay Street–just as police were hearing warnings of an oncoming train. The train had to be brought to a halt (though that's not unusual for trains on that line: it's not Germany). The Bunnell cop trio at that point turned on the cruiser's emergency lights and followed Cowart, but not the sirens, "because," Chewning wrote, "we did not want to frighten the animal, potentially making the situation worse."
"All officers," Chewning continued, "continued to give loud, verbal commands for Mr. Cowart to come off the horse, which he ignored. Mr. Cowart continued to ride his horse around the south end of the city for approximately 35 minutes until the horse became completely exhausted and causing injury to the animal's left rear le." Jeff Hoffman, the Bunnell Police chief, called for back-up from the Flagler County Sheriff's mounted unit, seen most often in community parades and at festivals.
Cowart about that time got off the horse and started running toward the woods on South Bay Street. Deputies set up a large perimeter around that zone as they heard Burke tell them through the dispatch center that Cowart had a large knife in a holster on his hip. A canine unit—that of deputy Jamie Roster—joined the tracking.
Cowart emerged from the woods near where Chewning was. Chewning took out his Taser and ordered Cowart to the ground. "After I gave those commands to Mr. Cowart," Chewning wrote, "he advised that he was tired of being chased and started to run over the railroad tracks towards South State Street." The pursuit was on again. Cowart jumped over a large barbed wire fence and ran toward South State Street. Deputies converged on him behind Bunnell's Classic Restaurant. That's where he was finally apprehended and taken to jail.
Cowart is charged with disorderly conduct, resisting arrest, fleeing and eluding police, cruelty to animals, and interfering with railroad tracks or equipment. He remains in jail on $7,000 bail.