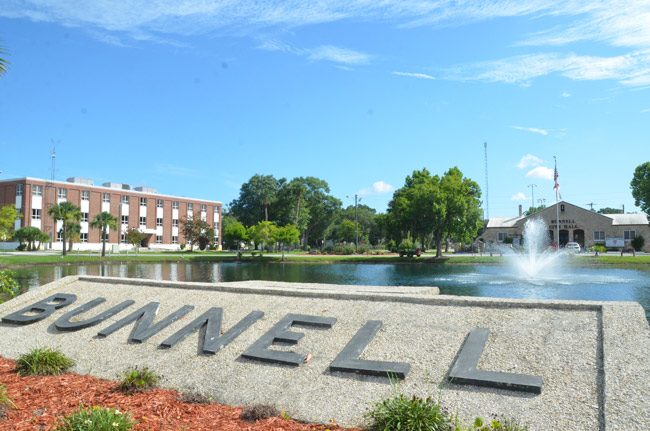 Qualifying for the Bunnell and Flagler Beach city elections in March ended with three candidates qualifying for each. Eligible residents of the two cities who are not yet registered to vote have until the end of the day on Feb. 6 to register, so they can cast a ballot in the March 7 elections.
Two seats are up on the Flagler Beach City Commission–those of Marshall Shupe and Kim Carney–and on the Bunnell City Commission–those of John Rogers and Bonita Robinson.
For candidates, the two cities had two qualifying periods, one in December and one this month, ending on Jan. 20. All four incumbents qualified, with Robinson qualifying in January. In addition, Paul Eik qualified in Flagler Beach and John Sowell in Bunnell. (See more details on the candidates here.)
The top vote-getter and the runner-up are elected in each contest. Whatever the outcome, at least one incumbent will survive on each commission.
The winners will serve three-year terms. The two cities schedule their elections out of turn from general and off-year elections because their three-year terms don't match with the more prevalent four-year terms of other local governments, and because Bunnell and Flagler Beach prefer to stand out from the pack during their own municipal elections, ostensibly affording their voters an opportunity to better focus on their own city and candidates.
That, at at rate, has been the argument put forth by city officials who defend the approach. A bill in the Florida Legislature last year would have required all cities and local governments to merge their elections with more general elections. Bunnell and Flagler Beach were among the cities that protested (through the Florida League of Cities). The bill failed.
Palm Coast had been following a similar off-year approach even though its council members' terms were of four years, but the city abandoned the practice in 2011 to improve turnout and save money. Palm Coast was right: about 10 times more people participated in its next municipal election, and the city didn't have to pay the Supervisor of Elections to run its election, since Palm Coast's races were folded into the 2014 election ballot that August and November.
For those who want to register to vote, you may register in person at the Elections Office (in the Government Services Building in Bunnell), in driver's license offices, public libraries and state offices that serve persons with disabilities. You may also register by mail. Mail registration applications are available at post offices, schools, libraries, city halls, or community centers, as well as many businesses throughout the county. You may also call the Flagler County Elections Office at (386) 313-4170 to have an application mailed to you or you may complete and print the Florida Voter Registration Application.
Download the Voter Registration application here. More details on the March 7 elections here.