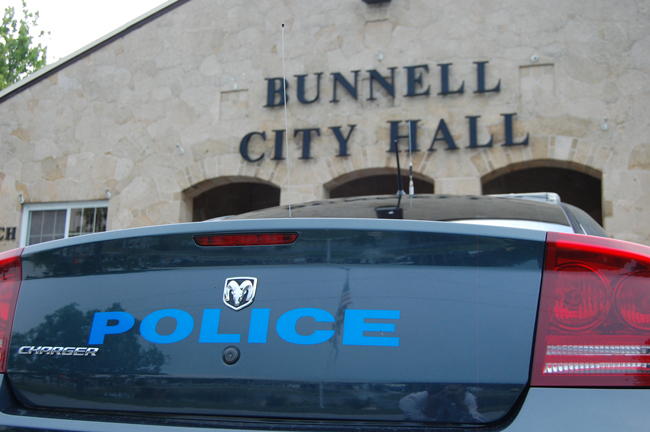 The Bunnell city government headed into this summer's budget season facing a $900,000 deficit–which coincides with the precise cost of the city's police department–and the potential loss of a $1.3 million state contract that would have a devastating effect on the city's $9.5 million budget.
The city has been securing the $1.3 million contract from the Florida Department of Transportation to take care of all state roads within the city's jurisdiction. It pays many salaries in the public works department and buys equipment the city would not afford on its own. It's good through December. But it has to be renegotiated.
"We've had the contract I believe going on three or four years and it's up for renewal, so we have to bid for it," Armando Martinez, the Bunnell city manager, said. "Nothing is guaranteed. We're going to bid for it and all the ratings that we've got are good, but what happens is when you budget, I'm not going to budget on something I don't have, so I have to budget the city as if I'm not going to get the contract."
When the Bunnell City Commission takes on its 2011-12 budget later this month, it will have to choose from several options Martinez will present, among them further cost cuts and an increase in the property tax rate, already the highest of any county jurisdiction except the school board. Bunnell's tax rate is $6.0544 per $1,000 in taxable value. Like Palm Coast, Bunnell did not raise its property tax last year. But it did so by going into its reserves. It's unlikely that either city will be able to keep the property tax level for another year.
Bunnell's city commissioners notably opted to double their salaries last year, to $9,600 per commissioner per year, the same salary council members in Palm Coast, a city with 25 times Bunnell's population, draw.
The city administration isn't waiting for the new budget year to make cuts. The third-highest ranked officer in the Bunnell Police Department, Sgt. David Barbee, was abruptly fired last month, ostensibly as a cost-saving measure. He happened to be on workman's compensation and was his union's representative with the city. He was also among those whose testimony to the State Attorney unraveled a series of embarrassing irregularities, improprieties and criminal behavior inside the department. That investigation had also relied on the testimony of another Sergeant, Frank Gamarra. He was fired last year, soon after the report became public.
Gamarra is now suing the city, saying he was fired for blowing the whistle. He rejects the city's argument that the lay-off was financially motivated, and charges that the city held on to Barbee, a "less qualified" officer (according to Gamarra's complaint), while Gamarra had twice been officer of the year in Bunnell.
"Barbee was placed on probation," Gamarra said of his tenure at the department. "Some of his tasks had to be given to me because he couldn't handle them. I'm also a veteran, no veteran preference was taken in consideration."
Barbee's lay-off could be a tactical move on the city's part, disarming a central point in Gamarra's lawsuit.
"I have no comment on the Gamarra lawsuit," Martinez said. "The only thing that was kind of interesting is that I read in the newspaper that Mr. Gamarra claimed that he was fired as a result of testifying, but in reality of the two, of Sgt. Barbee and Mr. Gamarra, in my opinion Sgt. Barbee's testimony was more severe and more damaging than Mr. Gamarra's."
Yet now both have lost their job.
"Yeah but this has nothing to do with it," Martinez said. "You know we've said it all along, it's unfortunate the hardest thing that you have to do is let anybody go, because it affects people's families. But sometimes you have to make the hard decisions."
The city also fired its fire marshal-code enforcement officer as a cost-saving measure. Between those two positions, the city is saving $20,000 this year and $78,000 next year. Overall, Martinez said, the city has so far amassed $380,000 in cuts, including savings in its health insurance plan and savings from the 3 percent that employees, rather than the city, now have to contribute to their retirement fund. But it still leaves a considerable gap.
Bunnell's difficulties this year aren't much different from those faced by other local governments. They're just steeper. Revenue drops or the loss of a lucrative contract have disproportionate effects on a smaller city–and one that, for now, can't afford its own offices: it's living off the office-space welfare of the county administration, rent-free, a lingering arrangement that has some county commissioners, including Commission Chairman Alan Peterson, chafing.
And some of the cost-saving measures, such as eliminating the sergeants in the police department and a decision to end providing certain water services to 10 percent of Bunnell's residents, are backfiring in lawsuits. In April, Palm Terrace Community sued the city when Bunnell decided to end billing its 120 homes individually for water, instead building a single meter for the whole community and sending the community manager a single bill. It's Bunnell's right to change the method, but the community is disputing the end of a 25-year custom that had been verbally agreed to between the city and the community when it was annexed.
Other cost-saving measures may be on the table again. Among them: eliminating the police department. That was considered last year at City Commissioner Elbert Tucker's request. The proposal didn't go far. It's not likely to go far this year, even though Tucker appeared to have a new ally on the commission in John Rogers, who had favored turning over the city's policing to the sheriff's office last year. He was cooler to the idea this year, though the numbers are more dire. "I'm not totally convinced that we should do that," Rogers said on Wednesday. "I'll have to look at the numbers."
Arthur Jones, the Bunnell Police Chief, went on a three-week vacation, raising speculation that he may have been on his way out. Martinez dispelled the notion, saying Jones would be back. Martinez, who was Bunnell's police chief before he became its manager, is not about to recommend abolishing the department.
"There's pros and cons to both, OK?" Martinez said. "I think Don Fleming does a tremendous job, and I think that the sheriff's department does a tremendous job, OK? The only thing is, most major cities–and although we're a small town now, we have the potential of being the next 800-pound gorilla in the county, and let's face it, when the economy was working, this was the fastest-growing county in the United States. Now, take that into consideration along with the fact that, well, the city of Bunnell probably is going to be more enticing for development because of the fact that we have fast permitting, we've done some things that put a moratorium on impact fees. When the economy turns around, this city is going to grow, and I can tell you, a big identifier to most cities has to do with their police department, and a lot of cities don't want to lose it."
Martinez added: "Once you take a police department away, it's just that much harder to start it up again because of all the start-up costs, so it's a hard decision to make. I could tell you that as far as some of the men and women that we have in the police department, I know it hasn't been a banner year, and I am very disappointed and kind of like a little frustrated by some of the things that have happened, but I don't think that maybe because of the actions of a few, the rest should be judged. I think that there's a lot of good people within the Bunnell Police Department. Every day they come in and try to give 100 percent, and I think that they do identify with the community, so I believe that that one-on-one connectivity with their police department is also something that's probably into consideration. But ultimately there's pros and cons to both sides."
The bottom line, Martinez said, will be in his options to the commission come budget time next week. A proposed tax increase will be among the options. "It will ultimately be their decision," Martinez said. "But remember, no millage increase means using more reserves."
And those reserves, now at $600,000, are decreasing, too.