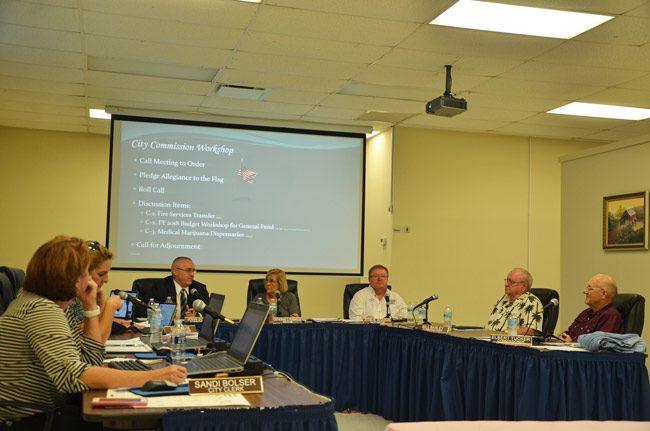 Flagler County has yet to see its first medical marijuana dispensary. But local governments have been drafting ordinances to comply with Amendment 2, the constitutional amendment that legalized medical marijuana. Along the way, elected officials have discussed policy regarding dispensaries often on a basis of wild assumptions, mis-characterizations and largely anecdotal or dubious evidence.
Flagler Beach and Flagler County officials almost banned dispensaries on the basis of such unsupported claims about crime or vaguer fears before pulling back toward more permissive compromises. Bunnell on Monday opted to ban dispensaries outright however, again mostly on the basis of vague generalities and unverified information about crime, and it appears uninterested in debating the matter or looking at a compromise, even as its officials claim to be "not against" medical marijuana.
In that sense, officials may be echoing Bunnell resident's indifference to the issue: whereas Flagler Beach's proposed ban drew dozens of angry residents to City Hall–a turnout that in the end swayed city commissioners toward a compromise–the Bunnell commission discussed its proposed ban during a workshop Monday before a largely empty chamber.
The Florida Legislature gives local governments two options regarding medical pot dispensaries. They may either ban them outright. Or they must allow them the same way they would pharmacies–without limits or restrictions on how those businesses may operate beyond what local code enforcement, building and fire codes already require of pharmacies.
City Manager Dan Davis recommended to the commission that it adopts an outright ban.
"This is not something that we want to recommend for the city of Bunnell right now," Davis said. "We're not against medical marijuana, we want the citizens of Bunnell who have a need for it to get to it, and we feel they will."
He gave commissioners two reasons for the ban, one of them entirely accurate: given that every local government around Bunnell is moving toward allowing dispensaries, Bunnell residents will have access. He said if surrounding communities had banned it, maybe Bunnell could have adopted a more permissive approach. But that, he says, is unnecessary right now.
He then gave his second reason: "We feel that we're just asking for crime to happen in the city of Bunnell when you have that much cash in one location," Davis said.
Dispensaries are largely cash-only businesses–not because it's against the law to use credit cards at dispensaries, but because most banks for now are deciding against it for fear that they may be vulnerable to prosecution under federal money-laundering laws. (The Obama administration had signaled that it was not going to prosecute medical marijuana sellers or users under federal law, but Jeff Sessions, the current attorney general, has sent mixed signals on the issue.)
Davis said Bunnell Police Chief Tom Foster is also opposed to allowing dispensaries in town. Bunnell City Commissioner John Sowell said he provided Davis with various articles referring to the crime that dispensaries attract. He spoke to commissioners about one of those articles, claiming it had documented 319 "armed robberies or burglaries" affecting 325 dispensaries in Colorado alone, in a single year. He also said that Florida is behind in properly measuring marijuana impairment in drivers. For those reasons, he said, he was supportive of an outright ban.
"Ditto," went Commissioner Elbert Tucker.
"Ditto," went Commissioner Bill Baxley.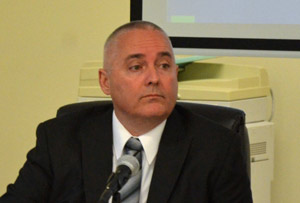 That was it as far as a discussion on the issue, aside from Mayor Catherine Robinson wanting to be sure that the city could change course any time in the future, and the commission's attorney noting that the legislation controlling dispensaries is far from settled. It's being litigated, and lawmakers have signaled they intend to make changes to the law. But Bunnell will be adopting a ban at its Sept. 11 meeting.
After the meeting, Sowell provided a reporter the article he was referring to, and quickly acknowledged that he had misstated the facts: the number of armed robberies and burglaries he cited had taken place over two years.
That was not the only problem with the NBC News article, titled "Robber Gangs Terrorize Colorado Pot Shops."
The article made no mention of "armed robberies," as Sowell had put it during the meeting. It referred to "about 317 burglaries and seven robberies" at "325 marijuana companies in Denver," without defining what it meant by "companies." NBC attributed the information to "police data," without linking to that data, and in the next paragraph reported: "While a Denver Police spokesperson disputed these figures, the department doesn't have its own," even though it had just attributed its own number to "police data." It did not provide an actual span of time that the reported numbers covered. And the article is three and a half years old.
Sowell said he believed in the number because he said NBC News is a reputable source. But the reporting method indicated in the article would not be considered "reputable" or verified by most editors.
While numerous articles have been written on crime at or around dispensaries and other marijuana businesses, the articles have lacked the sort of comprehensive numbers that would show solid trends one way or the other, context for the cited crime–the sort of context that the NBC article did provide when it had the numbers (for 2009), though the numbers went against its headline's point: " In 2009, the Denver Police Department estimated that about 17 percent of marijuana retail shops had been robbed or burglarized in the last year. That was good news: a bit less than liquor stores (20 percent) and banks (34 percent), and on par with pharmacies."
In time, similar comparative numbers will become available from various states as medical or recreational pot businesses become more established and may well provide a clearer and possibly alarming picture. But that evidence, for now, is lacking, reducing officials and decision-makers to citing headlines more sensational in tone than justified by the evidence.