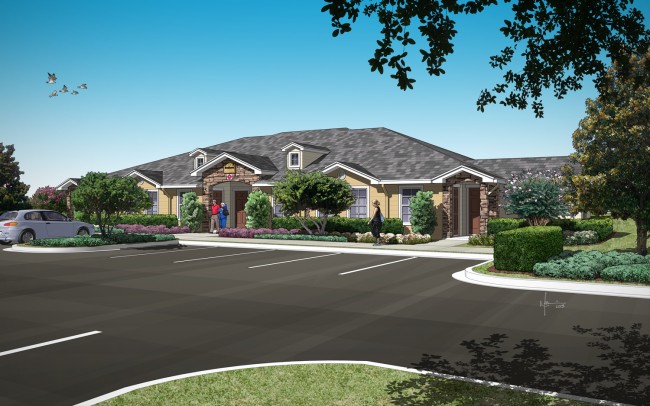 Fears fanned by stereotypical perceptions of affordable housing failed to dissuade the Palm Coast City Council from approving plans to build the Brookhaven 117-unit, 45-acre multi-family project near Town Center, just north of State Road 100.
While officials in many cities talk about building so-called workforce housing for people who work at and patronize local businesses, resistance often rises with worries about crime, declining property values and lack of maintenance because of fears about living near poorer people.
Councilman Bill McGuire gave voice to those who have raised objections, although instead of sharing fears he sought to calm concerns with his questions. " 'Gosh you're going to bring in a bunch of low-income people and drive my property down,' " McGuire said as he repeated the worries expressed to him that Brookhaven's future residents would bring crime and drugs.
Palm Coast city staff, responding first to McGuire, said the city review was not about who might live in the project, but whether the construction plans complied with regulations, which it does.
Next up was Mark Gauthier, vice president of Atlantic Housing Partners, the developer of Brookhaven, who acknowledged there would be income limits for residents. Atlantic Housing Partners has applied to the Volusia Housing Finance Authority for issuance of $9.5 million in tax-free bonds to finance the construction. Affordable housing is required by the bond agreement.
Income limits are set at 60 percent of the median income for Flagler County, which is $36,100 a year for a family of four, or $25,380 for a single person.
"You get a lot of rumors of the unknown," Gauthier said, "kind of like, the vacant lot next to my house, who's going to move in there?"
McGuire asked for an example of an affordable housing project a community would be proud to have. "Make me feel better" about the Brookhaven plan, he said.
Gauthier was able to respond with a project previously built by his company in Palm Coast, Beach Village, which has a good reputation.
McGuire apparently felt "better" about the project and joined in the City Council's 4-1 approval of the Brookhaven plan, but Councilman Bill Lewis did not, casting the only negative vote.
"Will you have a manager on site?" Lewis asked.
Gauthier responded that Atlantic Partners had its own management company, Concord Management, and a manager would be on site.
As for maintenance, Gauthier stressed that his company keeps its projects long term, making good maintenance also good sense. He said maintenance staff would likely be shared with the maintenance staff at Beach Village.
"We retain our properties for a long time, a minimum of 15 years," Gauthier said. The longtime ownership strategy is an incentive for the company to build its projects well and keep up the maintenance, he said.
Brookhaven is planned to encompass 44.75 acres north of State Road 100 and east of Belle Terre Parkway. A conservation designation would preserve 15.4 acres of wetlands on the project site.
Construction on Brookhaven actually began in 2006, but stalled six years later. Roads, water, sewer and drainage infrastructure along with five residential buildings, a clubhouse and clubhouse parking, as well as a pool were completed before construction came to a halt in 2012, a late victim of the real estate crash.
Twelve of the previously built units were designated as condominiums, but only two sold to residents. Atlantic Partners bought the remaining 10 condominiums and leases those units, a fact resident Dennis McDonald was not aware of when he told the City Council it would be a "recipe for disaster" to mix 12 condominium owners with more than 100 apartment renters. McDonald told the City Council to take a good look at the Brookhaven concept drawing. "This is as good as it's going to get," he said.
Gauthier stressed Brookhaven's features, including environmentally sensitive design with extra insulation, dual pane windows, Energy Star appliances, hybrid water heaters and water-wise landscaping.
Recreational features will also include amenities such as a beach volleyball court, walking trails, a tot lot, picnic tables and a pavilion.
"I know Palm Coast has a big desire to foster sustainable development," Gauthier said. Part of that goal includes a reduced dependence on driving. Brookhaven residents will be able to walk or bicycle to shopping, restaurants, a movie, or even to visit or work at the hospital.
Residents living in Brookhaven will be able to walk or bicycle to Town Center without going on State Road 100.
Mayor Jon Netts said "walkability" was only a concept when it was brought to the City Council at the start of planning for Town Center. "This contributes rooftops to support local businesses, but it also contributes to make Palm Coast pedestrian friendly," Netts said.