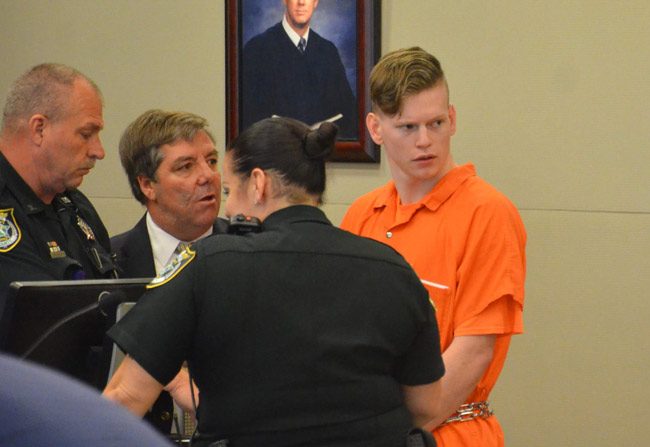 It isn't the 270 days in jail that Brenden Geary will find most punishing: he had himself asked the judge for 210 days for what he admitted was the "heinous crime" of brutalizing his then-boyfriend's 11-pound Yorkshire terrier last March by choking it, throwing it against the wall and leaving it unresponsive on the spot of carpet the dog had soiled, enraging him.
It isn't the five years' probation the former resident of 3 Winchester Place in Palm Coast will find so insurmountable: he'll go through probation's steps, pay restitution and fines and likely manage to end probation early, as those who meet all its requirements usually do. The former Embry-Riddle Aeronautical University engineering student has the family support and commitment to help him through.
But what will be less insurmountable is the lifetime designation as a felon. He may never need food stamps, welfare or public housing, all of which he may be ineligible for, but he may also be ineligible for federal education assistance, he may be barred from a series of professional licenses and employment opportunities–most states allow employers to ask whether a job applicant has a criminal record or is a felon–he's lost the right to vote, even his driver's license is in jeopardy.
Geary, who turns 22 in August, and his attorney had asked the judge to withhold adjudication precisely to avoid the felon designation: Geary had a spotless record before his arrest on March 5. He'd had issues, as his oldest sister, one of four siblings, told the judge today, but that's because he'd lost his mother to an accident when he was 5, a loss that hit him hardest among the five children. He'd done well enough in school to make it to Embry-Riddle, but moving from the West Coast to Florida cost him his support group. He told the judge he felt "massively overwhelmed" at school, and that day when he came home to find Dixie–the dog–had soiled the carpet, he lost it and made the dog pay the price.
"I committed a heinous crime for something I don't have an explanation for," he said, and he's spent his time since trying to figure out "what road I took to get here, because obviously it was the wrong one."
---
"Cruelty to animals of this dimension has been shown to be related in some ways to much troubling and violent behavior."
---
Circuit Judge Terence Perkins said he would normally have granted the request to withhold adjudication. That's what he routinely does when faced with a first-time offender. Not in Geary's case, however. Perkins, who took over Flagler's felony bench this month, felt compelled to explain his decision.
"What I'm concerned about is that cruelty to animals of this dimension has been shown to be related in some ways to much troubling and violent behavior," Perkins said as Geary stood in front of him in his orange garb, hands and feet shackled. "And I don't know whether this is an isolated event, I hope it is. Whether it is or not, I want to make sure, with regards to a conviction there are consequences that are associated with that that would control other behavior."
So Perkins adjudicated him guilty on a third-degree charge of animal cruelty with great harm this afternoon at the end of an hour-long sentencing hearing. (Perkins's concern has been repeatedly documented. "A paper published in a psychiatry journal in 2004, 'A Study of Firesetting and Animal Cruelty in Children: Family Influences and Adolescent Outcomes,' found that over a 10-year period, 6-to-12-year-old children who were described as being cruel to animals were more than twice as likely as other children in the study to be reported to juvenile authorities for a violent offense," The New York Times reported in 2010. "In an October 2005 paper published in Journal of Community Health, a team of researchers conducting a study over seven years in 11 metropolitan areas determined that pet abuse was one of five factors that predicted who would begin other abusive behaviors. In a 1995 study, nearly a third of pet-owning victims of domestic abuse, meanwhile, reported that one or more of their children had killed or harmed a pet." Further studies have added to the literature.
In attendance at today's sentencing of Geary were his former boyfriend, the now-22-year-old owner of Dixie whose house Geary had shared. Dixie has since recovered and was, after some trepidation on the part of animal control and shelter officials, returned to its owner. Perkins asked the dog's owner whether he wished to address the court. He declined. But he sat with his mother and Geary's sister throughout the hearing and the trio walked out together afterward, continuing to talk in the parking lot.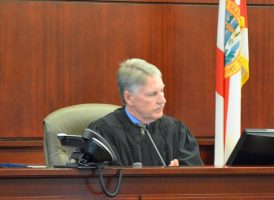 Geary has been held at the Flagler County jail without bond since his arrest. The 114 days will count as credit toward his 270-day, or nine-month, sentence, and his five years of probation date back to his first day of incarceration. So he will be leaving jail a few weeks before Christmas. The judge granted him another request: to transfer his probation to Los Angeles, where he plans to relocate, with his sister's help. His sister, a television-program editor, and her husband, plan on finding him an apartment: he would have lived with them, but they have pets, and Geary is no longer allowed to own pets for the rest of his life. She told the court they will ensure that he has the family's support–he will be invited to family night every Sunday–but he'll be faced with a combination of care and "tough love."
"I'm definitely not giving him a free ride," his older sister, who'd also flown in last April for his arraignment, told the court, elaborating on a letter she'd written the judge. It'll be love, support and "the kick in the butt that he needs as well." She insisted that the incarceration had affected her brother deeply, that he's been "absolutely disgusted with what he did" and that there'd been no precedent for it even as he grew up among pets in his youth: the family would take in stray cats.
Geary's older sister alone testified on his behalf in person, but the court also considered letters from Geary's father, grandfather, another sister, and his former wrestling coach, each a heartfelt plea as wrenching and unique to those writing them as they are common in sentencing hearing records. Those letters were not read during the hearing.
Geary had initially lied to authorities about how the dog had ended up so severely injured, after its owner took 11-lb-Dixie to the vet. The veterinary office immediately called the sheriff's office, suspecting abuse, according to the arrest report. The sheriff's Detective Annie Conrad, who's investigated some 20 animal abuse cases in her 10 years as a detective, was on the case, and soon determined that the story he was telling her was "inconsistent" with the evidence of what she described as "an extremely violent attack" she observed back at the W-Section house. Confronted with the inconsistencies, Geary owned up to his acts, broke down.
"When you saw him crying you tried to console him, right?" Bill Bookhammer, Geary's public defender, asked Conrad when she was on the stand.
"Yeah, I always do that," said the detective, who has a reputation for compassion for all involved no matter the situation. "You want to believe that everybody is genuine."
Mike Stover, the assistant state attorney who recently began prosecuting cases in Flagler, described the case to the judge as "equal parts tragic and toubling," and said that while he was not arguing for more jail, he said the violence of the attack "went beyond the excusable," and that when both the detective and Geary use the same word to describe the acts ("heinous") there should be consequences–and a psychiatric evaluation, something Geary has never had. But, Stover said in closing, "on behalf of the state I do wish him the best."