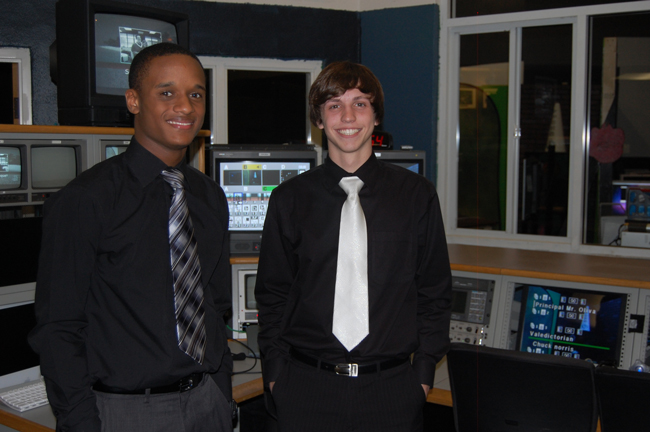 Carl Brazell's television production teams at Flagler Palm Coast High School traditionally do a "Rewind" video at the end of each year, a video yearbook that attempts to encapsulate the entire odyssey of a high school year. It's the sort of epic Kevin Costner and James Cameron would be proud of, at least by running time standards: The thing can be three to four hours long. For all that, sports only got three to four minutes' play.
Alexander Ludwig decided to do it differently this year. The 16-year-old junior — just elected next year's senior class president — went on a mission: film every school team in action—all 19 of them—for at least a full game, more if the sport is basketball or softball, edit it all, and give FPC Sports (if we may be allowed the new branding strategy) their own highlight video.
The result was so successful that it's been playing in loops around the school, to great acclaim, and selling for $10 a reel. Or disc. Or flash drive. Or however it is that these things get transmitted anymore. (See for yourself below: the entire highlight video, Courtesy of Brazell, Ludwig and two additional crew members: Vladimir Jean-Pierre and Alexis Ferro.)
On Tuesday, Ludwig appeared before the Flagler County School Board with wingman Vladimir Jean-Pierre to give the board and two superintendents in attendance a verbal highlight version of the experience. Bill Delbrugge, the outgoing superintendent, listened to them as if he was seeing "Avatar" for the first time.
Identically dressed as men in black (it wasn't planned, Jean-Pierre certified afterward) and alternating their delivery as if they were on an Oscar stage, Ludwig and Jean-Pierre described how they negotiated crowds, coaches and schedules, how they'd be blocked at the gate until Jean-Pierre secured a couple of press passes from Athletic Director Steve DeAugustino, and what it was like to capture the universe of a year's sports for digital eternity.
"It was," Ludwig said later in the afternoon, not far from the television studies where he puts in his hours, "a much bigger challenge than we've had throughout the year." He recalled spending three afternoons or evenings a week at a time chasing after sports events and trying to keep them straight until Jean-Pierre, who wasn't even in the TV production crew, started helping him out, essentially serving as his time manager and coordinator with coaches. "It started as kind of a friend helping, and then it turned into a business thing," Ludwig said. Jean-Pierre would get him in and out of dugouts and keep schedules and coaches straight.
The editing process began in January and lasted until mid-April–hour after hour of raw footage distilled into jazzed up highlights with a soundtrack to foreign most ears a year or two out of high school to get into. It all made it in. Football and flag football, boys and girls basketball, soccer and swimming, but also Lacrosse, weightlifting, golf, tennis, and a few more. Ludwig shot every boys and girls basketball and every girls softball match too, turning over those tapes to coaches who used them for analysis and practice.
One thing he didn't do: edit the cheerleading video. That job went to colleague Alexis Ferro, a sophomore and a cheerleader herself.
So here it is: the full video. This isn't your average YouTube click-and-view. Because of its enormous size and length, it'll take several minutes to load. (Come now, give your instant gratification a Twinkie and be patient.) So click here to get started.