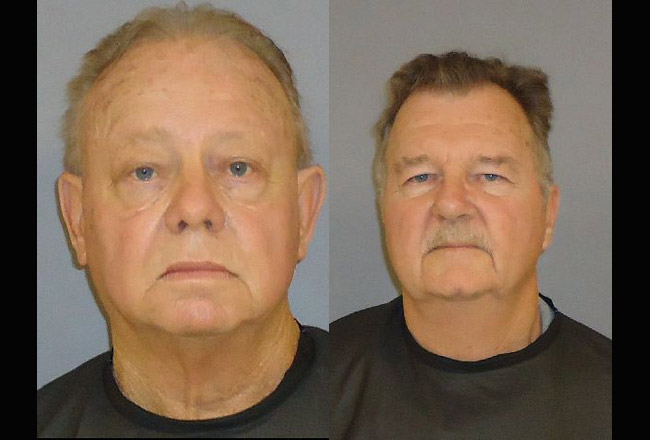 As he took office this week Flagler County Sheriff Jim Manfre made much of reorganizing the county's largest police agency, eliminating certain squads, creating new ones. Creating a wanker patrol was not among the new initiatives. Perhaps it should be, with Graham Swamp as its base.
As it is, Manfre picked up almost exactly where Don Fleming left off on the onanism beat.
For the third time in four months, men were arrested at Graham Swamp for acts involving the public display, and public handling, of a penis. As was the case in October, the arrests took place in separate incidents involving men of a certain age who took out their penises around the swamp on the assumption that they were with a like-minded man, when in fact they were dealing with an undercover cop.
Both arrests took place just after 1 p.m. on Thursday.
In the first case, Leslie Colombo, a 70-year-old resident of Philmont Lane, initiated a conversation with the undercover cop, broaching sexual subjects, according to his arrest report. Colombo then allegedly exposed himself, then asked the cop to walk back with him to his (Colombo's) car. "Once in the parking lot, Leslie again exposed his penis to the undercover officer, asking him to leave the park with him to participate in sexual activities."
He was arrested. His vehicle was inventoried by cops at the scene before it was towed by Roger's Towing. A loaded .22-caliber revolver was located in the glove-box of the car. That's legal in Florida, where state law not only allows individuals to carry weapons into a public park (and public buildings and government meetings and walking trails), but forbids local governments from restricting the practice. Colombo had a valid concealed weapon permit, one of more than 1 million the state has handed out since 2007. The sheriff's office took the weapon "for safekeeping."
"Also located in the back seat of the vehicle was a plastic enema bottle wrapped in a plastic bag," the arrest report notes.
The encounter between  Colombo and the officer was captured on video—another initiative Manfre intends to make routine by equipping his deputies with portable video cameras that will document encounters and arrests  both to protect and back-up deputies in legal proceedings, and to provide the public—and suspects—a level of transparency they, too, can rely on.
The second case involved Charles Bitzer Jr., 68, of 9 Barkley Lane. Unlike Colombo, Bitzer did not wait. According to the arrest report, he followed the three-point program of such encounters in succession, on the spot: he engaged the undercover cop in a sexually oriented conversation, he whipped out his penis, and he began masturbating in front of the undercover cop. That encounter, too, was recorded with video and audio.
Bitzer was arrested and taken to the Flagler County jail. They were both released on $1,500 bail. If past arrests are any guide, the men are likely to get off with fines and perhaps probation.
It isn't illegal, in Flagler County, to masturbate, nor to do so with the aid of enema equipment. It is illegal to do so in public places. Why Graham Swamp—a modestly, quietly spectacular trail around a large pond that recreates Monet's Water Lillies daily, and more beautifully—has become a favorite ground for older men to wax Longfellow on their surroundings is a mystery, though the trail does provide many a secluded spot, and it is never far from the parking lot, where, apparently, lubricious ideas are left to lurk.
The sheriff's office appears well aware of the trend, wasting no time not only to patrol the area again, as it has since October, but, under Manfre, flashing the name of the re-Christened unit doing the patrolling: The Safe Neighborhood Unit.
And it was on such a story that Manfre provided his first official, post-inauguration quote in a news release: "This was an excellent operation by the Safe Neighborhood Unit. These operations will continue at Graham Swamp as long as there is a need," Manfre said. "Our goal is to create a safe environment for visitors to the preserve."