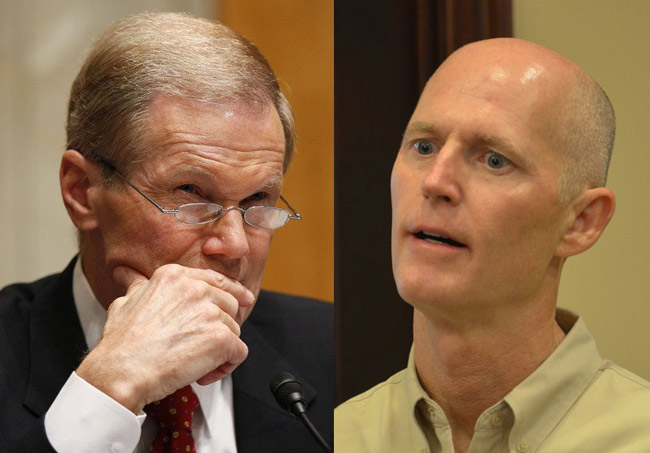 U.S. Sen. Bill Nelson said Wednesday that Gov. Rick Scott is to blame for the state's poor performance in helping homeowners who lost their jobs or part of their incomes during the recession.
Nelson said during a stop in Tallahassee that he has written the inspector general of the federal Troubled Assets Relief Fund, or TARP, to look into what he called "mismanagement and inaction by Florida officials" in administering a program called "Hardest Hit," which was supposed to take federal money and help struggling homeowners.
Nelson cited a story by the Tampa Bay Times earlier this month that said of the 18 states participating in the Hardest Hit program, Florida ranked last for the percentage of federal dollars distributed – $150 million of about $1 billion in federal recovery funds, or 15.7 percent of the pot over the past three years.
In contrast, Nelson pointed to North Carolina, which has dispersed 47 percent of its Hardest Hit funding, and Michigan, which has dispersed 75 percent. And he noted that RealtyTrac's Foreclosure Market Report for February showed Florida leading the nation in foreclosures for six straight months.
Nelson, a Democrat, said the newspaper story led him to believe the decision to slow the disbursement of funds was the Republican governor's.
"The implication in the Tampa Bay Times is that it was made at the administrative level in the Executive Office of the Governor," Nelson said. "I have no evidence except to know exactly that – you can look at the statistics of the program. And as a result, the people of Florida have been hurt."
According to the Times, "Scott — a critic of federal stimulus programs — restricted efforts to publicize the Hardest Hit program and was instrumental in reducing aid when it went statewide in 2011."
Scott's office did not immediately respond to requests for comment.
Cecka Rose Green, spokeswoman for the Florida Housing Finance Corporation, which administers Hardest Hit, said Nelson is right about the amount of money actually paid out but that additional funding – for a total of $230.5 million – has been pledged to 9,052 homeowners in all.
Green said of the roughly 44,000 applications to the program so far, some 23,000 have been completed – and of those, 37 percent qualified for assistance.
"We are confident the funding will be properly expended by the December 31, 2017, deadline," she said.
Green also noted the Hardest Hit program has been reviewed by the U.S. Treasury Department, the Florida Auditor General's office and the Legislature's Office of Government Accountability and Program Policy Analysis.
Nelson has been on record since 2011 in pushing for Hardest Hit to pick up its distribution pace in Florida, but now he's rumored to be considering a run against Scott in the 2014 gubernatorial race.
On Wednesday, Nelson was vague, saying that right now he has no plans to run for governor. But given Scott's low job approval ratings, he said, the Democrats have a good chance to reclaim the governor's mansion.
–Margie Menzel, News Service of Florida