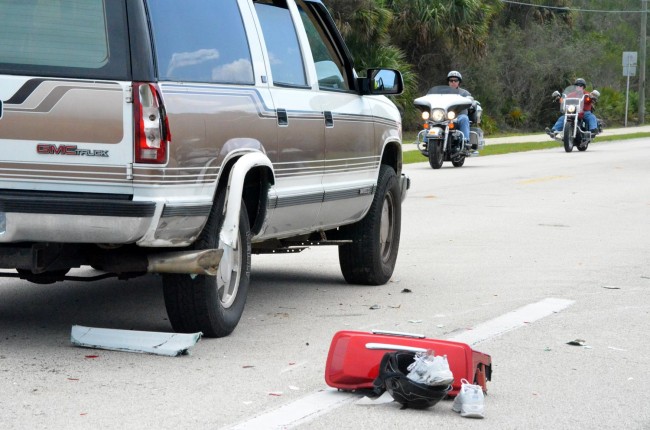 Update, March 13, 9:30 p.m.: The Florida Highway Patrol this evening reported that Diana Sallee, the woman involved in a three-vehicle crash on Monday on State Road A1A, succumbed to her injuries at Halifax Hospital. She was pronounced dead Tuesday evening at 7:10 p.m. There had been numerous unconfirmed reports that she had died earlier.
The FHP's accident report, which can be downloaded here, has been posted below the images at the foot of the article.

March 12–The last time Tommy Sallee came to Bike Week with his parents, Billy and Diana Sallee, goes back to 2000. He vaguely remembers it: he was 4 years old. The family hadn't taken a full-fledged vacation since, Tommy, now 16, says–until this week, when the family drove down from Neosho, in southwest Missouri, towing a 1989 South Tail Springer Harley.
They were staying with Rick Kirtley, a friend in Jacksonville, and delayed coming down to Bike Week because the Harley needed $320 worth of work in the last couple of days. Monday, finally, they rode down: Kirtley on his 2007 Harley, with Tommy as his rider, and Billy and Diana on their bike.
They were traveling south on State Road A1A. Kirtley was in front. He was approaching the entrance to Washington Oaks Garden State Park. It was about 1 p.m. today. Bright, sunny, cloudless.
A GMC Suburban, tan and white, with Catherine Meagher, 70, at the wheel and Helen Purvey, 52, in the passenger seat, had stopped or was rolling to a stop to make a left off A1A, toward the coastal scrub habitat of Washington Oaks by the beach. (Meagher is from Excelsior, Minn., Purvey is from Eden Prairie, Minn.)
Kirtley doesn't remember seeing the Suburban's break lights or its turn signal. "By the time I realized he was sitting there to make a left turn, I put on my brakes," Kirtley said. Billy, 38, who was piloting his Harley, may not have seen him slow down. "He clipped me before I could go to the left," Kirtley said. The saddlebag on Kirtley's bike was ripped from its sockets. The left side of the Sallees' bike then hit the right-most side of the Suburban.
The tail-light was smashed and the exhaust pipe was bent from the force of an impact. The crash report stated that "due to her being thrown off the motorcycle, [Diana Sallee] slid on the roadway and stopped underneath the rear of the stopped" Suburban.
One of the two riders hit the back of the truck itself, and fell, a Florida Highway Patrol investigator at the scene had said. That would have been Diana.
Tommy looked back almost at the moment of impact, after he remembered himself swerving as the bike he was riding traveled a few dozen feet further south. "The bike flipped up and everything shattered," he said. "That's when I took off my helmet and ran as fast as I could."
"She was non-responsive, he was OK," Kirtley said, "he had road rash on his leg, looked like one of his left fingers was broken."
Billy was taken to Florida Hospital Flagler by ground. Diana, 39, was taken to Halifax Hospital by Flagler County Fire Rescue Fire Flight, according to FHP. There was a report, unconfirmed, that Diana, too, was taken to Halifax by ground.
"The female is extremely critical," the FHP investigator said.
The wreck took place just after 1 p.m. Shirtly afterward, A1A in both directions was shut down. It remains, as of 2:38 p.m., down to one lane, with traffic backed up in both directions and the Flagler County Sheriff's Office directing traffic. A Florida Highway Patrol's homicide investigator is at the scene.
"They were staying with me up in Jacksonville," Kirtley, 65, said, "and we were on our way to Daytona–taking the scenic route."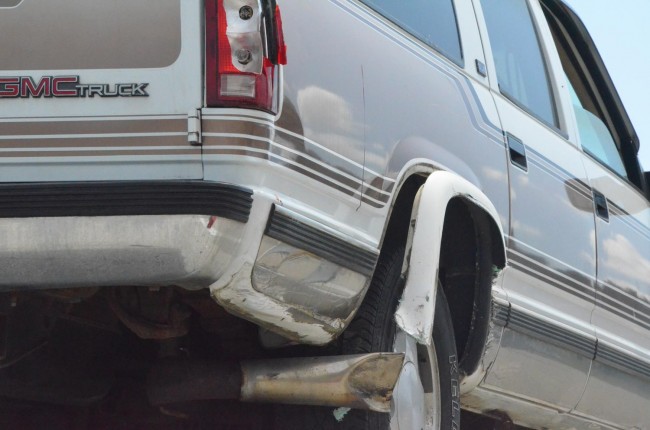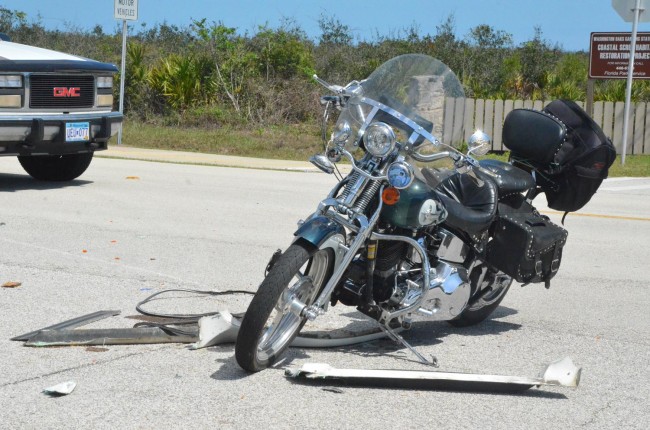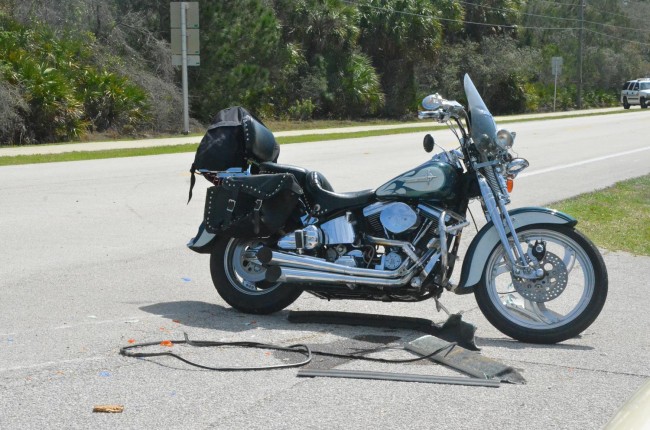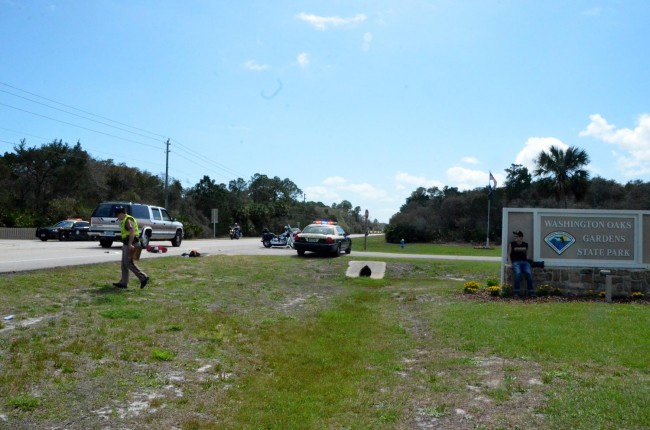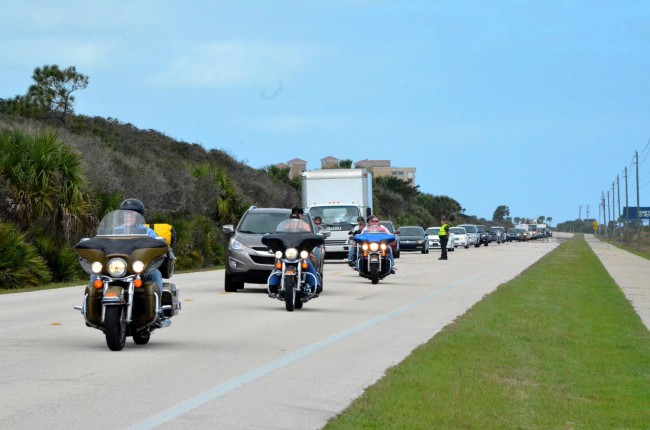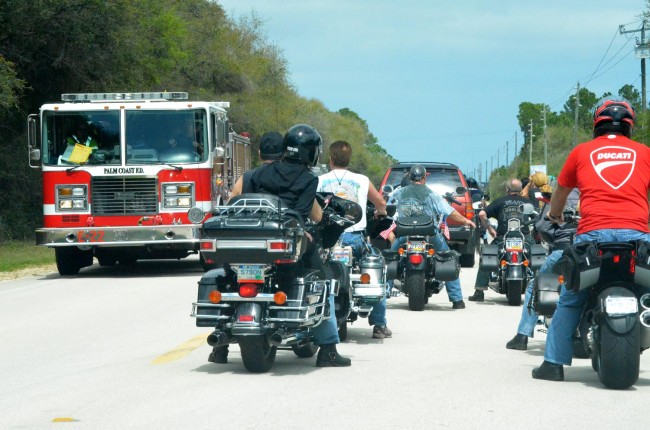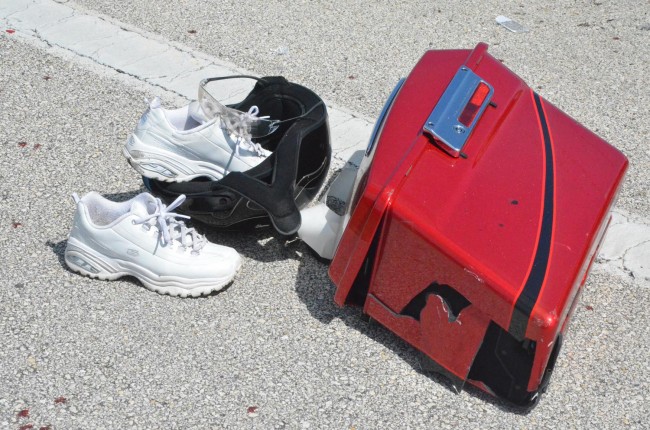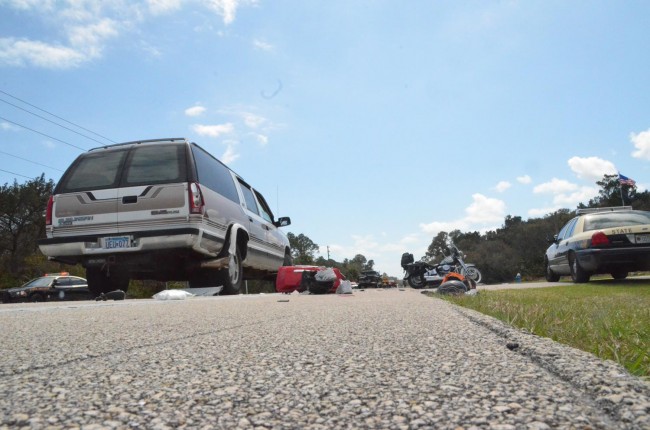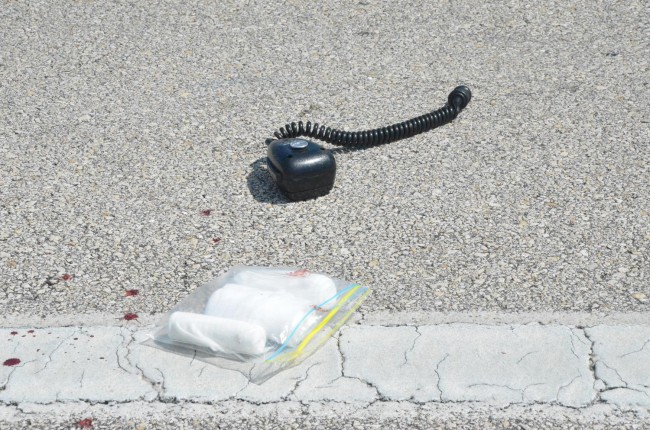 Download Diana Sallee accident report, FHP