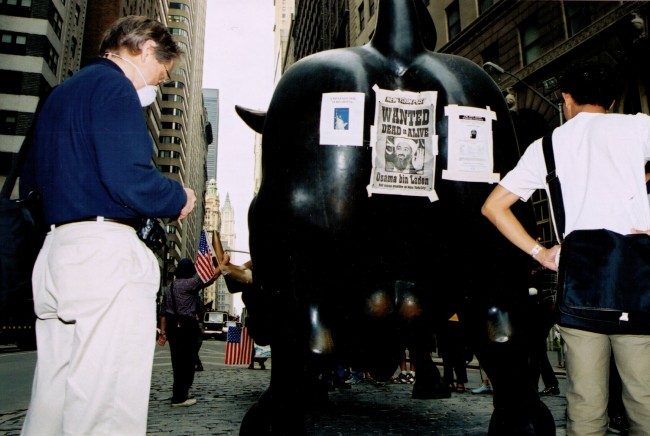 Celebration isn't a dignified reaction to the death of any man, even in war. With Osama bin Laden, it's different, at least for those of us—most of us—who lived through that day in September 2001, when the barbarity of bin Laden's capacities revealed themselves, unleashed by a perversion of religious zeal rare even for history's crammed circles of zealots. The celebration of mass murder was Bin Laden's signature. Celebrating his death is a reaction as visceral as the horror and sorrow we lived in 2001, as helpless a reaction, for the better, as the helplessness we felt, watching those towers fall 10 years ago. Bin Laden had declared war on every American in August 1996. He got his due, if unnecessarily late. He'd forfeited due process long ago.
Visceral reactions help at first. But they don't make for good policy. They didn't in 2001. They won't in 2011.
The visceral never let up in the aftermath of the 2001 attacks. The visceral wasn't just the inspiration for what followed. It was the method of what followed, an overreaction that flailed and sprawled over a decade, over three continents and three wars, none of which—not a single act of which—achieved what a group of a less than three dozen men finally achieved the night of May 1 in Abbottabad, Pakistan.
One part of the debate after the 2001 attacks, muffled as it was by our own zeal and patriotic fury, was whether to deal with al-Qaeda in the shadows or whether to launch a war. The warmongers won, and lost the decade, and a lot more along the way, including 6,336 American servicemen in Iraq and Afghanistan (so far), American influence and prestige, more than $1 trillion. There were also incalculable losses of constitutional principles and moral authority with every act of torture and extra-judicial executions at America's hands, with every act of imperious fiat by a presidency that, even now with adventures abroad, takes Congress for a footnote—and allows the sham of Guantanamo Bay to persist.
---
The Live Column
---
---
In matters of foreign and military policy, it has been the most wasteful decade in American history, a waste that won't be made up by the killing of bin Laden. Symbolism counts. It doesn't win. Whether the courage of launching the strike on bin Laden will be followed by the courage of stanching American losses in the Middle East, by ending American involvement in Iraq and Afghanistan and continuing the decimation of al-Qaeda the only way it can work—as it did against bin Laden—is the unanswered question.
Bin Laden in 2011, in any case, was already dead in most regards. He was irrelevant. Al-Qaeda's influence, never as strong in the Arab world as it was imposed on parts of the Arab world, had waned since the middle of the last decade. It had become marginal, its attempts to stay relevant undermined by the shoddiness of its operations, which its operatives botched more often than they pulled off, by the sophomoric idiocy of its message, which had no resonance with the daily struggles of ordinary people—a caliphate? With this Facebook generation? Really?—and by the brutality of its disciples. Al Qaeda in Iraq was no less bloodthirsty against Muslims than it was against Americans in Manhattan.
If al-Qaeda was in its own intensive care unit by the end of the last decade, the Arab Spring of the last six months finished it off. None of those Arabs in the streets of Tunisia, Egypt, Libya, Syria, Bahrain and Yemen have been holding up signs for a new caliphate, let alone iconic images of bin Laden. They've been battling for their own liberties, on their terms and, if anything, with aspirations more familiar to western ears—democracy, human rights, pluralism—than with bows to the regressions of al-Qaeda. Al-Jazeera will always find blithering fanatics on the Arab street to speak of bin Laden's "martyrdom," or his standing up to western imperialism, Zionism and other shredded clichés. But for all its abilities to pull off the errant bombing, the isolated attack, the hysterical broadcast, as it surely will, al-Qaeda as an influence on history is dead. Its only influence should be limited to the movements and agility of special operations forces. Had it been so limited since 2001, it would have never played the disproportionate role it did on the recent history of the Middle East, or led to the degradation of American policy into reactionary flaps and flounders, a degradation whose price we'll be paying for years, not least with Pakistan cashing the checks.
The location of bin Laden's final laird tells the tale.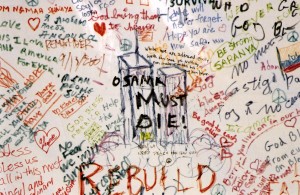 It would be one of the supreme ironies of this story if that Abbottabad bunker didn't reveal the cynical hypocrisy at the core of bin Laden's character. He wasn't living in a cave. He wasn't living in the Spartan severity of his very brief Afghan years, after he left the comforts of Sudan—after the Sudan kicked him out in 1996—and before the American invasion of Afghanistan drove him out five years later. This man, who made a trip to the United States in 1978 so his son could get medical treatment, was living in a fortified compound in the comforts of a city known for its country club, its Aspen-like air, its gigantic golf club and its appeals to tourists on their way to the splendors of Kashmir. He was living in a town named for James Abbott, memorializing the days of the British raj. The town was hard-hit by the 2005 earthquake in Kashmir, which killed 75,000 people, and therefore a recipient of more emergency American aid on top of the $1.2 billion to $1.5 billion a year Pakistan is receiving from U.S. taxpayers. It's not a stretch to say that bin Laden, who spent his fortunes long ago, was partly living on American dole.
That's his duplicity.
Then there's Pakistan's, that alleged ally in the war on bin Laden and Islamism. That flaunting compound where bin Laden was living, 35 miles north of the capital, was built in 2005, after the earthquake. It's eight times higher than the residences around it. It's surrounded by a wall of up to 15 feet high topped with barbed wire. It's in a city filled with retired military and intelligence officers. Pakistan's ISI, the country's Inter-Services Intelligence, has been playing a double game with the United States since 1979. It created the Taliban in the 1990s. It protected bin Laden in Pakistan until 2001, and very likely enabled his escape from Tora Bora in December 2001. It's impossible that the ISI didn't know who was living in that compound in Abbottabad. It's virtually impossible that the ISI or other elements of the Pakistani military weren't not only protecting bin Laden, but abetting him.
Pakistan's duplicity isn't over. Its long-term interests in Afghanistan aren't to facilitate American interests, but to further its own against India's, as it did in the 1990s, when it formed the Taliban as a hedge against India there and in Kashmir, and as a replacement for American withdrawal from the scene after the defeat of the Soviet Union in Afghanistan in 1989. That's Pakistan's battles. It's no longer those of the United States. Should Pakistan choose to harbor other terrorists with presumptions of attacking the United States, there's no begrudging a special ops team to do to them what they did to bin Laden. A few of those terrorists should be quaking in their galabias right about now.
But as brilliant as the operation against bin Laden was on Sunday, it discredits for good the carpet-bombing approach of the previous years, which largely continues. Barack Obama wisely stopped referring to "the war on terror." That's only one out of three overdue corrections. Celebrations over Iraq and Afghanistan, to say nothing of celebrations for justice reclaimed over broader swaths of the Middle East, still await.