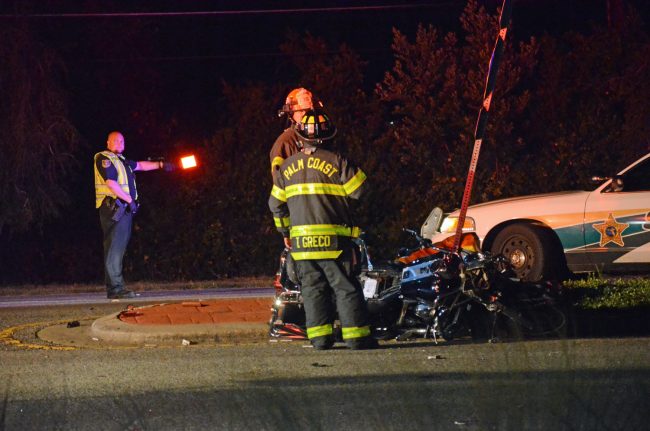 The Florida Highway Patrol is seeking anyone who may have been a witness to the crash. If you were, please contact Cpl. Young at this email address.
Last Updated: Monday, 6:10 a.m.
Travis E. Stewart, 56, of Palm Coast, was killed when his motorcycle crashed with a pick-up truck at Ponce deLeon Drive and Belle Terre Parkway in Palm Coast late Sunday evening. Susan Lynn Horne, 56, who was riding with him was critically injured. She'd moved to town only two weeks earlier.
The incident capped a horrendous six hours in late afternoon and evening that totaled four serious crashes on Palm Coast roads, including one other motorcyclist who was in critical condition after a crash on Seminole Woods Parkway and U.S. 1. The crash at Belle Terre and Ponce DeLeon was the only one that resulted in a fatality, so far.
That crash took place at about 8:45 p.m. Residents at the southeast corner of an intersection that has been the site of a number of crashes over the years–most of them in the same circumstances as tonight's–said they heard the "boom" of the collision. Soon they saw Flagler County Fire Rescue transport a woman from the scene.
Horne was supposed to be flown to Halifax hospital by Volusia County's Air One emergency helicopter. But the patient developed complications on the way to the landing zone. The rescue turned around and rushed to AdventHospital. The woman was eventually transported by ground to UF Shands in Jacksonville, according to the Florida Highway Patrol.
FHP investigators confirmed that Stewart was heading north on Belle Terre, while Joseph Michael Scarpone, a 71-year-old resident of Palm Coast, was driving his dark-green-colored 2015 Dodge Ram pick-up south with Mary Ellen Scarpone, 67. Joseph Scarpone made a left turn to go onto Ponce DeLeon. The motorcycle appears to have struck the rear-right side of the pick-up, then careened toward the median, where it either struck or came to rest against a metal street sign.
Scarpone, an FHP report states, "turned left into the path of the motorcycle." Charges are pending against him. Neither occupant of the Dodge was injured. Under "alcohol related," FHP's report notes: "Unknown."
Both Belle Terre Parkway's northbound lanes were shut down at Rymfire Drive. Southbound Parkway traffic was reduced to one lane at least in the early part of the investigation, which the Flagler County Sheriff's Office turned over to the Florida Highway Patrol and a traffic homicide investigator. The investigation took several hours. FHP early Monday morning said the identity of the woman in critical condition had not been released because her next of kin had not yet been notified.
Traffic fatalities have been few in Flagler County this year, especially relative to recent years, though all five fatalities have involved motorcyclists. Sunday night's fatality is the sixth. There's also been two deaths involving cars that have been categorized as traffic fatalities, but in both cases the driver was suffering a medical episode. Neither of those incidents involved other drivers.