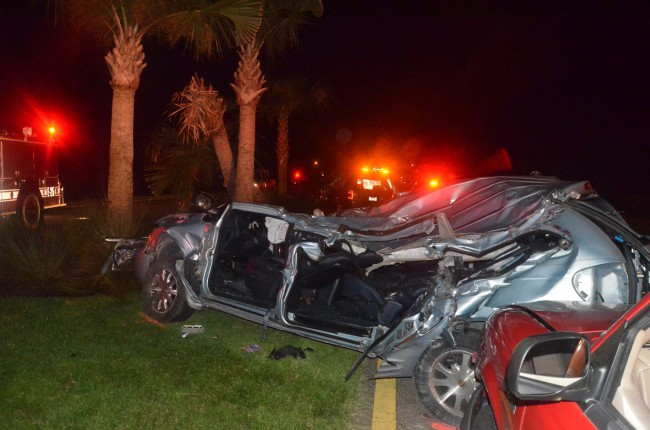 Last Updated: Sept. 29, 2:05 a.m.
Beata Kinecka, a 39-year-old resident of Palm Coast, driving by herself in a van, was killed in a four-vehicle wreck on Belle Terre Parkway just north of White View Parkway late Friday night.
Six other local residents in three separate cars, including a 16-month-old baby, were injured in a wreck that involved both northbound and southbound lanes of Belle Terre Parkway.
All but one of the injured motorists were taken to Florida Hospital Flagler with non-life-threatening injuries. The wreck took place just after 9 p.m. Belle Terre remained closed until 11:40 p.m. between Whiteview and Whippoorwill Drive as Florida Highway Patrol investigators examine the scene, looking at evidence on both sides of the parkway.
The four vehicles involved were a Chrysler Town and Country minivan (driven by Kinecka); a Chevy Tahoe (driven by Nathaniel Nusz, 31, who was accompanied by his girlfriend, Samantha Thompson, 26, and his son, Nathaniel Nusz II, 16 month old); a Dodge minivan (driven by Jesus Lopez, 54, who was accompanied by his wife Alice Lopez, 57); and a Ford Ranger pick-up (driven by Ajoy Adhikari, 72).
According to the FHP's preliminary findings and evidence at the scene, Kinecka was driving north in the Chrysler, speeding. FHP believes drinking may also have been involved. The Tahoe was on the inside lane of Belle Terre's two northbound lanes, next to a large mattress-delivery truck. The Chrysler struck the Tahoe's left rear bumper, leaving a deep indentation there.
---
Audio: What Angel Quinones Witnessed[media id=298 width=250 height=200]
After that collision, the Chrysler veered off into the median–the median that had just been manicured by Palm Coast's public works and landscaping crews, and planted with palm trees. There are no guard rails along the parkway. Those palm trees turned into a lethal launching pad: the Chrysler struck at least two, possibly three of the trees, essentially ridding up and bending their trunks. The Chrysler then pivoted in the air, as if catapulted westward, smashing down on the southbound lanes of Belle Terre.
It did not land on the asphalt. It landed–or half-landed–on the Dodge minivan traveling southbound, smashing it, possibly while the Chrysler was upside down, then finally landing right-side up, across the inside lane of Belle Terre Parkway's south lanes, facing west, almost perpendicular with the parkway. Just as it landed, the Ford Pick-up, driven by Adhikari, who was returning from a bridge game at church, and seeing the van appear literally out of nowhere–as he described it later–struck its left rear.
The Chrysler's roof was flattened. Palm Coast Fire Department and Flagler County Fire Rescue paramedics were at the scene more than two hours. Parts of the side of the car had to be cut to extricate the woman's body.
The couple at the wheel of the Caravan had just dropped off their grandchildren.
Angel Quinones, 57, the Orlando driver at the wheel of the mattress delivery truck, was among the first to witness parts of the wreck and stop.
"I was going northbound on the right hand side there, right lane, northbound," Quinones said, "and I heard a boom, and I mean, I took a quick look, a glance to my left, and I seen where the vehicle here hit the black truck in the rear, and it took a spin out right there, and I seen how the vehicle rose up and hit the tree or something, and it rose up from the rear, I seen it like go up, and then the boom, and I got nervous. I stopped at the corner there and I ran over here."
The scene looked terrible. Quinones went on: "I tried to see what was in this van but I didn't get no response, so I walked over to the van in front of it, and it was two people. I asked them, you guys all right? Any children in the car? He said no, we just dropped off our grand-kids. So I opened the door just so that they [could] get some air or whatever. I told them to stay seated."
"Everybody is from Palm Coast," an investigator said. Jesus Lopez had a head injuries the staff at Florida Hospital Flagler, where the injured were transported, was concerned about. Otherwise, the remaining victims were treated and were due to be released Saturday morning. Adhikari had minor pain and said he would be seeing his chiropractor, but remained at the scene until he was driven home just after 11 p.m.
John's Towing cleared the scene by 11:30 p.m. The parkway re-opened shortly after that.