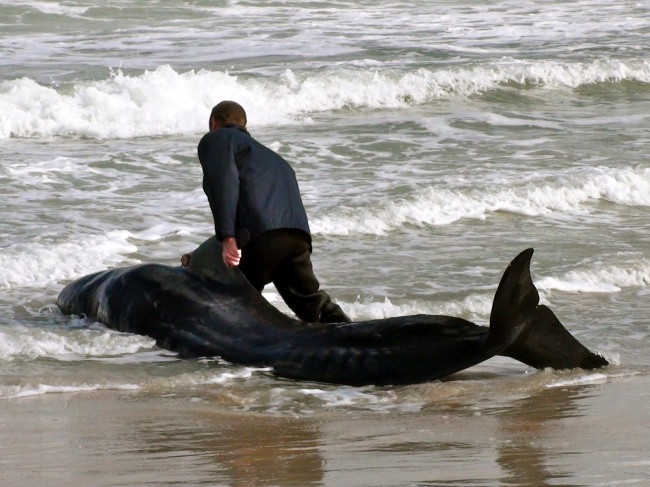 It's a good news, bad news sort of thing: for whale watchers, the week just ended brought rich sightings of right whales along the Flagler County coastline. But on Thursday, two seriously ill pilot whales beached in Marineland, and died.
From December to March, the warmer waters off the coats of Florida and Georgia turn into neonatal zone for right whales, who migrate this way from the far-north Atlantic. Volunteers organized by the Marine Resources Council and sectioned into sectors along the coast keep watch, send out alerts, and at times catch critical images and video.
Seeing whales can have a profound effect on those who–sometimes after trying for years–see them with the naked eye. It can also be heartbreaking. Christine Sullivan, a member of Flagler County's Hammock Dunes whale-watching team experienced and reported on both this week.
"We were blessed with a spectacular show by a number of Right Whales passing through our sector this morning and into the afternoon," Sullivan wrote on her whale watch blog Wednesday. "Their unique V-shaped blows were prominent as well a lot of breaching. With many rising up and splashing down onto their backs at first I thought they were humpbacks but the team confirmed they were all right Whales that included many mothers and calves. a An email was sent out to all in Hammock Dunes which brought many out into the chilly winds to view these amazing creatures."
The whales were off the coast for about five hours, from 10:30 a.m. to 3:30 p.m., an unusually long time. Adult right whales are from 40 to 55 feet long and can weigh up to 63 tons, or close to 140,000 pounds. "These whales spend the spring, summer and fall months in the northern Atlantic, feeding in waters off Cape Cod, Nova Scotia and the Bay of Fundy," writes Maia McGuire of the Flagler County Extension Service. "They were given the name "right whale" because they were considered to be the right whale to hunt — they float when killed, have a high yield of blubber and are slow-moving whales found relatively close to shore."
On Thursday, Sullivan saw a different scene when she chanced by Marineland as two pilot whales beached in the vicinity of the Georgia Aquarium Dolphin Conservation Field Station in Marineland, where staffers immediately went into emergency mode. There was never, however, a question as to the ultimate fate of the whales. "You could see their ribcages and I heard the word 'emaciated,' so you could tell they'd been sick for a while," Sullivan said Sunday evening. Pilot whales sometimes get sick from bacteria infecting the pod they're traveling in. It was not a case of whales beached because of shallow water. "They were definitely beyond saving," Sullivan said. That's not to say the conservation station's scientists didn't have serious work to do.
"Watching these people in action yesterday I immediately knew this is what they live for (even though in most cases the stranded mammals rarely make it) and proved over the next four hours to be a compassionate and organized team of professionals," Sullivan blogged.
She described the scene:
The first DCFS staffers to arrive jumped into the water and helped the whales stay upright. The rest of the team was already in full alert mode with trucks rigged for such disasters on their way as was the local marineland veterinarian. In those short ten to fifteen minutes of waiting the wind kicked up a notch making the "feels like" temperature somewhere in the 40's – not so great for those in the water not dressed for the occasion.

Once assembled the team worked like a well oiled swat team and concurrently took care of the whales as well as members of the team. Wind jackets were handed out, wet suits were donned and dry towels shared while health stats like breaths and heart beats per minute were being shouted to the shore team taking copious notes.

Then the team collectively gathered to prepare the whale for the vet to get blood samples. Typically it is disease that makes the whales beach and the results of the blood tests, usually known the next day, will help determine what caused these whales to become ill. Again, one of the main programs the DCFS is researching.

Other volunteers were involved including a local sheriff and a few from the Marineland right whale watch volunteer program and Marineland. While it wasn't a happy ending for the whales hopefully whatever is learned from this beaching by the DCFS team will help other mammals.
Sullivan caught one of the beached whales on video:
Dolphin Conservation Field Station staffers at work:
The January 12 right whale sightings off Hammock Dunes:

Right whale sightings may be reported to the Marine Resources Council at 888/979-4253.