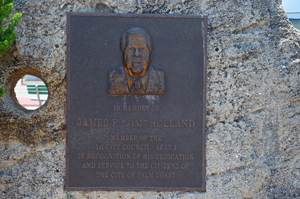 Sometime before 5 p.m. Thursday afternoon, an 18-year-old resident of Black Bear Lane was walking near Holland Park in Palm Coast, off of Florida Park Drive, when she noticed a "young black male"–according to her description in an incident report–with a black, long rifle bb gun. The individual was at the intersection of Florida Park Drive and Fleetwood Drive.
The woman, who is white, said she'd never seen the man before. She told a Flagler County Sheriff's deputy that she was then struck on the left side of her chin with what appeared to be a bb pellet. The young man, she said, then took off running south on Florida Park Drive, towards Palm Coast Parkway.
The woman was taken to Prompt Care at 120 Cypress Edge Drive and was evaluated by a doctor on staff. The doctor confirmed that she had a bb pellet still lodged in her chin. He recommended that she seek treatment from Florida Hospital Flagler's emergency room, where the woman went.
The woman said "she did not wish to pursue any law enforcement action," but merely wanted the incident documented. No arrests were made in the case.