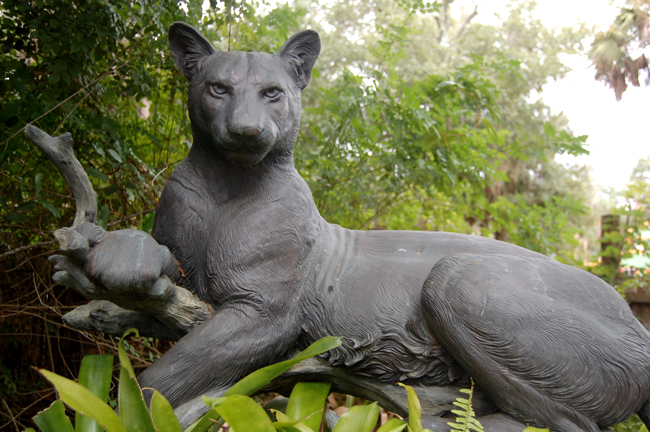 It all started with a panther.
A bronze, sculpted panther, the work of Paul Baliker, the quietly prominent artist whose sculptures dot Palm Coast, Florida and six other states, and whose outdoor gallery surrounds a property he owns in the Hammock. Tom Gargiulo's art foundation was ready to buy the piece for $16,000 and donate it to Palm Coast. The sculpture renders a panther at rest, its stare noble and ferocious with a certainty belied by its fate: the panther is an endangered animal in Florida.
But Baliker was asking that the panther be displayed at the edge of Linear Park, in the median of Palm Coast Parkway, as a welcoming, if arresting, sight for drivers entering the city from the Hammock Dunes bridge.
When Gargiulo proposed the idea in spring, the city's parks administration initially rejected it on two grounds: the sculpture might set a precedent for public art in medians when the city didn't have a process, let alone a policy, it could follow the next time art was being offered. The parks administration was also concerned about the danger the panther might pose, if drivers slowed to look at the piece—or even thought it was real. Wrecks could result. When the city's Beautification and Environmental Advisory Board first discussed the matter in late May, it was non-committal. But it liked the idea—both of a panther sculpture at Linear Park, and of a sculpture garden that Bill Butler, the city's landscape architect, said might be in the works.
The discussion led the advisory board and the city's parks administration to discuss a lot more than one sculpted panther: what is the role, if any, of the five-member beautification board when it comes to public art, and what (not just where) is the place of public art in Palm Coast? Thursday, the advisory board even heard from Palm Coast's reigning arts trinity—Gargiulo, Weldon Ryan, who heads the Flagler County Art League, and JJ Graham, the artist and owner of Hollingsworth Gallery, which happened to be on the floor above where the advisory board was meeting.
Their ideas were grand. Graham outlined an ambitious design for large, interactive arts installations that would be almost equal parts displays, open-air studios and improve galleries where age and art's caste system vanish like chalk melting in rain—and where the installations would provide a focal point for the city's emerging culture. Ryan described what he termed a "wave effect" of cultural identity that art, especially by involving young people, could trigger. Gargiulo was ready to start seeding his plan—a sculpture trail that would stretch from the edge of Linear Park to the public library on the other side of Belle Terre Boulevard, lined with a dozen or so works, each identified and—like Beverly Hills' map of stars or Columbus, Indiana's, map of architectural landmarks—marked on a brochure that visitors or residents could follow on the trail.
The advisory board was excited. Butler was excited. "This is what the city needs," Butler said. "You go to any city council meeting, it's all economic development. We want to attract business here and get our economy pumped up, and what draws people to bring employees to top quality businesses to city, you know, and this is one component that we're missing, a big component."
But the beautification board's responsibilities had never stretched to considering public art, be it its placement, its value, or how it fits in Palm Coast's long-term vision. Board member Ken Jones brought everyone back to earth.
"For me," Jones told Butler, "I would like direction, whether that comes from you or the city council or whatever, that this board should be reviewing these things and offering opinions on it. And if that's the case, then I think yeah, I'm certainly as a board member willing to do that, but I'd just like to know before we waste a lot of time going through details, deciding whether or not it's right or wrong or whatever, that in fact that's going to be part of what we do, that it's our responsibility to do that and then make a recommendation to the city council of however the process is going to be."
Butler didn't hesitate. "I think that's their directive that they told me, they want you to do that," he said.
"OK, if that's the case, good. We'll start moving in that direction," Jones said.
And there it was. At around 6 p.m. the evening of Sept. 23, the Palm Coast Beautification and Environmental Advisory Board also became the public arts advisory board. (Keep in mind that as an advisory board, it cannot enact anything. It can only recommend actions to the city council for action there.)
The first thing on its agenda was again what to do with that panther. But by then both sides had mellowed their positions. Gargiulo said he (or Baliker) were not immovable when it came to the placement of the sculpture, though they did still want it in the area of that edge at Linear Park. Butler, who'd also been concerned about who would own the sculpture in the long term—he was not aware that the sculpture was a gift to the city, in perpetuity—said he would speak of it again to the parks administration, and that if a place for it could be found a bit further in from the edge of the road, it would likely find a good fit there. And Butler had visions of his own: an "art park" in Central Park, in Town Center.
"It would be good if we had at the next meetings the plans for the Central Park area—what are we looking at in terms of dimensions, size," Jones said by way of outlining the advisory board's broadened mission.
"I've got a place for that in my mind right now that would be perfect," Butler said.
"And I'd like to know that too—exactly what you're envisioning," Jone said. "That would be the next step."
The following day, walking around Baliker's outdoor gallery in the Hammock (Baliker himself was not there), Gargiulo spoke of a sense of seeded accomplishment. ""It's an arts presence," he said of the panther's potential new home. The panther itself, or a version identical to it, say on a branch nearby, its stillness made deceptive by its vivid presence. Gargiulo's foundation hadn't actually completed the transaction for the sculpture, but he didn't think he was at risk of losing it to another buyer. The foundation won't spend the entire $16,000: Baliker will pay a sizable commission back to the foundation after the sale, money that the foundation will then use to buy more art. "Hopefully we're going to get more sculptures. That could be the lead-off sculpture from Linear Park to the library," Gargiulo said.