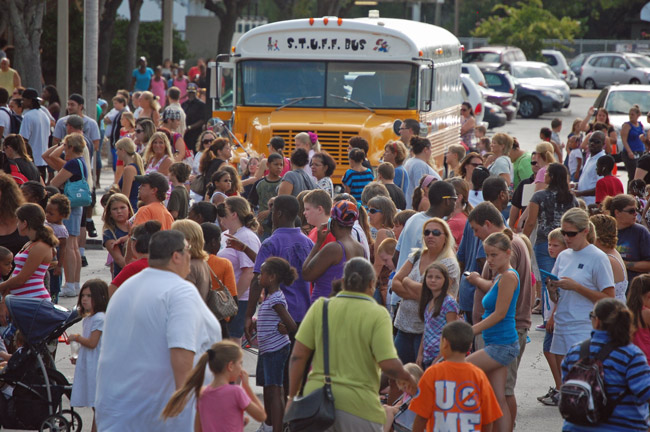 Saturday, Aug. 4, from 10 a.m. to 3 p.m. marks the second Back-To-School Jam at Flagler Palm Coast High School, an opportunity for families to get all the necessary updates about county and city schools during a tax-free school supply sale.
A couple of things have changed from the 2010 jam and its 2011 version in nine different locations. For one, the event lost its big sponsor of 2010, and with it the free backpacks Walmart had offered then. Everything on sale at this year's Jam will nevertheless be sold at discounted prices. Backpacks, for example, will be sold at just $5 apiece. But families are also burdened with a potentially costly uniform policy being enacted this year. Backpack Gear, EmbroidMe of Daytona Beach, and J. Crew will be provided.
Uniforms (actually, color-appropriate, collared shirts and pants) will be offered at affordable prices while all sorts of school-related information will be available for parents. "Everything is being sold at the best price we can offer," Sabrina Crosby, the school district's special events coordinator, said. Every one of the district's school will have representatives who will speak to parents and students about their upcoming open houses. There'll also be an opportunity for parents to sign up for the PTO-parent teacher organization.
And the health department will also offer free immunizations, though participants must sign up beforehand (call the health department at 437-7350, extension 2219). You must also bring your child's shot record. With immunization comes a free bike helmet.
Parents will also have the option to sign up for the district's online record-keeping system, called Skyward, and go online and to look at their child's records–their assignments, grades, homework, and even what grades they're receiving on their assignments (once those assignments roll in). There'll also be a tech expo with lab setups at various stations so parents can see the technology children have access to in the classroom and experience it themselves.
After-school programs and activities, along with social, medical, and counseling services will be at the jam. If families are eligible for food stamps, they can apply for them. Parents will also be able to sign their child up for the free and reduced price lunch.
For some, the discount rates will still not be enough. To aid those who will still continue to struggle affording new clothes, as they try to meet the standards of the district's uniform policy, the board and the Flagler County Education Foundation have other means of trying to accommodate those under too much strain.
The first is a uniform shirt drive. Some 50 local businesses have boxes collecting shirts—specifically polos and button-ups. "Teachers get to know pretty quickly which children are in need and the staff gets a feel for which families are struggling," Crosby said. With a uniform closet added to each school, the items needed by those unable to buy them won't be coming out of the pockets of teachers and faculty.
A second creative avenue taken to help students get what they need is the Stuff Bus—an acronym for "supplying things you find fundamental." This project, now in its fourth year, is one of the Education Foundation's core projects.
The Stuff Bus, a transformed school bus designed by an architect who donated his time and talent to help Flagler and Palm Coast schools, contains shelves and racks that carry toothbrushes, shampoo, soap and other items deemed essential. Local businesses raise money for it. But one agency in particular has gone to extremes of generosity: Suzanne Johnston, the Flagler County tax collector, has raised more than $7,000 so far, and counting, for the the Stuff Bus.
Johnston and her staff have built a reputation in the last three years as the county's leading fund-raiser for schools and civic projects, such as Feed Flagler at Thanksgiving. Johnston is able to do that by placing small jars at counters where individuals transact business, eliciting coins and dollar donations that quickly add up.
The Education Foundation is a non-profit organization that works in support of the district. (Its office is a couple of doors down from the superintendent's, a reflection of the important place the foundation plays in the district.)
"We create programs that work to assist District policies," says Deborah Williams, the foundation's executive director. The Stuff Bus came about because of the prolonged economic downturn beginning in 2008, and acts "as a school bus supply wagon on wheels." Williams is grateful, she says, that the Stuff Bus is sustained by the community, not the teachers. Some donors give money while others donate items directly.
Free and reduced price lunch determines who qualifies for a visit to the Stuff Bus. Some 60 percent of students now qualify for the federal lunch subsidies in Flagler.
"We serve about 1,000 children, at about 25 dollars per child, getting them backpacks, shoes, socks, and underwear," Williams says. Guidance counselors board the bus and can make determinations about who gets more.
The Foundation's goal isn't to accommodate the new uniform needs, specifically. "Some kids come to school with their shoes falling off. You need to take care of that before you can worry about the uniform," Williams says. While the foundation helps with uniforms in a limited capacity, the focus is on essentials. "Not all families can afford even the $5 backpacks so those will also be appearing on the Stuff Bus," Williams says, noting that a community-wide effort to ensure that students are properly clothed will help.
Reactions to the new policy have abounded, with waves of parental support crashing against waves of opposition, and a recurrent question fir for the times: Why are you making us do this? "Those in favor will continue to feel very strongly and those against it will also continue to feel very strongly," Crosby says. But, like those famous last words on the cross, it is done.
"It's just like any change," Williams says. "At first when absorbing it, it might seem overwhelming. But students can still wear jeans and polos. They don't have to go and buy from a direct uniform source. It's just a change and I think it's very doable. Let's get behind our decisions and figure this out together."
The Foundation is also working towards getting vendors for the Jam, along with the District. Some 40 vendors and organizations have signed up. They include the Girl and Boy Scouts of America, Kumon of Palm Coast, the Early Learning Coalition, public and private athletic enterprises like Life Martial Arts and the Flagler County Police Activity League. "We continue to get more each day. But we continue hoping we will receive a few more who will participate," says Crosby. (call 437-7526 if you're interested in being a vendor. Talk to Stacy.)
The first "Back to School Jam" took place in 2010. It drew 3,000 people. Back then, Wal-Mart was the major sponsor, donating $10,000. The Wal-Mart manager at the time, Tracey Lloyd, had come to the Palm Coast Wal-Mart Supercenter from a store in Jacksonville where she'd overseen a nearly identical event. Lloyd, a rising star in the Walmart organization, has since left the Palm Coast store. But schools were able to give away free backpacks and other supplies. "It was a really great event that brought families together. So we said, let's bring it back. We're expecting a great turnout," Sabrina Crosby, the school district's special projects coordinator, said.
Last year, the Board of Education tried something different. There were no backpacks to give away, no $10,000 grant. So the board decided to hold more prosaic information sessions at nine different stations across the county, including the Espanola Center, Bunnell City Hall, and the Government Services Building. Another reason for moving the Jam out to different strategic locations was psychological. Many parents, memories of traumatic principals or teachers or hallway monitors still traumatizing them, still aren't comfortable entering school buildings. That's where taking the sessions to different settings came in.
This year, the district decided to change course again, combining both previous years' approaches.
The key point is that parents can come together and get a lot of information on the resources available to their children when they come to school on Saturday. "This is an event for all families, not just lower income ones," Crosby said. "We don't really know what kind of turnout we'll get and neither do the businesses," Crosby said. "We're all just trying to predict and accommodate. If we have a huge turnout, we might sell out. We hope that's the case."