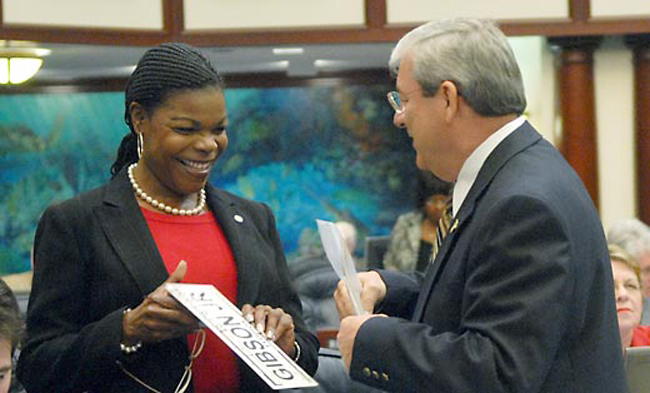 Former state Rep. Audrey Gibson appeared set to return to the Legislature after unofficial returns showed her easily beating three others in a decisive primary for an open northeast Florida Senate seat. Gibson, a Democrat from Jacksonville, would replace Tony Hill, who resigned from the District 1 seat to work for new Jacksonville Mayor Alvin Brown.
In unofficial results posted by the state Division of Elections, Gibson had just under 7,600 votes, 62 percent of those cast, to just under 3,900 for her closest rival, Terry Fields, also a former state House member. Behind Fields, who got 32 percent of the vote, were Ramon Day and Leandrew Mills, who each got about 3 percent of the vote. The majority of the district is in Duval County, but votes were also cast in Volusia, St. Johns, Putnam and Flagler counties. Gibson outpolled Fields and the other candidates in all five counties.
Technically, there is an Oct. 18 general election, but Gibson will be the only one on the ballot. The election still must be held because voters could write in a candidate. No Republicans qualified to run in the heavily-Democratic district. Hill's resignation is technically official Oct. 1.
–News Service of Florida