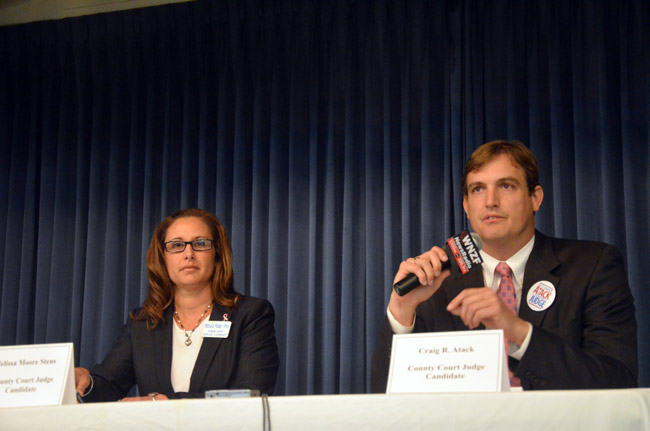 Editor's note: The Flagler County Court judge election is likely the single most consequential local election on the Nov. 6 ballot: local government representatives in the aggregate wield powerful influence, but no single individual has as much of a daily mark on local residents' lives as a county or circuit judge. And a judge, once elected, is often assured of a life tenure on the bench. The following perspective, by Paul Guntharp Jr., a local attorney, is presented with that in mind. In the interest of fairness and full disclosure, both candidates read the article before publication, with the understanding that they had no editorial say about it, but both were granted the right of simultaneous reply. Craig Atack chose to exercise that right. His response appears below Guntharp's article. Melissa Moore-Stens elected not to respond.

By Paul Guntharp Jr.
I have been a trial lawyer for over 25 years. I practice in Flagler County and throughout the Seventh Judicial Circuit, as well as in Federal Court.
I am very concerned about the election of our next Flagler County Judge. Not only who will serve for the next six years, but because once elected, judges usually remain in office for a long time. My experience has been that there are greater differences between judges than the general public would ever imagine, just as there are greater differences between doctors than most of us realize. The reason is that only professionals in the field have the knowledge and experience to accurately evaluate their performance.
The differences between judges are primarily in their knowledge of the law. Yes, knowledge of the law. Judges do not learn to be judges by being a judge. Which is not to say that judges don't learn, but that the depth and breadth of their knowledge of the law was gained while they were practicing law, as an attorney.
The difficulty with judicial elections is that we are all too familiar with partisan political elections. We argue the relative merits of policies and positions, are influenced by advertisements and vote for the candidate who we think will do the best job, consistent with our beliefs. Judicial candidates don't debate. The Rules of Ethics established by the Florida Bar prohibit judicial candidates from engaging in partisan politics. Judicial candidates are not permitted to tell how they would rule on hypothetical subjects. Their campaigns are supposed to focus on their experience and qualifications. The overriding objective of the Florida Bar and bar associations throughout the country is to promote public confidence in the independence and impartiality of our system of justice.
After graduating from law school, I learned that it took many years of experience in many different areas of the law to develop the knowledge and understanding required to be a competent attorney. In fact, I think that is why it is called the "practice," because we continue to learn and, hopefully, improve our skills and knowledge over many years.
To be a good judge, one must first be a good lawyer and, of course, a good person. That is what the Judicial Nominating Commission does when a judge is to be appointed by the governor, rather than elected. In addition to ethics, the JNC examines all aspects of a candidate's legal experience and submits the names of the most qualified for consideration. That is what I suggest that voters do. Before you cast your vote, ask yourself who would experienced lawyers, judges and the JNC select? To make that decision, consider the qualifications and experience of each of the two candidates and vote not based on advertising or name recognition, but on qualifications and experience.
Of the two candidates for Flagler County Judge, one–Melissa Moore-Stens–is a former prosecutor who is Board Certified, and has 14 years of experience in both the public and private sectors. The other–Craig Atack–has only practiced as a public defender for six years. One has run her own business and has firsthand experience in the many issues which arise in the private practice of law. The other boasts of having processed 3,500 misdemeanor cases over the first two and a half years of his practice. That is about one hour and 20 minutes per misdemeanor, not counting distractions. It seems to me that, at least two of those years did not contribute to learning anything new.
Another difference between the candidates is education. One candidate graduated from law school with honors and passed the bar examination the first time she could take it. The other candidate will not reveal how he did in law school or explain why he was not admitted to the Florida Bar for almost a year and a half after graduating. Performance in law school is not only an indication of character and intelligence, it forms the foundation for an attorney or judge's knowledge of the law throughout his or her legal career. One of the best pieces of advice I ever received was given to me by an experienced, successful lawyer just before I entered law school. He told me that his only regret was that he had not studied harder in law school.
In the interest of full disclosure, you may want to know that I have contributed $100 to the campaign of Melissa Moore-Stens and that I will vote for her to be our next Flagler County Judge. However, I do not know either of the candidates personally. I have never had a case or professional transaction with either of them. In fact, before the primary election, I would not have recognized either if I saw them in the grocery store. My interest is solely that Flagler County have the best judge. To this end, I have prepared a comparison of the experience, qualifications and evidence of personal discipline and hard work of the two candidates, which I hope voters will consider before they cast their vote.
I have no doubt that both of the candidates are honorable, nice people. But this is not a popularity contest, it is a question of who is ready to make important decisions based upon their experience and knowledge of the law. And remember, if one of the candidates wants your support, he or she should trust you with the truth, to know who they are, the breadth of their experience and how they have performed in every aspect of their legal education and practice of law. Advertisements and endorsements by family friends are not qualifications or substitutes for experience.
A Comparison of the Qualifications of the Two Remaining Judicial Candidates for Flagler County Judge
| | Melissa Moore-Stens | Craig Atack |
| --- | --- | --- |
| Year of birth | 1974 | 1976 |
| Years practicing law | 14 | 6 |
| Law school | University of Florida | Florida International University |
| Year graduated | 1998 | 2005 |
| Grade point average | 3.16 | Unknown |
| Class rank | 9 | Unknown |
| Passed Florida Bar | Passed first time | Had to take the Bar exam "more than once." |
| Admitted to the bar | 9/25/1998 | 9/25/2006 |
| Board Certified | Yes | No |
| Undergraduate | Florida Atlantic University | Unknown |
| Practice area | Private Practice, Criminal Defense, Family Law | Public Defender |
Note: Mr. Atack graduated from Florida International University School of Law May 22, 2005, but was not admitted to practice for almost a year and a half after he graduated. Law students want to take the Bar Exam as soon after graduation as possible.

Sources of information: Candidate disclosures to FlaglerLive, The Florida Bar website and Wikipedia. This table was provided by Paul Guntharp Jr. as part of his article.

Paul Guntharp Jr. has been practicing law in Palm Coast since 1989.

Craig Atack Responds:
First, I want to thank Flagler Live for the opportunity to participate in this discussion about my candidacy. It's no secret that I grew up in Flagler County and that I love this County. In fact, what I have enjoyed most about campaigning is knocking on thousands of doors and speaking with citizens in Palm Coast, Flagler Beach, and Bunnell. During our conversations, a pretty constant question that comes up is: what makes you the best candidate for Flagler County judge? Most of us are not used to selling ourselves all the time or talking about the things we've accomplished. Many attorneys will tell you
they're better advocates for their clients than they could ever be for themselves.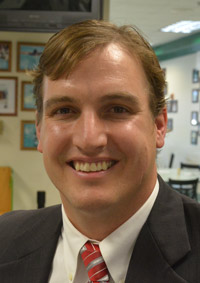 But there's no question I'm proud of my accomplishments – my Master's degree in education, my time as a teacher, my time working on a construction crew rebuilding the pentagon after 9/11, and certainly, when I followed in my parents' footsteps and became a member of the Florida Bar. But with respect to why I can best serve this county as its county court judge, it's important to get some outside perspective. I'm proud to say that I've been endorsed by many of the pillars of the Flagler County community, and I encourage all of you to take a look at my website to read what these amazing people are saying about my candidacy.
With respect to the discussion of my candidacy, I appreciate the writer's candor in indicating that, although he has not met either Ms. Moore-Stens or me, he endorses my opponent. In so doing, he is impressed by and relies on Ms. Moore-Stens' academic record. As many of you know, I believe there is quite a bit more to this position than the fact that we both happen to be lawyers. Certainly, we each possess the necessary credentials to qualify for the position: we are both members of the Florida Bar and have practiced law for the requisite number of years. Importantly, even though there is a
legal requirement that to be a judge you have to be an attorney, there is more to being a judge than just being an attorney. While my academic experiences inform my perspective, I certainly agree with the writer that, after graduating from law school and passing the Bar, it is the actual practice of law that teaches you how to be a lawyer.
There are as many different ways to practice law as there are lawyers. I chose to practice as a public defender. Because of my position as a public defender, I handle in a year a caseload many lawyers don't handle in a lifetime. Although the writer disdains the idea that someone who has only practiced as a public defender could be a member of the judiciary, my contention that the accelerated experience associated with being a public defender qualifies me for the bench was recently ratified by the governor's selection of assistant public defender Judith Davidson to be a county court judge in
Volusia County. Actually, the writer endorses the selection process conducted by the Judicial Nominating Commission and the governor. This is the process that selected and appointed Judge Davidson, who practiced as a public defender for nine years prior to her appointment, and served as a mentor to me during her time with our office.
Prior to her time as a public defender, Judge Davidson was a teacher. Similarly, I taught the American system of government (civics) to 9th grade students in an inner-city school prior to beginning my career as a lawyer. For those of you who are teachers or who deal with children and young adults on a regular basis, you'll understand that this real-world experience teaches us patience, common sense, and fairness. These are the exact attributes a judge must possess, especially in county court–the people's court–which is as much about consistency, fairness, and practicality as it is anything else.
As a teacher, I also wanted my students to understand that they had the ability to overcome adversity. Many believed that because of their personal circumstance or past they could not accomplish great things. The writer, like any lawyer, has selected information he believes is important to proving his assertion that my opponent is the more qualified candidate. In so doing, he overlooks many of the things I believe will make me a great judge, such as my Master's degree in Education, and experience in teaching, which includes time as an adjunct instructor of business law and ethics at Daytona State College.
I am happy to address the writer's criticism that I am not as qualified to be a judge because I did not have my opponent's grade point average at a different law school and had to take the Florida Bar Exam more than once. In fact, this is no great secret. More importantly, it is proof positive of the writer's position that graduating from law school and passing the Bar exam are not a good metric for judging an individual's potential to be a great advocate or member of the judiciary. It is my lifetime experiences, my actual work, and the reputation I have built as a trial lawyer during my time in the Bar that most accurately characterize my legal acumen. The idea that we are all human should not be foreign to the legal community. Everyone has the ability to accomplish their dreams, and I hope my story will inspire people to believe that, regardless of what happens in their lives, if they persevere they will accomplish great things.
I was lucky to learn qualities like the importance of perseverance from my parents. The lessons they taught me that serve me so well in life will similarly serve me well on the bench. How to treat all people I interact with with respect. People who, as a judge, I might be seeing on their worst day. To listen to all of the information before reaching a conclusion – to hear people out. These things I will do not because I'm a lawyer, but because it's what the people of this community – what every person – deserves. Moreover, I'm proud to say I've been endorsed by someone who knows what it means
to be a judge in this community. Judge Kim C. Hammond served as Flagler County's Circuit Court Judge for 31 years. Actually, when he became a Judge, he was younger then than I am now. When he was appointed to the bench he had been a lawyer for about seven years. There is no question that Judge Hammond was the right person for the job. I'm honored to say that, in endorsing my candidacy, Judge Hammond thinks I'm the right person for the job, and said:
Craig was raised and educated in the Flagler community and I have known him all his life. Craig has all the required and needed qualities to fully perform the duties of this office. He possesses integrity, good temperament, intelligence and knowledge of the law and I believe that he will make the wise and sometimes difficult decisions required by this position. Craig is willing to do the hard work necessary to deal with the ever increasing caseload in the County Court and I am confident that he will perform his duties in a thoughtful, courteous and respectful manner.
I have an expansive resume, and I'm extremely proud of my accomplishments including my courtroom and real world life experience. I would be honored to bring these credentials to the bench in my hometown. There's no mathematical formula for selecting a judge. Hard work, real world experience, and the proper temperament are fundamental, and I have exhibited these attributes throughout my life's work.
Sincerely,
Craig R. Atack
Candidate for Flagler County Court Judge.