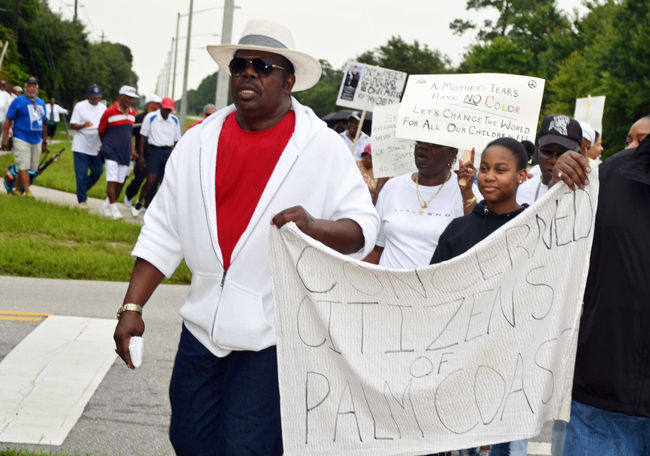 Arthur Jones, Bunnell's police chief for four years until 2012 and a founder of the Alliance of Involved Ministries, who relished his role as a mentor to children and youth, died this morning. He was 61.
"This is a historic day for both our country and our city," Bunnell Mayor Catherine Robinson said the November evening in 2008 when the city welcomed Jones as its new chief. Robinson was referring to the fact that the nation had its first black president, and Bunnell had its first black police chief, in a city at times riven by racial divisions.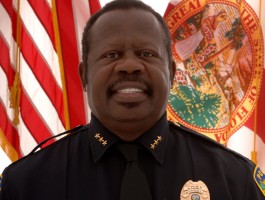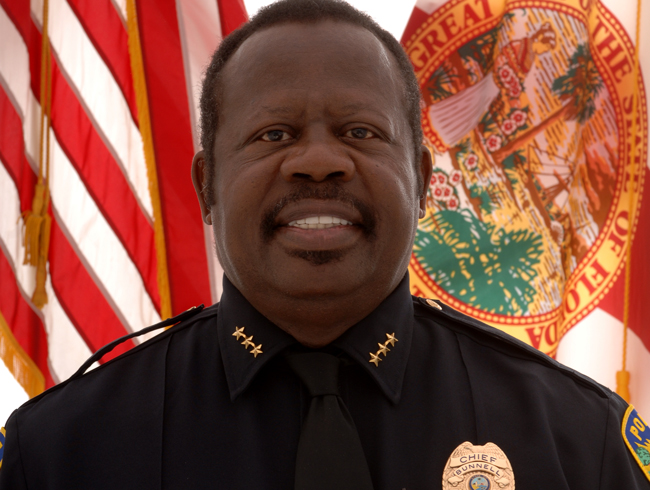 Jones resigned in 2012, choosing to focus on family and civic matters, including the mentoring of at-risk youths. He was replaced by Jeff Hoffman, who on Monday began work as a senior commander at the Flagler County Sheriff's Office.
Jones began his cop's career at the Fort Lauderdale Police Department, where he spent 32 years fulfilling assignments in numerous divisions–including gangs, violent crimes, homicides, officer training–before then-Police Chief Armando Martinez brought him on at the police department, in February 2008. When Martinez became city manager, Jones became chief.
---
Arthur Jones Sings and Recites Famous Words at July 20 Demonstration in Palm Coast[media id=336 width=250 height=200]
"He's part of the family of the city of Bunnell, and this is quite the shock today to hear this news," Robinson said Monday afternoon. She had few details about the circumstances of his death, other than that he had been taken to the hospital, possibly because of food poisoning, sometime in the last few days.
"I saw 26 years of law enforcement experience but I also saw in him a person who was very much in touch with the community," Martinez, reached at his home in Brevard County, said. "I liked the fact that he was a very humanistic human being and looked at everybody as a human being. I was very proud to make him the first African American chief in the history of Flagler County."
"I will remember his big grin and the fact that he called me his walking buddy," Robinson said, recalling the the occasion of a Flagler Beach Independence Day parade when she was walking and, seeing her on foot, Jones joined her in the heat (and in uniform), leaving his car behind. "That was special, that was one of the bonds he and I had. He was also a very strong man of faith and spent a lot of time ministering to the community and the children of Bunnell, and I'm sure in other communities."
Robinson said Jones "walked his faith."
"Chief Jones was a mentor, a role model to the kids, and he will truly be missed by the community," City Commissioner John Rogers said.
Martinez said Jones never lost his affinity for Bunnell even after he retired. Jones and his wife lived in Palm Coast. "He had a million dollar smile, he was the type of guy who'd walk into a room and light up a room," Martinez said. "I know that he was a great father and a great family man. My condolences to his family. He will always be missed by his friends and his relatives."