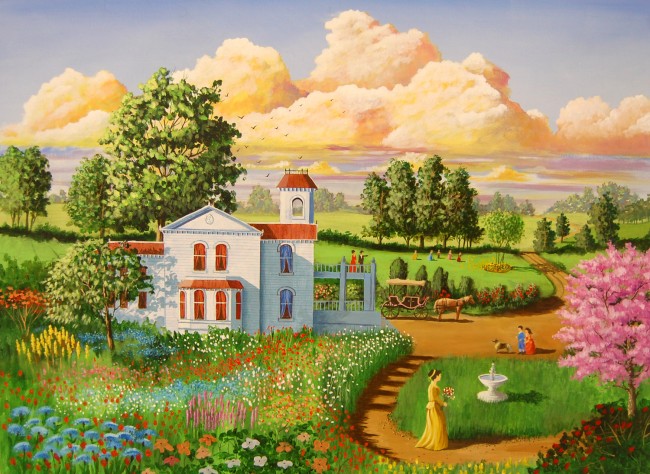 Formerly known as Art in the Park, the Flagler County Art League's Spring festival inaugurates its new home at City Market Place this weekend with some 50 vendors, 10 galleries and hundreds of artists and their works.

The Spring Festival, formerly known as Art in the Park, is the Flagler County Art League's biggest show of the year. It features its own artists—48 this time, showing 70 works—, those of Flagler Palm Coast High School and Matanzas High School, who have at least a couple of hundred works on display between them, a few dozen traveling artists and artisans who set up tents and do road shows, and special extras along the way, who this year include the Colored Pencil Society and works by the late Zo Cooley. A long-time member of the league, Cooley, who was 92 and still painting, died earlier this month from a fall. Seventeen of her works have been donated to the league. Most of those hang in the league's gallery, a joyful, flowery contrast with Cooley's immobilized brush.
It's a lot of art. You'll have a lot of time to take it in: the Spring festival runs over two days this weekend: Saturday from 10 a.m. to 6 p.m., and Sunday from 10 a.m. to 5 p.m., and it'll sprawl its colors and sculptures and bejeweled works all over the galleries, storefronts and the parking lot of City Market Place, along Cypress Point Parkway in Palm Coast.
The league normally has two storefronts at its new home on the second floor of City Market Place. This weekend it'll have about 10, to accommodate all the artists showing their works—not including the 50-some vendors and exhibitors who'll set up their tents on the macadam below. "We're filling pretty much a good part of the second floor," the art league's Ann DeLucia says of that second floor that's become Palm Coast's SoHo: between the rapidly expanding arts empire of the Hollingsworth Galleries (plural, now), a couple of dance studios at opposite ends of the squarish mall, the league's presence and rumors of a theater on its way, that corner of City Market Place is turning the mall into an enormous studio.
Which is why the Spring Festival might not be as out of place as it would seem at first, spreading over the parking lot below. The art league's annual spring show has had a terribly nomadic life, from year to year going from the campus of Daytona State College near Palm Coast Parkway to the Palm Coast Community Center to the campus of Flagler Palm Coast, where it set up shop last year, to less than optimum attendance: the show was competing with the city's first annual Rock 'n Ribfest, a few car lengths away in Town Center, and that event drew most of the people looking to loiter and linger with something other than themselves as company.
City Market Place may not have grass or the feel of a park. But at least it's finally home for the art league. And for lack of grass, there may well sprout a few sculptures in that parking lot in the future. Meanwhile, there's the Spring Festival.
Visitors peeking into the galleries will notice an eclectic, and—as always—technically accomplished show as far as the league's own artists are concerned. Contributors this time did not have to create works to any particular theme, as in previous shows. They had to create something new, if not necessarily original, although visitors will notice a few old friends hanging on the walls, among them one of Win Jones's most enticing paintings from his recent retrospectives at the league—"Wedding Day," a watercolor inspired by the artist's grandparents, who emerge from their own wedding day frame into what looks like an eerily effaced cemetery at dusk or dawn.
As if released from the constraints of a theme, the artists this time around appear in general to retreat into their own familiar territories and themes, which happen to be everyone's familiar themes in this region. There's an abundance of beachy scenes, sunsets, waves, egrets at rest and other cuddly scenes, but there are also curious works that test boundaries here and there. Like Judith Madigan's "Rapunzel Lament (What Is It With Guys and Long Hair)," a collection of 12 plaster heads, some of them cousins of Easter Island statues, some of them cartoonish kin, all of them arranged in a bird-feeder-shaped house of sorts, with two thick blondish bunches of hair draping over the scene. What is it with guys and long hair, indeed?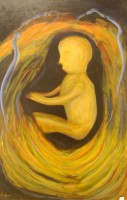 There's also Thomas Rogero's "The Pianist," which, it's not risky to venture, will look like a particularly intent child in a particularly accommodating womb to many who'll look at the painting without looking at its title (always a fun game with the doors of perception, even when sober or drug-free). The swirly child-in-womb image may eventually lead to a piano keyboard somewhere, but it could also be a poster child for Planned Parenthood—or its nemeses, depending on which way you look at the musical thing.
On the high school side, it appears that students are in the mood to replicate movie posters to their Photoshop's content, though several students in Edson Beckett's photography class are flattering their master by imitating, in their works, his attraction to the ordinary, melancholy side of life, while many students in a media drawing class appear to have been either inspired or, more likely, assigned the challenge of combining the skeletal human anatomy with something just as arresting. So Melissa Kiernan went all out, drawing a skeletal arm grabbing a dripping, bloody heart. The heart-warming thing about the more than dozen skeletal collection is that it's as graphic as it is humorous (and accomplished).
That's just a bare sampling in galleries that will themselves be a bare sampling of all that'll be on offer over the weekend at City Market Place—through the Spring festival and by way of Hollingsworth Gallery's many renewals. And yes, there'll be plenty of food, even the kind that appeals more to taste buds than aesthetics. All told, this is still Palm Coast.