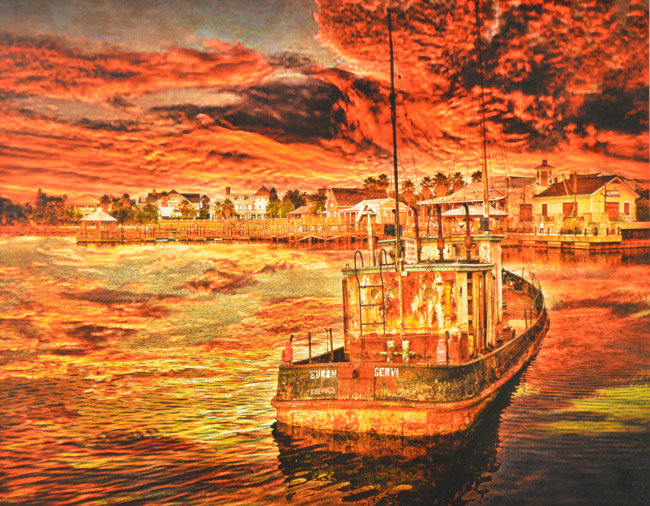 Sticking by its intention to highlight photography a little more—and reflecting its director of shows' preferred medium: Bob Carlsen is a photographer—the Flagler County Art League's first juried photography show opened Saturday, featuring 63 works arranged in seven categories. Not surprisingly in the age of Photoshop, the show is dominated by digital photography, making Ronald Coleman's "Sumter Fury"—a fishing boat dilapidated by a rust as fiery red as the sky and its reflection on the sea—anything but a sunset for the genre.
---
Juried Photography Show:
The Flagler County Art League's First Annual juried photography show opened Dec. 9 and runs through the month at the Flagler County Art League's gallery, located at City Market Place, 160 Cypress Point Parkway, behind Walmart, in Palm Coast. Call 386/986-4668 for details.
---
---
By juried, the league means that, unlike previous shows, when any artist's work would be displayed regardless of quality provided the artist paid the entry fee, a three-judge panel selected works for this show. Except that Judges Rock Millica, Harding Ballough and Zach Thomas didn't have to exclude anyone after all. There were 63 entries for the show, from just 23 artists, most of whom submitted the maximum allowed four entries, and all of whose works were accepted. The works were just enough to cover the walls of the art league's twin galleries. (See the list of winners below.)
The heavier judge's lifting went to Rafael Torres, a professional photographer, instructor and member of the Daytona Beach Art League. He's no easy judge. And he doesn't couch his judgment in niceties. He liked the fact that the show was divided into categories—still life, architecture, floral, digital, landscapes and seascapes, portrait, animal—but he wanted to see bold, daring works. He's not into same-old stuff, and he let it be known. When he'd see pictures of the pier, he'd wonder what there was there that was new. Something he hadn't seen before. An uncommon rendition, a creative use of color and tone. He's partial to black and white, and one of the things missing from the show was much black and white photography, what Torres prefer to call grayscale. Strangely, the work of Charlie Badalati, a local photographer whose black and white work has stood out at the art league and at Hollingsworth Gallery lately, was nowhere in this show.
Torres zeroed in on one of the several images of the pier. Of course it's black and white, a roil of darks: the ocean is in furies under a sky of layered thunderclouds. Just a few of the pier's pylons are visible to the left, as black as the foam of the waves is white. He likes the composition, the drama. It's Marcia Goldsmith's "Hurricane Irene."
In a half-hour conversation about the show he also keeps coming back, again and again, to to photographs in particular, both by Tom Silvey: "The Basketmaker," which Torres refers to as a campesino at rest, and "Sailing Away: 'Amistad' Leaving Port of Havana'." Torres is himself a Cuban émigré, part of the generation that fled after Castro's arrival. But neither picture seizes him as a tug from the old homeland might, though he wanted them to do just that. What they lack, he said, is more manipulation. "The subjects are very interesting, they're unique, they're exotic," he says, "here's where these two pictures would have benefited from more manipulation. Not a lot, but just enough to create a more vibrant picture. If I have to look at them and say, what do I need to make that picture better, then that picture is not a good picture to me. In other words, it shouldn't need my help." He keeps describing the colors as "muddied," rather than vivid.
It's left up to the individual viewer to decide whether the judgment holds up: what Torres describes as muddiness could also be intentional, just as the subject matter may speak more to the viewer than the colors. There's an expression of something joyful or satisfying—satisfying especially to the viewer—in that campesino that needs neither color nor manipulation to brighten the frame.  That's the thing with photography, its beauty and paradox: the very same picture, like the very same line in a poem, can be interpreted in very many ways. Even exact realism is deceptive. The same idea can be applied to Krystyna Spisak-Madejczyk's "Monday Man," the arresting black and white portrait of a man who could have been the cover art for Philip Roth's Everyman.
Torres doesn't disagree: he loves photography for the debates it generates, and clearly likes the idea of debating a photograph. But he has his preferences. And his suggestions: stay away from sunsets. Stay away from sunrises. They're overdone. They're too common. Too ordinary. There are a few of both in this show.
"An ordinary picture to me is a subject that has been photographed many, many times and is not done in a new, creative, different way," Torres says. "Let me give you an example. If you photograph a sunset or a sunrise, you really have to come up with a new way of doing that. Maybe different framing. Nowadays with digital manipulation you can actually turn it into something entirely different that what's before you. It could be on another planet for all you care." Like Coleman's "Sumter Fury."
What Torres found not so ordinary was the smallest piece in the show, almost an object rather than a photograph—a three-dimensional, digital piece by Tina Jaquay, "3d Monkey on My Back," which earned Best of Show. It's likely to have people moving this way and that to catch its nuances, examining it up close the way they might the details of 17th century Flemmish paintings, and it might even be among the show's talked-about pieces, along with a work Torres did not single out: Gary Siamon's "Old Glory (A Study in red, White and Blue)," the quite manipulated image of an older woman, a very old woman, sleeping almost in a fetal position. Word has it she died a few weeks after the photograph was shot at the Casements in Ormond Beach, making the picture possibly her testament.

Flagler County Art League 1st Annual Juried Photography Show: the Winners