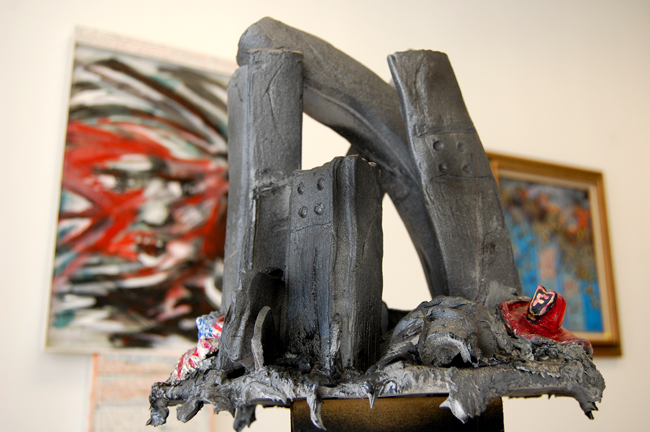 The Twin Towers in Lower Manhattan were never as famous or as elegant, never so moving or memorable, and certainly never so present in the American skyline as they have been since they disappeared. September 11 murals of the towers, their metallic symmetry reborn to fit local artist's conceptions of Manhattan that day or since, have brazed walls around the country with the kind of zeal for declarative public art that recalls the Depression days of the art-rich WPA.
Weldon Ryan, in what amounts to an act of redemption nine years in waiting, is extending the skyline to Palm Coast. No murals, but something more like individual reconstructions of memory and memorials.
Ryan, the new president of the Flagler County Art League (following Liz Monaco), had two challenges on his hands: move the art league from a location on Old Kings Road to what should be its permanent home at City Walk, and mark the move significantly with the first of a monthly art show in the league's new gallery space. He pulled off the first.
He's about to pull off the second. At 4 p.m. today, "A Hero's Call," a show featuring some 40 works in a half dozen media by 26 artists, most of them local, opens with a reception at the art league's new home. (Read the show's juried results.)
The show, which marks 9/11 by commemorating all first responders,  is something Weldon has been meaning to do for nine years—something he meant to do in New York City to commemorate the death of 23 colleagues, back when he was a forensic artist for the city's police department. He was supposed to do it then with two other forensic artists. "It was just a rough situation," he recalls. "We just couldn't muster up the strength or the will to get a show going with the portraits of all the fallen cops, so we decided not to do it because it was just too emotional for us."
"So taking on this position, and seeing that we planned to move to City Walk, and that it was in the month of September that we would probably be doing that, and then September 11th, it was a perfect situation to do that show that I've always wanted to do," Ryan said. "The whole concept, the whole notion of a tribute to first responders, was that there's so many people that do so many brave things to help, risking their lives and even sacrificing their families in order to do so, and so I felt what better way to thank them than to do a show in honor of first responders."
No art show is ever easy to pull off. An art show built around 9/11 could have been full of risk, because subject matter alone doesn't make art. With a subject matter as momentous as 9/11 iconography—not just the attacks, but the response to it, particularly by uniformed first responders—the line between art and something more appropriate for greeting cards can be as hazy as a Thomas Kinkaid sunset. The risk is also inherent to what the art league does: teach and nurture aspiring artists as well as established ones.
When a panel of three judges juried "A Hero's Call" on Friday, they cited the variety of mediums and subject matters as its strengths. Images and renditions of twisted metal are there. The work that won Best of Show is a fluting sculpture of exhausted first responders leaning for support against a flagpole. First place went to "Rescue Me," a plaster sculpture by Richlin Ryan showing two hands grasping at each other. An untitled collage by Debbie Stuart is particularly moving for mixing the intimacy of scatted personal objects on display with the ambiguity of their owner's fate. That work hands near B.J. Baughman's "My Sister—My Hero," which combines two small framed portraits of young women against a backdrop of scattered paint and one actual white feather.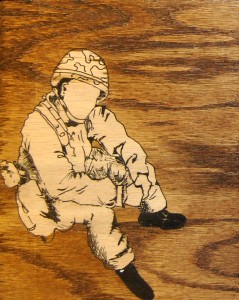 There's also a collection of four pen and ink drawings on wooden pieces of various shapes, of soldiers in full combat uniform, but purposefully faceless, purposefully disarmed even as one of them stands as if holding a weapon. It's the work of For Fernando Buirago, a 31-year-old professional artist and storyteller—and a member of the Air Force Reserves who's being deployed, likely to Afghanistan, on Sept. 12 (his second deployment). "The actual soldiers represented in the piece itself are actually part of my squadron ," Buirago said today, just before the show's opening. "They're just images of them posing or just relaxing, doing the regular military duties we do. One of the reasons why I took the faces off is so the viewer can put themselves in their shoes in a way." And the reason they're without weapons? "When you put the weapon in hand, it becomes a political manipulation, so I want to take the weapons out of it and make it about the soldiers more than anything else." The four pieces are not designed necessarily to hang together.  Buirago intends them as the adaptive pieces of a puzzle that, like soldiers in battle, can be assigned any place at any time. One piece could have been hung at one end of the gallery, two others at another end, the fourth could have been placed on the floor: there's no set rule of display. When Buirago is deployed, he'll have his art materials and camera with him.
The most—the only—harrowing painting on display is "The Unsung," by JJ Graham, of a first responder inside a collapsing tower in the absolute final instant of life. "Look past the horror of my face and see my spirit enter into the infinite divide corridor behind an honorable death," read a few of many lines painted in various colors against slats of wood below the painting. And below it all still, a burning candle.
"I want to incorporate their thoughts. What was going through their minds, what would I feel like in that situation if I just went to work and all of a sudden everything just happened and you life was—gone," Graham said, describing the painting in his Hollingsworth Gallery studio, a few doors down from the art league's gallery, even as he was still writing some of its lines earlier this week. "But that's what it was, man. It was horrible. We have a tendency in America to show the hero aspect but not the horror that they face. We like to sugarcoat things in America and it was very traumatic. I'm sure if I had to imagine being there' I'd have to imagine something traumatic."
Across the room, in "Stairway to Heaven," one of three works by Doreen Hardie—all three among the show's most graphic and inflamed works, but in a "Book of Revelations" sort of way—the figure of a human is diving away from one of the flaming towers, toward a spiral stairway, while tiny, strangely colorful figures stand or twist in the wind of broken windows, ready to jump. "The painting is I feel a message of hope to all those who lost loved ones in the building and wondered where they went," Hardie, who was in Washington, D.C., working at the National Conference of Mayors, the day of the attacks, said. "As a Christian, God gave me the image to paint, to give them hope." In "Behold the Cross," a lone responder is walking toward the remains of Ground Zero, still in flames, and what looks, in the distance, like shards in the shape of a cross.
It's all a fresh memory to Ryan, who was dropping off his children at school in New York City when the attacks took place. He commandeered a taxi, then hopped an ambulance, to make his way to Ground Zero, and spent the next 14 hours there doing whatever had to be done—in his capacity as a forensic artist, it was "to help with the recovery or just identification of people, missing persons and so forth. What was really scary though was there were no remains to identify, it was disintegrated."
So works like Graham's are not, as others might see them, in any way offensive to Ryan. "Art sometimes has to show a history of events," Ryan says. "No matter how heart-wrenching it is, it deserves a voice, it deserves to be seen."
Ryan and the art league are developing a special relationship with Graham's Hollingsworth Gallery by building on Graham's hope to develop an arts community at City Walk. The place already has two art galleries and two dance studios.
"This area right here to me I thought was conducive to doing business, as far as art related," Ryan says of the art league's future there. "And then with JJ down the way, the Hollingsworth, it's absolutely perfect. The Hollingsworth is contemporary. What they offer is a professional gallery in Palm Coast. Their works are a little bit different than ours. Ours are more traditional. We have the novice artist or the amateur artist or the aspiring artist, to the semi-professional and professional artist. We cultivate artists. That's what I think our task is, whereas JJ, it's for seasoned artists, artists in a contemporary fashion."
Ryan adds, "What we do, what we're supposed to do is nurture the arts and nurture the artists. We're harvesters of talent. If we can cultivate raw talent to a more professional talent, that's what we're here for. It's also about art understanding. It's not just about painting pretty pictures. The whole thing about art is what did that artist perceive, what was he thinking when he was doing the work, what's the concept, why did he use the colors that he used, why is it that size. There's so much more to art that if we were to look under the hood, we can see that there's a whole lot of thought, there's a big thought process. And with cultivating, we teach the thought process, we teach clarity and understanding of what we're trying to achieve. Technique follows with clarity."
"A Hero's Call" isn't named that way for nothing.

"A Hero's Call" opens Saturday afternoon with a reception at 4 p.m. at the Art League's City Walk gallery, 160 Cypress Point Parkway, suite 237C (on the second floor, a few doors down from the Hollingsworth Gallery). All welcome. At 6 p.m., Hollingsworth Gallery nearby is hosting its encore reception for "Music Is the Muse."