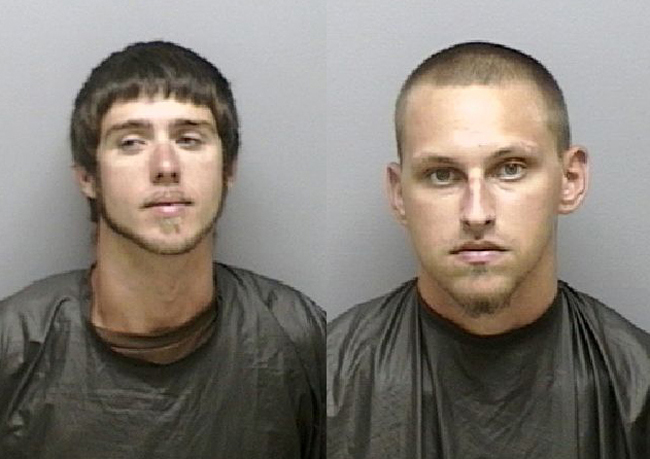 In November, Tyler Barber, 21, of Palm Coast's Woodglen Place, was arrested and charged with aggravated battery on a pregnant woman.
On Saturday (July 24), he was arrested again for violating his probation when he accompanied John Miller to an Evanslane home in Palm Coast and, with Miller allegedly impersonating a police officer, tried to take his (Barber's) daughter away from Robert Morris, 60, and the child's grandmother. The child, just a few months old, is the daughter of the woman Barber was accused of assaulting in November.
According to a Flagler County Sheriff's report, Barber and Miller knocked on Morris' door just after 1 o'clock in the morning on the 24th. Morris asked who was there. The reply: "Flagler County Police Department." There is no such thing as a Flagler County or a Palm Coast police department. The sheriff's office provides law enforcement for Palm Coast.
Morris opened the door. He did not recognize Miller. But he did recognize Barber. Miller again identified himself as a Flagler County police officer and held out an ID card. He didn't let Roberts close enough to read it. When Morris asked Miller for his badge, Miller said he didn't have it on him, and that Morris didn't have to see it. According to Morris' report to the sheriff's office, Miller then reiterated that he was a county police officer, that Tyler was a very good friend of his, and that he was there to remove Tyler's daughter from Morris' residence.
As Miller continued to say that he was there to remove the child, Morris tried to close the door, but Miller stuck his foot in to prevent the door from shutting. At that point, the report states, Miller punch Morris on the left side of his face. Morris said he was able to push Miller out of the doorway and shut the door. Tyler and Miller left in a dark SUV. Flagler County Sheriff's deputies tracked them down based on Morris' description of the vehicle, and arrested them both–Tyler for violating his probation, and Miller for impersonating an officer.
Barber was booked into the Flagler County jail and released after posting $750 bond. Corey, 22, of Elm Ave. in Bunnell, was booked and released on $1,250 bond. He faces a charge of impersonating an officer and one count of battery.