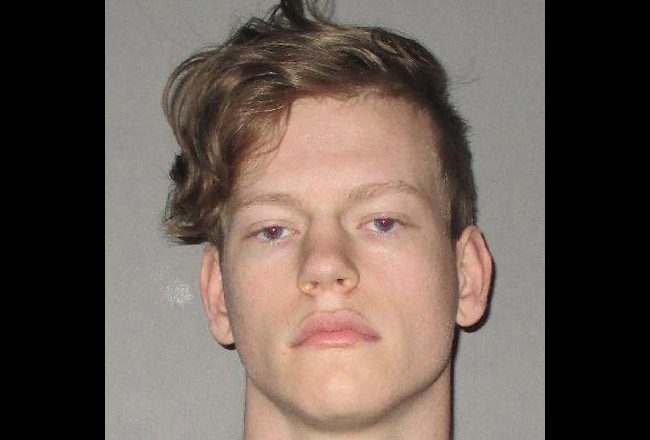 Brenden Geary, 21, eventually did not hide what he did to Dixie, his roommate's 11-pound Yorkshire terrier.
The dog, Geary claimed, has peed and dropped feces "all over that rug." He walked in, "really frustrated, picked her up by her ears, and I choked her," he is quoted as saying of the dog in his arrest report.
"Brenden stated he doesn't know what is wrong with him but does not have the resources to find out at this moment," his arrest report states.
A detective who examined the scene at 3 Winchester Place in Palm Coast on Tuesday described the back porch: "Substances were observed on the wall consistent with what appears to be blood spatter and smeared feces. The dog food bag located under the observed areas also had what appeared to be blood on it. The carpet where Dixie was located unresponsive had several spots in a line approximately two feet in length that also appeared to be blood.
Yorkshire terriers are typically small, feisty, loving dogs.
"The scene depicted a violent encounter, with the smudge of possible feces being located approximately five feet up onto the wall." Annie Conrad, the detective, photographed and documented all she saw.
According to Geary's roommate, a 21-year-old resident at Winchester Place, he'd come home to find Dixie unresponsive Monday evening, rushing her to Flagler Animal Hospital on Old Kings Road at 7:30 p.m. Veterinarian Trisha Doswell examined the dog and suspected abuse that included asphyxiation. The dog had been in shock when first brought to the hospital, with severe bruising on the ears, face, neck, throat and on the inside of the legs, according to the sheriff's report.
The hospital contacted the sheriff's office, as it was a suspected case of abuse. At the time, Geary was also at the veterinary hospital, but he claimed to have no idea how the dog ended up in that condition. Dixie remained at the hospital for treatment.
After getting contacted by Conrad on Tuesday, Geary agreed to speak with her. He drove to the Sheriff's Office in Bunnell. That's when he admitted, according to his arrest report, to brutalizing the dog in frustration.
Dixie tried running away from him after he threw her against the wall. "That's when he grabbed her thighs and picked her up and sat her in the spot on the carpet where she was later found unresponsive," his arrest report states.
He was placed under arrest and charged with aggravated animal cruelty, a third-degree felony. He remains at the Flagler County jail on $2,500 bond.