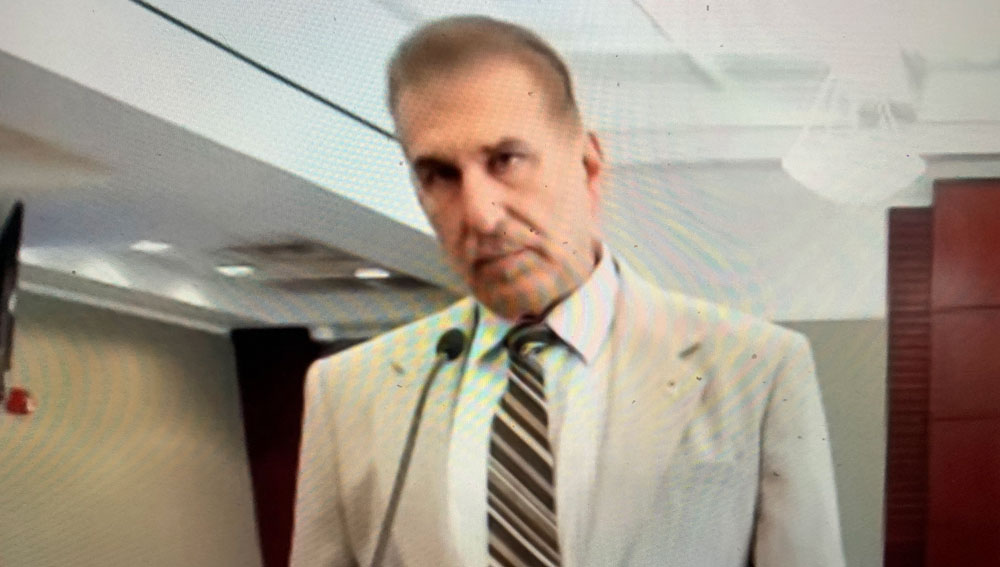 Jamal Nejame, the three-time candidate for municipal office in Flagler Beach, has had his issues with the law over the years. But he's managed either to hide some of them or avoid getting punished for them. That's what his latest victims were worried about today as they pleaded with a judge not to let him off this time without a conviction even as they made a major concession on the severity of his penalty.
Last July 4 he'd fired his gun several times in their direction, shattering windows and light fixtures and raining debris on them as they enjoyed the holiday on the porch with their two grandchildren, any one of whom could have been killed had one of the bullets taken a barely different path.
He was charged with a second-degree felony on a count of firing a deadly missile into an occupied dwelling. The maximum penalty for a second-degree felony is 15 years in prison.
Today, he was sentenced to two first-degree misdemeanor counts: improper exhibition of a weapon, and discharging a firearm in public. He will not serve prison or jail time. He will be on probation for two years.
It was the result of an unusually lenient plea deal that did not have the family's full support, as two of the victims made clear today, and that the prosecution explained only in a roundabout and not entirely accurate way–but that the family accepted because it was explained as the only way that Nejame would agree to stay away from the house for two years. Two or more years in prison could have accomplished the same result. But Nejame would not have agreed to plea to prison time, and would have more likely pushed the case to trial, prolonging the proceedings, with an ultimate outcome in doubt. In essence, it was Nejame as the offender writing his own ticket out of a felony by using his victims' fear (and his own vague and peripheral profile that had nothing to do with the case) to his benefit.




"I'd spoken with Mr. Delgado a number of times about this case," Assistant State Attorney Melissa Clark told the judge today, referring to Aaron Delgado, the Daytona Beach attorney representing Nejame. "They provided me with documentation showing that Mr. Nejame is a Vietnam veteran, honorably discharged, he had a law enforcement career for a while, has really no criminal history to speak of."
He has no convictions. But he has a history.
In 2014 he was charged with stalking, a misdemeanor, when the owners of the Golden Lion in Flagler Beach reported him to police for allegedly putting them, their children and their staff in fear for their safety. The charge was dropped. In 2014 he was arrested on a felony charge of aggravated stalking after allegedly violating an injunction secured by a woman he'd dated for less than a year. "The 'facts' were superficial when given to the FBPD," he said in an email at the time, referring to the Flagler Beach Police Department, and noting that the arrest was expunged–a fact that became an issue for the victims in today's sentencing hearing.
"They said he doesn't have any record," one of the victims told the judge today. "But if every time he does something wrong, he takes a plea, and then it gets expunged from his record, then it never ever shows up if he's ever done anything like this anywhere else." (See the arrest record that was expunged here, along with the petition for an injunction. Nejame in 2017 contacted FlaglerLive to have the report of his 2014 arrest removed. It was not. But the court documents tied to the arrest were never published at the time. "However," FlalerLive told Nejame in an email in 2017, "should subsequent instances arise–another arrest, another injunction or serious legal matter–the documents would again be relevant and publishable." The documents are being published now for that reason.)




"I have been sick, terminally sick," one of the victims–the two young children's grandmother–told the judge. "Just prior to the incident I was sent home from the Mayo Clinic. They said to come home and live the best I could with my family with the time I had left. So my children had been coming for the last month to the hospital and staying overnight with my husband taking turns. They all came for the Fourth of July." The family had not had any interactions with Nejame, who'd moved in only months before. Then came the shooting.
Speaking haltingly, carefully, with obvious difficulty, the woman–looking frail and pained as she zoomed in–continued: "I would like the opportunity to live in my house and be able to go sit outside to get some fresh air without being scared that somebody is going to just decide to shoot at me. They keep saying that he's a veteran and I have a lot of friends that are veterans. But that doesn't give anybody the right to shoot into people's houses."
"Your primary objective in resolving this case is to keep him out of the house for as long as you can?" Circuit Judge Terence Perkins asked her.
"Yes," she said. "But I also understand he wants it to go down from a felony to a misdemeanor. And I would like him to keep it as a felony. But he won't take that plea." She said "it should be known that he shoots at people's houses, but if the only way to keep him away, is by reducing it, then I guess that's the only option that we have."




Clark had spoken with the victims about that, "what was more important to them, the felony versus getting him out of the house," she said in court. "I explained to them, we can't force him to sell his house. You as a judge cannot force him to sell his house. We could require him not to have contact with them, but we couldn't force anything like that, and force him not to live there and things of that nature. So ultimately, they told me that was their most important thing. So I went over with them what the plea offer would be, they agreed that's what they wanted to do."
The victims' adult daughter, who does not live in Florida, also addressed the court, explaining the reluctant acceptance of the plea deal–"it's like a double edged sword," she said–and breaking down in tears at the thought that one of the bullets could have struck her children. "Hopefully, that will be enough recourse for for Mr. Nejame to understand what he did that day could have put one of my kids in the ground, or my parents."
Nejame, in person at the hearing, stood next to his attorney to enter his plea but never uttered a word of sympathy, apology or reassurance to the victims. He had wanted the judge to withhold adjudication, so he would not even be found guilty. Perkins did not go for that. Nejame was also ordered to pay $3,800 in restitution for the damage his shooting caused to the neighbors' house. He will from here on be required to disclose the conviction on any application for a concealed weapon permit, which the judge said "may prevent him from having a concealed carry permit." He will also have to have a mental evaluation and complete any recommended treatment, if any. (Attorney McKenna Mundy appeared on behalf of Delgado today.)




All his firearms and ammunition were ordered turned over to Delgado's law firm, but only for the two-year period of probation, and he will be allowed to use a weapon in a firearm safety course.
Nejame, 72, had bought the 1,800-square-foot house at 97 Bressler Lane the previous October, after living in Flagler Beach for decades. He paid zero property taxes thanks to qualifying for complete disability as a veteran, though in 2006 he was renting canoes and kayaks and leading group tours my motorized pontoons on the Tomoka River, later expanded into Flagler Beach, through his company. At the time, the News-Journal reported him to have "more than 30 years of on-water experience. He has a USCG 100 Ton Master license, with sail and towing endorsements." He is currently listed as a principal in Air Rite LLC and was listed as a principal in the defunct Sail Our Ships LLC. When he ran for mayor in Flagler Beach in 2012, he referred to himself as a radiology consultant. His law enforcement background never came up.
At the time of the shooting, he was working as a security guard. A search of his property would later turn up five 9 mm cartridge casings in his backyard, all from a Glock. The search also turned up seven handguns, a shotgun, three rifles and numerous boxes of ammunition (see the list here). The motive for the shooting was never established.

Disclosure: Aaron Delgado is a member of the FlaglerLive Board of Directors. He was not contacted or interviewed, on background or for the record, for this article or in connection with any previous hearings or steps in the case. 
Reader Interactions