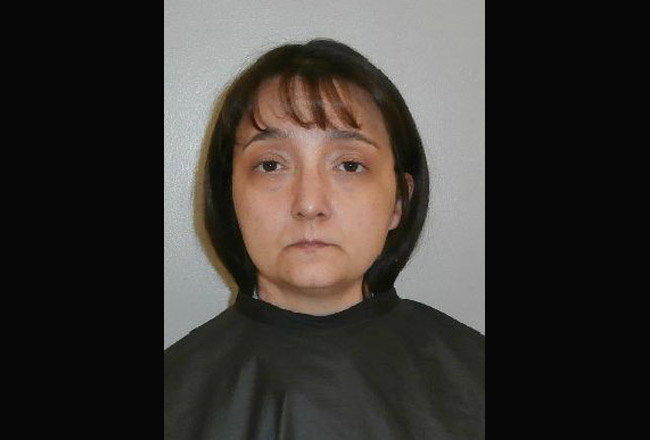 In a lightning-fast verdict after nearly two full days of trial, a jury Thursday afternoon convicted Angela Wray, the wife of a Flagler County Sheriff's deputy, of running an organized scheme to defraud her former employer–Celico Auto of Bunnell–of  more than $50,000.
Jury members began deliberations at 3:03 p.m. on the second day of the trial, reaching a guilty verdict in 12 minutes despite Wray's efforts to sway the outcome in her favor by testifying in her own defense earlier in the day.
Wray faces up to 30 years in prison for embezzling $58,964 from Celico Auto Body, where she worked as a bookkeeper from June 2007 to February 2010. Wray before the trial had turned down a plea deal that would have had her serve five years in prison, with probation afterward.
Flagler County Circuit Judge J. David Walsh refused to let her remain out on bond until sentencing. She was booked back into the Flagler County jail just before 5 p.m. Walsh ordered a pre-sentence investigation and set a sentencing hearing for 2:30 p.m. on April 29.
According to an Florida Department of Law Enforcement investigation and her former employer, Wray wrote checks to herself but misidentified the checks in a ledger as legitimate business expenses. She also wrote checks to pay GMAC, Chase Auto Finance and Capital One credit card bills, as well as a mortgage payment.
"I'm being accused of taking all this money and changing ledger," Wray said. "All I can say is I didn't take the money and did not change the ledger."
The jury rejected arguments by Wray and defense attorney Regina Nunnally that the checks were loans approved by Carlo Celico, owner of the auto body shop, and that checks cashed at Publix and Walmart were for office supplies.
During Wray's testimony, prosecutor Jennifer Dunton forced the defendant to admit she was guilty of a previous felony conviction in New Jersey. Dunton showed Wray a document proving the conviction when Wray hesitated to answer the question. Wray plead guilty to felony theft in New Jersey for stealing more than $40,000 from 1999 to 2006 by writing checks to herself and destroying records of the checks at Mountain Landscaping, where she also worked as a bookkeeper.
"I'm just very happy she will be held accountable this second time for defrauding a small business owner," Dunton said after the verdict. "I'm hoping she will receive prison or incarceration this time."
Throughout the two-day trial, Wray and defense attorney Nunnally attempted to shift blame from Wray to Celico by questioning payments to suppliers and independent contractors. Wray claimed Celico sometimes directed her to change the business ledger, but denied she changed the ledger to disguise checks to herself.
"So basically your testimony is the ledger we were given does not show all transactions?" defense attorney Regina Nunnally asked.
"It was not 100 percent," Wray said.
The defendant and her attorney tried to make hay of business problems such as returned checks and an inaccurate ledger, but Celico, who had also testified on Wednesday, said his business problems resulted from the thefts.
The verdict pleased Celico because of the criticism of his business practices. "It made up for the way attorney Nunnally slandered me," he said.
Prosecutor Dunton told the jury that accusations about Celico's the business practices had nothing to do with the case against Wray.
"You understand that an employee being paid as a contractor, there's nothing wrong with that?" Dunton asked, referring to extensive questions on those contractor arrangements by the defense attorney. Wray said the point was to show other people got multiple checks.
The prosecutor disputed Wray's testimony that she had financial problems in 2008 and the checks she received were loans approved by Celico, a claim denied by Celico. Referring to Wray's financial records, Dunton asked and Wray confirmed monthly deposits from $5,000 on up to $8,000, $9,000 and even $14,000. "That's not my definition of struggling," Dunton said."
Dunton also challenged Wray's statement that trips to Disney World only cost her gas by pointing out credit card charges in the defendant's accounts. Wray also claimed the 28 checks she cashed at Publix and Walmart were for business supplies, such as cleaning, paper and coffee.
"Those checks were for $300 to $400," Dunton said. "So the 28 checks you cashed were to buy office supplies and coffee?
"Primarily, yes," Wray said.
"What else?" Dunton pressed.
"Whatever I needed," Wray said.
Wray testified that the $58, 964 she received were loans from Celico, which she was paying back with payroll deductions. Dunton responded by saying Wray's checks were consistent with someone being paid $10 an hour for 40 hours work a week.
"How much did you pay back?" Dunton asked.
"We did not keep track," Wray said.
"There's no evidence of you paying him back from your account," Dunton said.
"I didn't," said Wray, who said she was not paid for additional hours worked.
Responding to questions from Dunton, Celico refuted Wray's testimony.
"Did you authorize the $1,200 check so Miss Wray could pay mortgage," Dunton asked.
"No," Celico said.
"Did you authorize loans of more than $58,000 to Miss Wray over time," Dunton asked.
"No," Celico said.
Celico also denied he ever sent Wray out to buy supplies for his business. "My wife and I bought the supplies," he said.
In closing arguments, prosecutor Dunton said defense efforts to shift blame to Celico were not supported by facts. "The facts are the facts," Dunton said. "The money went to Miss Wray." Wray was the only person with a doctored entry in the business ledger, Dunton said. "Use your common sense," the prosecutor urged the jury.
Twice during the second day of the trial, defense attorney Nunnally made motions for acquittal, which were in each case denied by the judge.
Nunnally's closing argument urged the jury to shift the blame to Celico, once again citing checks to a supplier and checks to a contractor. "The same ongoing course of conduct accusing Angela Wray benefited Celico," Nunnally said. Referring to Celico's testimony that he loaned money to other employees, but not Wray, Nunnally said, "That doesn't make sense."
"I have no idea what that whole thing has to do with this case," Dunton said, referring to Nunnally's efforts to show bad financial practices by Celico. The New Jersey conviction shows that this was her plan, Dunton said. "She took the money from Mr. Celico," Dunton said. "She did it with a scheme that has worked in the past."
The guilty verdict was a stunning defeat for Wray who had rolled the dice by spurning an opportunity to negotiate a plea agreement, because the prosecution was insisting on jail time due to this being the second embezzlement case against Wray.
Judge Walsh had cautioned Wray earlier in the day about testifying on her own behalf.
"If you decide to testify there are good and bad things that can happen," Judge Walsh told Wray. "You can get your story out, but the state can poke holes in your story and impeach your testimony."
As it turned out, she did not help her case.