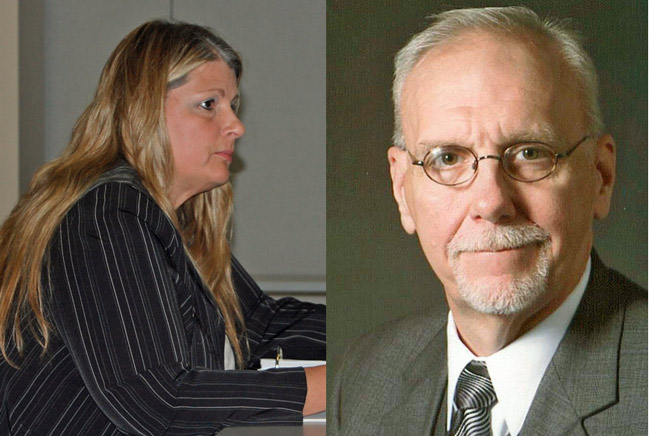 Allen Whetsell, the General Manager of Craig-Flagler Palms Funeral Home and a familiar face—and voice—at community events such as Flagler Beach's parades and the boards of civic organizations, is the latest candidate to join a crowded field of Republicans vying to replace Supervisor of Elections Kimberle Weeks, a Democrat.
Whetsell filed his papers at the elections office earlier today. He joins Trey Corbett, Kimble Medley and Pam Richardson in that race. No Democrats have filed, and none is expected to file. The local Democratic party is choosing to back her rather than field a primary challenger despite her weakened candidacy and checkered history in the office.
"That's going to be a real, real, tough fight as far as I'm concerned, because it's not going be an election on the job she's done, the election is going to be mainly on her involvement with the county commission," Dan Parham, who heads the Flagler County Democratic Party's executive committee, said of Weeks. "People don't like that she has had acrimonious relationships there. I expect that that's going to be a very, very tough fight. Of course my position is that we need to look at the fact that we've had successful elections, and that's really what it's about."
But Weeks is drawing a large number of opponents, including Whetsell, because of record of acrimony and the consequent damage to the reputation of the office.
"It's time for a professional business person to get involved in politics here in Flagler County," Whetsell said this afternoon. "It's time for professionalism and integrity to be returned to the supervisor of elections' office. I don't like the contentious atmosphere that's currently there between the constitutional officers, especially Miss Weeks and the county commission. I think we as a growing community need to be unified in our approach to all government, and that as we continue to grow, we need to educate our people on the voting procedures. I just think that a professional person going in there with a professional working attitude would be a very good thing for the supervisor of elections' office. That's why I decided to do it."
Whetsell, 57, is a native of West Virginia. He's lived in Flagler County for 11 years. He hasn't run for elected office before. But he cites two distinctions that make him qualified for the job, whether it's the execution of the job from a non-partisan basis or his ability to run an office efficiently:  "I'll approach it the same way I approach my business today. I serve all people—religious or political backgrounds, so that won't be an issue with me," he said.
And, Whetsell says he's been researching how to run the office, noting that his learning curve, because of his managerial background, will be small: he cites his extensive experience working in local civic organizations (the Flagler County Education, the Family Life Center, the Kiwanis Club, the Flagler Auditorium, among others) in combination with his managerial experience as factors that will help in managing the office and its poll workers—and getting along with them. "There are some things that need to be revamped at the supervisor of elections office," he said, "as far as the public relations and the public attitude toward the office. That's what I will bring there."
Beyond the reparation aspect of his objectives for the office, more conservative budgeting and voter education, especially among high school and college students and the elderly, will be a priority, including in-person "outreach" to schools and local colleges "to be sure that children who'll be the adults and leaders of tomorrow know the importance of voting." White Whetsell noted the drop in voter turnout in the last election, he was reluctant to attribute it to anything more than a lack of interest in the races themselves: there were no greatly contested races that compelled people to turn out. Nevertheless, he said, "everybody can sit on the sidelines and complain about government, but if they don't get out and exercise their right to vote, then they really and truthfully don't have a platform to stand on when they didn't make their choice known, whether their candidate won or lost. I think that's part of the supervisor of elections' position, is to be sure that the word gets out that we do have choices to be made, and everybody has the right to make that choice."
Whetsell served on the governing board of Flagler Auditorium and the governing board of the Family Life Center. He's been involved with the Flagler County and the Flagler Beach Chamber of Commerce.  And he's the governor-elect of the Florida District of Kiwanis International.  He attended West Liberty State College and Fairmont State College and graduated with a Degree in Mortuary Science and Management from the Pittsburgh Institute of Mortuary Science.