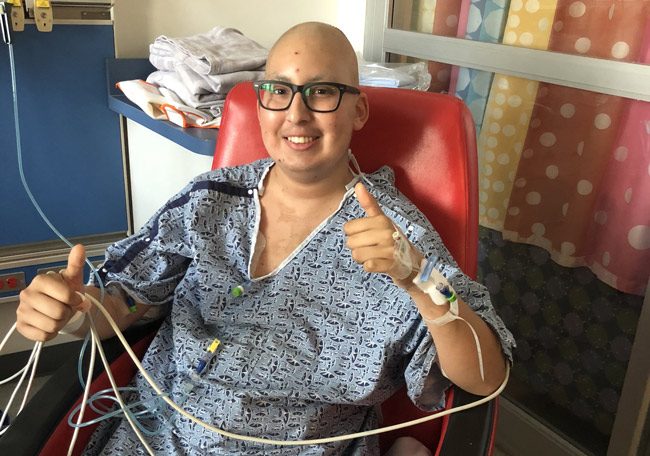 Travelling the world has been in the DNA of the Roberson family for decades.
Ralph, Lydia and their three kids are no strangers to new places and situations. The Palm Coast family's children were all born in the small Central American country of Belize, and after settling in the United States a decade ago they've always made it a point to explore different parts of the planet at least once a year on vacation.
Lauren Roberson and her brothers Ty and Allen have traveled to Cuba, South Korea, Guatemala and Mexico, as well as their native Belize, over the past decade.
But in 2018, they won't be going anywhere besides Florida.
Sixteen-year-old Allen became aware of that fact a few weeks ago, when he looked at his Mom and sighed. "This is the first time we haven't traveled somewhere," Allen said. "This year, we've gone on a different journey."
Allen said those words on July 17 from his hospital bed at the Nemours Children's Specialty Care Center at Wolfson's Children's Hospital in Jacksonville, a few hours after his second brain surgery in as many weeks.
For the past five months Allen's journey has completely upended his family's world. On March 9, after several weeks of complaining of double vision, and following several doctor's appointments, the then-Flagler Palm Coast high school sophomore was given crushing news by neurologist Dr. Eric Sandler: He had a brain tumor.
Specifically, a mixed germ cell brain tumor located in the pineal gland in the middle of his head. A rare form of brain cancer in someone as young as Allen, the teen has underdone four rounds of chemotherapy and two surgeries in hopes of shrinking or obliterating the tumor.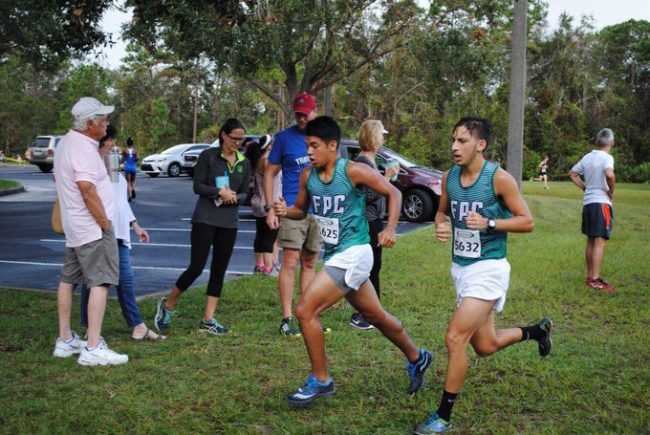 After several weeks of uncertainty, Sandler, the medical director of Neuro-Oncology at Wolfson's, and Philipp Aldana, another physician at Wolfson's, told the family some wonderful news: The second surgery, on July 12, had removed around 90 percent of the tumor, and after six weeks of radiation treatment and two more rounds of chemotherapy, there's an excellent chance the cancer will have been turned back.
Allen may even be able to re-join the FPC cross country and track teams.
"The day Allen had his first surgery was the worst day of my life," says Lydia, a special education teacher at Taylor Middle and High School in Volusia County. "And when I watch him run around the track again, that'll be the best day of my life."
Allen came home from the hospital on July 18. His days are now filled with sleeping and eating, which to some parents of teens sounds completely normal. But even though his hair has fallen out, he gets tired easily and needs help walking–the brutal effects of radiation and chemotherapy, which assault the body as poisons try to kill poisons–he feels extremely blessed right now.
"I've gotten such incredible support from my friends, my family, and the community, that I feel very lucky," he said in a phone interview the day after getting home to Palm Coast. "With everything that's gone on, and how scary it was, I just tried to stay calm and not get too scared. And just tell myself that this was my reality now and things would hopefully get better."
---
"When I watch him run around the track again, that'll be the best day of my life."
---
Up until February, Allen's life was that of a typical teen. He was an outstanding honors student at FPC and had begun to show promise in running. Bulldogs cross country coach Dave Halliday said Allen had been improving rapidly, getting close to breaking the 17-minute mark.
"He just has always been super smart with great manners and someone who got along with everybody," Halliday said.
But with track season beginning to get going in February, Allen came downstairs for breakfast on Valentine's Day and said something no Mom expects to hear.
"He just said 'Mom this is going to sound weird but I see two of you right now,'" Lydia recalled. "So of course I got a little concerned."
After exams at Tomoka Eye Center led the Robersons to be told they needed to see a neurologist, her concern rose.
Finally when they saw Sandler and he performed a biopsy, they got the news. The words are easy enough to understand. Tumor. Cancer. The reaction to those words is not describable. The words' implication defy anything comprehensible. Justly or not, the younger the person afflicted, the more incomprehensible–the more reprehensible–the diagnosis.
The pineal gland is in the very center of the brain, and is located near many very important structures around it, Sandler explained. Cancer in children accounts for only 1 percent of all cancers, and while brain tumors are the second-most common types of tumors in kids, the location of Allen's tumor was unusual.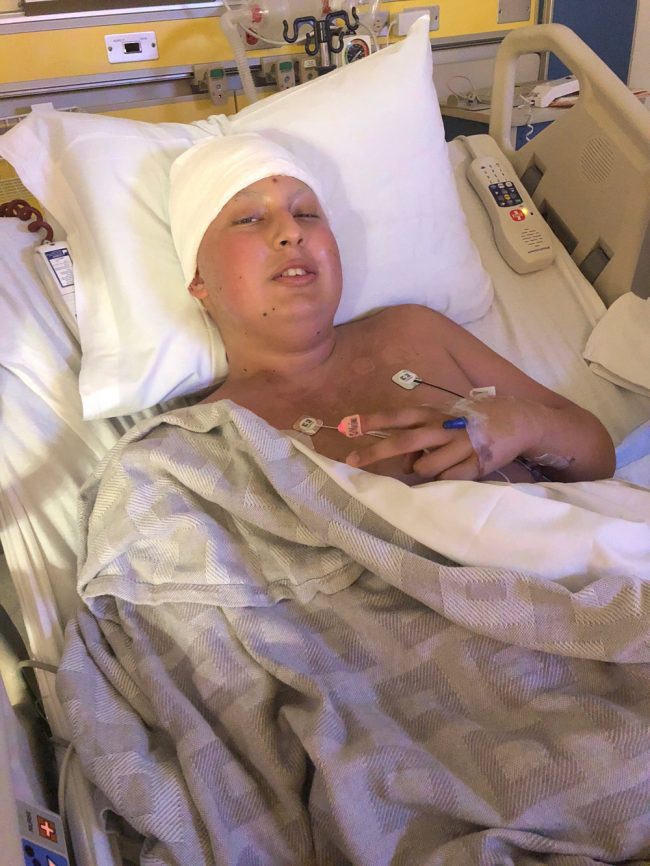 Instead of operating right away, the doctors at Wolfson's opted to begin Allen on a immediate six-course path of chemotherapy, starting on March 30. Allen would endure between three to five nights of treatment at a time, then go home for three weeks, before returning for more.
Back in Palm Coast, Halliday, track and field coach Alex Giorgianni and Allen's friends began mobilizing support. Fundraisers were held at meets, with friends of Allen's like Zoe Putney writing the hashtag #ForAllen on their bodies during competition. Rubber bracelets that read "Heart of A Champion" were sold, and family friend Karla Cuthbertson started a Go Fund Me page that has raised more than $7,000 to help pay the Roberson's medical bills. (You can donate to the cause here.)
"The family has been so strong through all this, and it starts with Allen," Giorgianni said. "I'd go visit him in the hospital or call him and even in the middle of grueling treatments, when I asked how he is doing, he'd say 'I'm great man! How are you?'"
But even though Allen was projecting positivity on the outside, he and the family were crushed on June 25, when after the fourth round of chemo an MRI showed the tumor had grown.
"We cried, because we didn't expect bad news and Allen seemed to be doing well," Lydia said. "But cancer can be really stubborn."
Allen underwent his first surgery on July 3, a 17-hour procedure in which nearly half of the tumor was removed, Sandler said, but a second procedure on July 12 was scheduled to see if more of the malignant cells could be removed. "We were able to get rid of a lot of the malignant element, but the mature tissue (in the brain) starts growing again, so you need to sometimes go in again and then follow up with treatment," the doctor said.
After the second surgery's success, Allen said he was "very relieved" he wouldn't have to go in the operating room any more. He's been getting in-home schooling during his illness, but hopes that after radiation and chemo are finished this fall–yes, there is more–he can get back to his normal life of school, track and (of course) playing Fortnite.
"Every day I see the doctors I ask them when I can start running again," Allen said with a laugh. "They keep telling me it'll be a while. But I know I'll be back out there.  I really hope and think the worst part of all this is over."
A world, and a world of journeys, beckon.