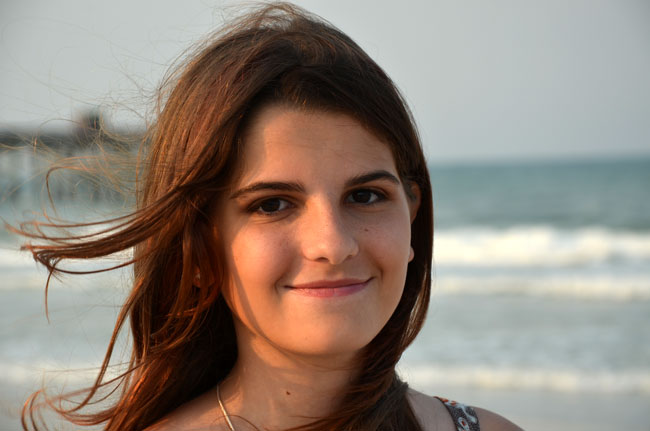 Alexandra is 12 years old with brown hair and brown eyes. She is the daughter of Joe and Mary Ann Moreira of Palm Coast.
Alexandra will be entering the 7th grade at Indian Trails Middle School where she is a member of Future Problem Solvers.
Alexandra is sponsored by Hammock Dunes Club.

The Complete Miss Flagler County Pageant Image and Portrait Galleries
2013
Little Miss Flagler County 2013 Contestants, Ages 5-7
Little Miss Flagler County 2013 Contestants, Ages 8-11
Miss Junior Flagler County 2013 Contestants, Ages 12-15
Miss Flagler County 2013 Scholarship Pageant Contestants, Ages 16-23
2012
Meet the 2012 Miss Flagler County Contestants: The Overview
Little Miss Flagler County 2012 Contestants, Ages 5-7
Little Miss Flagler County 2012 Contestants, Ages 8-11
Miss Junior Flagler County 2012 Contestants, Ages 12-15
Miss Flagler County 2012 Scholarship Pageant Contestants, Ages 16-23
2011
Meet the 2011 Miss Flagler County Contestants: The Overview
Little Miss Flagler County 2011 Contestants, Ages 5-7
Little Miss Flagler County 2011 Contestants, Ages 8-11
Miss Junior Flagler County 2011 Contestants, Ages 12-15
Miss Flagler County 2011 Scholarship Pageant Contestants, Ages 16-23
2010
Meet the 2010 Miss Flagler County Contestants: The Overview
Little Miss Flagler County Contestants, Ages 5-7
Little Miss Flagler County 2010 Contestants, Ages 8-11
Miss Junior Flagler County 2010 Contestants, Ages 12-15
Miss Flagler County 2010 Scholarship Pageant Contestants, Ages 16-23