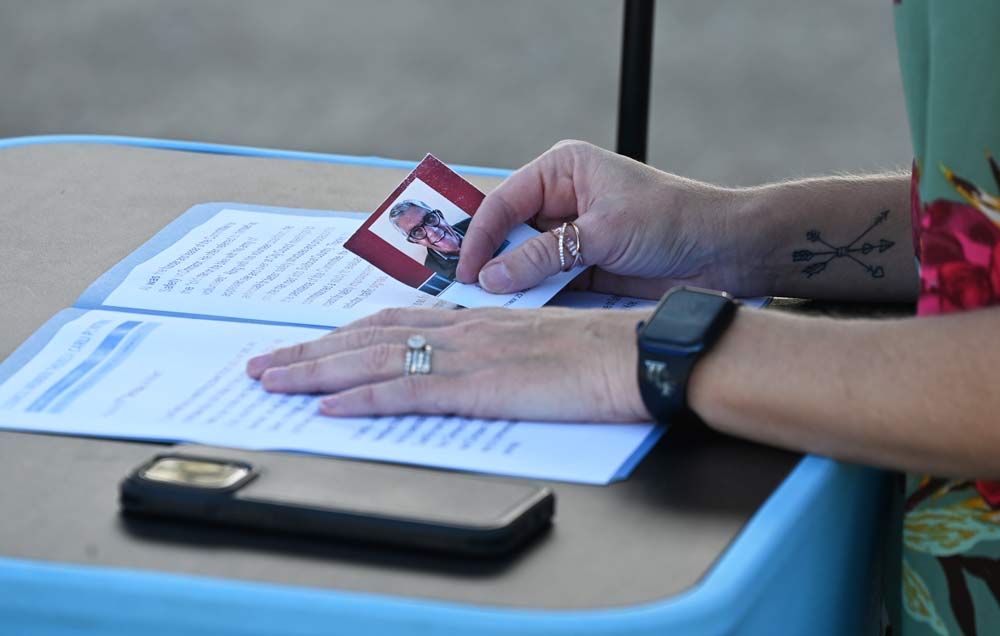 After wishing him a happy birthday, Palm Coast City Council member Theresa Pontieri told the assembled crowd beneath the Hammock Dunes Bridge this morning about how she always keeps a picture of Al Krier on her Jeep visor, the picture she was now holding in her right hand.
Alois "Al" Michael Krier was the stalwart voice for safety on Cimmaron Drive and all things Palm Coast, a recurring, always civil speaker at council meetings, a dogged activist and a life-loving cheer on land and water: this year's Palm Coast boat parade is to his memory. He died last Christmas Eve, and would have been 87 today.




She keeps the picture, Pontieri said, "because I have made it a point to make sure that all of his efforts, everything that he worked for is not done in vain. And that we will continue to make sure we achieve his goals of safety on Cimmaron. It's deserving. He has worked with grace, tenacity, diligence, energy, and just an optimism that I think we should all strive for. And this reminds me of that. So very happy to see that we're still working towards that and I want to thank my City Council members as well for making sure that we are prioritizing neighborhood safety for our entire community."
The occasion of this morning's assembly was the dedication of the 1.3-mile Al Krier trail, which parallels Palm Harbor Parkway from near the bridge to the intersection with Cimmaron, that L-shaped two-laner around a grid of Palm Coast's canal-lapping homes so beloved by neighborhood walkers, but not for its hazardously non-existent shoulders. It had been one of Krier's latter-day campaigns to commit the city to do better by Cimarron's walkers and bikers, founding and leading a safety committee as "the old man on the bike with his army of volunteers," as he referred to himself.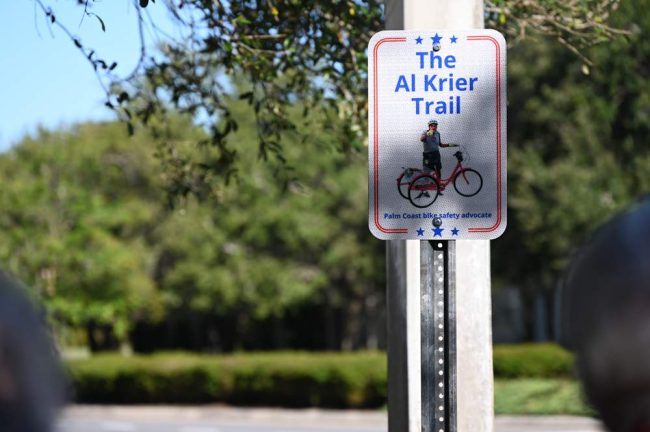 He had partially succeeded: Cimarron's engineering will always make sidewalks there impossible, but the city is studying other pragmatic, more affordable measures, and not just on Cimmaron, which is just one of 19 high-risk traffic and pedestrian areas in Palm Coast. The city has commissioned an ongoing $150,000 study to that effect, City Manager Denise Bevan, who was at the dedication, said. Meanwhile, city staffers meet with the Sheriff's Office bi-weekly to stay on top of safety concerns in the neighborhood.
"Thanks to the persistence of the committee, the city has commissioned a study to evaluate neighborhood roads for safety improvements, speed, limit reduction, traffic signals and also stop signs, Pontieri said. It is one of the many reasons why Krier and the trail represent a lot more than a memorial to activism in that one neighborhood.




Krier left these legacies since his early days in Northern Michigan. His first job out of college was at a gas station, his son Joe Krier said, but the gas station drew anemic traffic. So Al joined forces with a car dealer and raised money to raise a 52-foot statue of a Native American, Hiawatha, a statue that still towers in Ironwood today and attracts roadside tourists. He turned July 4 celebrations on a lake into a singing regatta to America. He had a costume for every America holiday.
In Palm Coast, he turned Demosthenes for Cimmaron. Until today, no one but his family had known of his backstage compulsions to pull off the exact note every time. "You know," his son told the crowd, his own eloquence taking a cue from his Dad's, "those two minute speeches that happened at every single meeting for two years straight were written out in advance and rehearsed in front of me while I was half paying attention and saying Yeah, Dad, that's great. Or some days I'd say not enough fire, Dad, you got to get a little angry. Then he'd come out and he'd say, All right, next month. I'm really gonna give it to 'em, Joe, I'm gonna give it to 'em. And then he would would give me his rehearsed remarks and they would be just as kind as every other time, and I'm like: that'll really get them, dad. That'll get 'em going. So this was this was a passion project for him. He liked the spotlight. But he also like doing great things for the community. And he loved every one of you guys. He truly did. He loved working with you and all the feedback that you gave him. So I want to thank all of you for making his last years more meaningful than they would have been had he not had such a valid purpose to work for."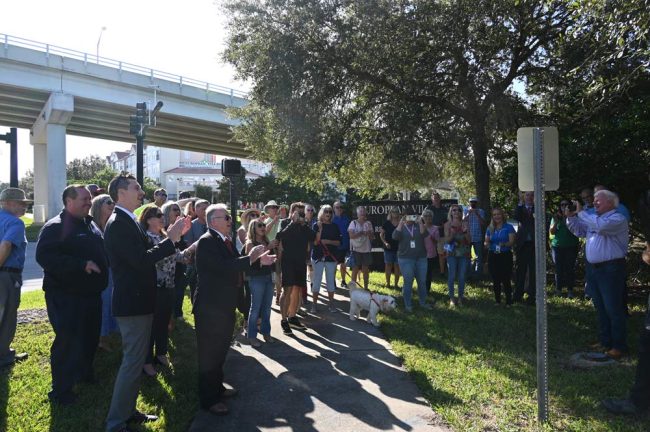 And then everyone trooped off to the sign itself nearby, a sign that had been wrapped for the occasion, of course applauding when an image of a helmeted Krier with his red tricycle appeared framed in blue stars and red borders evoking the patriotic themes he liked so much, with "The Al Krier Trail" in blue letters. But it was Pontieri leading the assembled in a happy birthday song for Krier that the sign, half in the shadow of a tree and half in sunshine, shimmered emblematically.
"This was one of the very first things that I wanted to do when I got on city council and I'm so happy to see it come to fruition," Pontieri said.
Synonymous with Krier was the civility he brought to his activism. Mayor David Alfin described him as "a gentleman in every possible respect, which is a rarer and rarer commodity in today's world." Perhaps the trail might etherealize a bit of that civility between zooming vehicles, bikers and walkers.




"Al Krier was the most gentle, caring, loving, dignified man I've ever met," his friend Ed Fuller said. "He cared about his community. He cared about his family, cared about his friends and he cared about the safety. He always wanted to make our things in our community better. And that's how he lived life. He had a smile on his face. And he always enjoyed life. And he never, never got discouraged. And he loved Palm Coast. He called it home. We certainly miss him today, and this is a wonderful honor that the city and our elected officials are giving him today. Well deserved."

An Al Krier moment at the City Council, August 3, 2021: