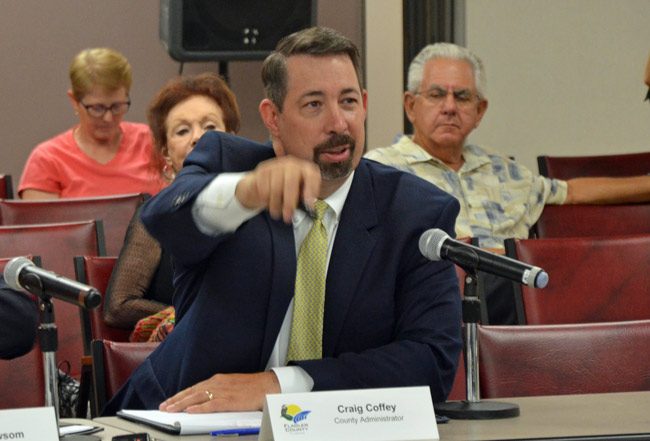 Every county commission meeting starts with a moment of silence. Today's had them at recurring intervals. Commissioners weren't praying, exactly–except perhaps for those facing an election in a few weeks. They just couldn't give their administrator direction on what to cut, how much to cut or even whether to cut a budget to limit a property tax increase.
Taxes are going up regardless. The question was by how much. In the end, and with one exception–Commissioner Don O'Brien alone provided an actual list of proposed cuts–the rest of the commission went with a a tax increase only symbolically smaller than the one County Administrator Craig Coffey had proposed, still without proposing actual cuts. The difference will allow commissioners to say that they put their foot down, but they didn't, really, so much as they made a lot of noise about not wanting to increase taxes and complicating the administrator's ability to manage the books.
Coffey had laid out his and constitutional officers' budget plans over the past few weeks. The budgets combined, including those of the sheriff, the clerk of court and other constitutional officers, call for a $7 million budget increase. More than half would be covered by new tax revenue because of rising values, assuming commissioners did not reduce the tax rate from its current level.
But Coffey was left with a $2 million gap that would require a slight tax increase to cover–the equivalent of $28 for the average-valued homesteaded house in the county (not accounting for the cost of increasing values). Last week commissioners said they didn't want taxes to increase by that 25 cents, but they couldn't come up with cuts. They decided to make their proposals either in conversations with Coffey or by email over the course of the week.
Most of them appear not to have done even that. By the time today's workshop began, Coffey had a bit of good news: valuations are such that revenue will actually be $260,000 higher than projected even last week, so the actual revenue gap was down to $1.84 million, and the needed tax rate increase to cover it would have to be 22 cents. But commissioners were still not comfortable with the figure. And none spoke up with concrete ideas.
Then the moments of silence began.
Like last week, they were more comfortable talking about what Commissioner Greg Hansen termed "imperatives," such as new money for the sheriff to pay the county's share of school resource officers, or raises for employees, or the revenue shortfall to come in 2020 should voters approve an expansion of the homestead exemption this fall, as they are expected to do.
Coffey repeatedly coaxed commissioners back to the proposed budget, urging them to give him direction. "I think we're kind of in a weird year where everything is growing, we have strategic objectives we're trying to accomplish and we're still in a storm phase," Coffey said. "I know several of you are up for election, it's not my desire to bring you a millage increase, but sometimes you have to–this is the best budget I'm going to bring to you short of trimming it. If I get no guidance from the board I will continue to try and shave, I'll continue to try and make the cuts I talked to you about."
It took a while, but finally Sullivan said he wanted Coffey to work with a tax rate increase equivalent to 20 cents per $1,000 in taxable value (or $20 for the year, for a property owner of a house valued at $150,000, with a $50,000 homestead exemption). Hansen and O'Brien said they wanted to stick with the current tax rate of $8.1167 per $1,000 in taxable value, not raise it. That would still, under Florida law, be defined as a tax increase, because property owners' tax bill will increase due to values increasing.
Commissioner Nate McLaughlin didn't give a number: "The conservative says don't raise taxes but the realist says you still got to provide the services," he said, leaning more toward providing services: I'm just feeling this obligation to provide the services to the citizens," he said. Commissioner Charlie Ericksen didn't let on either way. (McLaughlin and Hansen are in the August primary.)
O'Brien then offered the only concrete proposed cuts of the day to keep the tax rate flat–"at that rate we're still spending an additional $4,750,000, which is new revenue coming from assessments and new construction and I think we should live with that"–eliminating what he said added up to almost $1.5 million. Calling himself the "jerk in the room" (to howls from his colleagues, who clearly were appreciative of his willingness to do what they were not), he said he'd eliminate a slew of additional positions, limit salary raises only to cost-of-living, reduce spending on "hardening" in preparation of storms, and eliminate money slated for emergency radio equipment (money the county is required to spend, however).
"My proposal is, keep it at 8.1167, that would be my guidance," Hansen said, echoing O'Brien, but without proposing actual cuts in Coffey's budget.
"I just want to make sure we understand the ramifications of what we're saying," Coffey said, noting that taking that approach would result in employees leaving "in droves" because of absent pay increases, among other issues.
But after more discussion and further moments of silence, Hansen reversed course and joined with Sullivan's proposal, leaving it to Coffey to figure out how to make the numbers work, though that would amount to finding roughly $150,000 to cut. Coffey said that would be manageable. "What Commissioner Sullivan proposed, I can get to without abandoning a lot of your strategic objectives," Coffey said.
That means the current county tax rate of 8.1167 would go up to $8.3167 per $1,000 in taxable value. The tax bill on a $150,000 house would increase from $812 to $832, not including the increase due to appreciating values. (Put it this way: if you have a house valued at $150,000 this year, it will have almost certainly increased in value by at least 3 percent next year, if not double that. But the assessment cap kicks in at 3 percent. So your house would be valued at $154,500, and assessed at $104,500, once the homestead exemption is accounted for. The county tax bill would be $869 compared to $812 today–a difference of $57, assuming the commission stuck to today's proposed tax rate.
From the tenor of the discussion though, and with the possible effects of a greater homestead exemption on the budget starting in 2020, school officials perhaps should be concerned about the commission's commitment to funding the sheriff's budget to the extent that it pays for half the school district's resource officers. "You don't have to do that," Coffey said to commissioners, referring to their role in the sheriff's budget. "Big counties are not doing that." It's entirely the school board's responsibility, he said, essentially describing the county's and sheriff's contribution as entirely discretionary. "There's going to be a time between all the challenges you're facing you're not going to be able to take on someone else's responsibility," Coffey said.
Former Commissioner Alan Peterson was one of two people who addressed the commission at the end of the meeting, in part to offer his sympathies: "I appreciate the struggles you've had, I was one of the county commissioners during the bad years, it's difficult to reduce what you feel you really need," Peterson said. He was concerned about the 5 percent raises proposed in the sheriff's budget as opposed to lesser raises in the rest of the county's budget, saying the differences create morale issues and are at odds with the way raises were offered in the past. But that's not wholly accurate: sheriff's employees' pay is in large part controlled by union contracts, which diverge from contracts elsewhere in county government.
Peterson also said the county should "look hard" at its economic development department, a nearly half-million dollar cost. "I'm beginning to question what we're getting being cost effective," he said of that department.
The commission meets again on July 9, when Coffey is expected to submit a budget based on the new numbers.

The Flagler County Government Budget Numbers