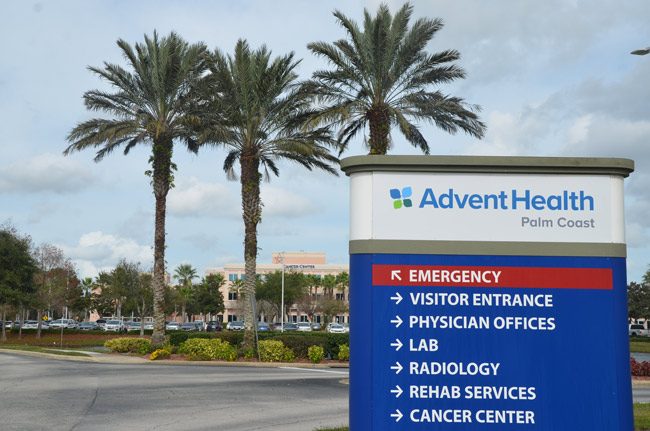 You can see the signs all over what used to be the Florida Hospital Flagler campus: those familiar words that identified the hospital for the decade and a half since it moved from Bunnell in the fall of 2002 are no more. They've been replaced by the hospital's new name: AdventHealth Palm Coast.
Adventist Health System, which runs close to 50 hospitals in nine states, among many other health care facilities, announced its plans to change name last August. But the change didn't take effect until today. At AdventHealth Palm Coast, the old name was removed from the main building's curved facade. The new name isn't up yet, but it's visible at all ground-level signs, whether entering the hospital from State Road 100 or from Town center–or along I-95: Palm Coast city officials received 15 permit applications to enable the change-over.
"Florida Hospital facilities, as well as hundreds of physician practices, urgent-care centers and other medical sites across the country, officially became AdventHealth today as part of a new consumer-centric brand launch," a company release announced. AdventHealth, headquartered in Altamonte Springs, Fla., has some 80,000 employees.
Local health care practitioners, emergency responders, patients and visitors have long referred to Florida Hospital Flagler by its acronym, FHF. The new acronym doesn't roll off the tongue with the same alliterative ease: if it takes, it would be AHPC.
There are 30 AdventHealth hospitals and freestanding emergency departments in Florida, providing advanced health care to residents coast-to-coast. Under one unified brand, consumers can easily identify and navigate the entire system of care.
"This is an historic and transformational time for our organization and the communities we serve. We're building on our rich legacy and stepping into the future with a new name and renewed dedication to caring for the whole person — body, mind and spirit," said Daryl Tol, president and CEO of AdventHealth's Central Florida Division which encompasses 16 hospitals in the six counties in and surrounding metro Orlando: Orange, Seminole, Osceola, Lake, Volusia and Flagler. "We are the only national health-care company based in Florida, and with our hub in Orlando, we will continue to spotlight our world-class physicians, clinical excellence, and growing commitment to research and innovation."
AdventHealth Palm Coast is the county's largest private employer, with some 1,000 employees, and its second-largest employer overall, after the Flagler County school district, which has 1,700 employees. AdventHealth Palm Coast has been growing steadily, adding facilities over the years on Cypress Point Parkway and Palm Coast Parkway, and just a few weeks ago buying a parcel from county government at Matanzas Woods Parkway, near the interstate, where the hospital will build a free-standing emergency room.
"This is an exciting time as we elevate our ability to connect communities with our expanded network of care," said Mike Schultz, president and CEO of AdventHealth West Florida Division which includes Hardee, Hernando, Hillsborough, Highlands, Marion, Pasco, Polk and Sumter counties. "This name change reinforces our commitment to provide a viable, affordable health care system and to continue our unique brand of inspired, compassionate whole-person care through clinical expertise and leading-edge innovation."
Throughout the year, AdventHealth will launch new programs and initiatives as part of its commitment to whole-person health, clinical excellence and making health care easier for consumers to navigate. Those initiatives include a new app for patients to manage their health, records and medical needs; a wholeness screening tool in physician practices; and the Center for Genomic Health in Orlando.