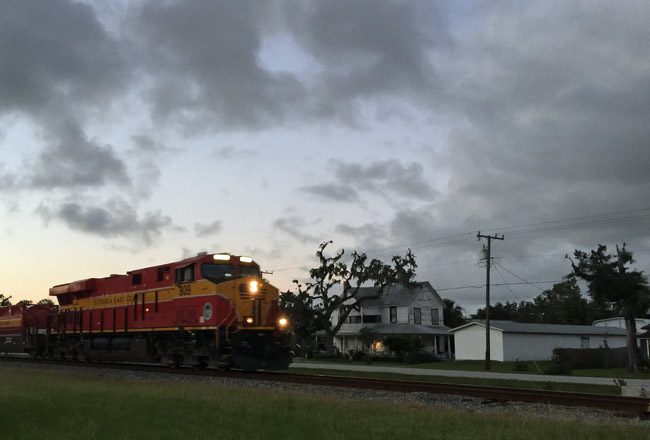 By Nancy Smith
Maybe now — four deaths later — state and federal officials can stop looking at opposition to All Aboard Florida/Brightline's high-speed rail service as the product of a few sour Treasure Coast residents trying to hold back progress.
The passenger service is literally only a week into Phase 1, making runs between Fort Lauderdale and West Palm Beach and it's awash in tragedies.
For a moment can we please put the brakes on our plunge toward Phase 2 long enough to make sure this venture is going to be as safe as it possibly can be? Can we get serious about the rail-safety bills fighting to survive committees in both chambers this session?
Look at the facts: Between 2011 and 2017, data collected by the U.S. Department of Transportation and the Federal Rail Administration show there were a total of 105 deaths on more than 350 miles of Florida East Coast Railway tracks. With the AAF/Brightline deaths, that number is now at least 109.
House Speaker Richard Corcoran seems to get it. Corcoran, R-Land O' Lakes, was cautious, but Thursday he told the News Service of Florida HB 525 — Reps. Erin Grall, R-Vero Beach, and Tequesta Republican Mary Lynn Magar's proposal that the railroad pay for the cost of maintenance upgrades — will "have movement" this year. That's encouraging. In 2017 the bill never got a hearing.
"It's important, and we'll keep following it and looking at it," Corcoran said.
In the Senate a similar bill, Rockledge Republican Debbie Mayfield's High Speed Passenger Rail Safety bill (SB 572) would require protections be put in place to prevent more accidents. It also would ensure that affected counties would not be held responsible for the costs of the safety upgrades.
Safety concerns haven't escaped Congressman Brian Mast and U.S. Sens. Bill Nelson and Marco Rubio, either.
In fact, after the death of a second Boynton Beach resident in a week on the tracks in Boynton Beach, Rubio fired off a letter Thursday to Elaine Chao, secretary of the U.S. Department of Transportation asking her Department to "assess safety measures with Brightline, while coordinating with local officials and members of the community to prevent future tragedies from occurring."
It's a perfectly reasonable request. Remember, Brightline's next phase will add 32 trains a day, top speed 125 mph, through the heavily populated Florida East Coast rail corridor, traveling from West Palm Beach to Orlando.
Rubio is asking Chao to answer these questions:
"How does the Department intend to ensure that the Florida Department of Transportation, its local partners and Florida East Coast Railway safeguard pedestrians at Brightline rail crossings?
"What initiatives can be implemented to educate the general public on the dangers of railroad crossings?
"How can the Department work with private entities and state and local governments to address at-grade crossings across the federal East Coast Railway in order to meet or exceed safety standards?
"Can you commit to working with concerned local government officials to ensure their safety concerns are addressed?"
(See Rubio's full letter by clicking here.)
Treasure Coast residents have good reason to want answers to Rubio's questions. There are approximately 350 at-grade crossings in there.
Nor do residents forget December 2017, when an Amtrak train making its inaugural trip in Washington State derailed, killing at least three and injuring about 100. Speed was a factor, perhaps the most important factor — and that, say Treasure Coast officials, is why the Brightline high-speed passenger trains should give pause in Florida.
Sen. Nelson, meanwhile, wrote his own Jan. 17 letter to Chao, demanding greater attention to solutions for improving safety at crossings.
"The Rail Safety Improvement Act of 2008 required the top 10 states with the highest number of highway-rail grade crossing collisions, including Florida, to submit plans that identified specific solutions for improving safety at crossings," he wrote. "In that plan, Florida identified that Palm Beach County, where these (Brightline deaths at crossings) occurred, was one of the highest counties for such incidents." He said DOT was also required to update action plans and Congress provided funding to states to address grade crossing safety.
So, what's happening?
A clearly angry Rep. Mast, whose congressional district includes a large part of the Treasure Coast, wrote a Jan. 18 letter to Rep. Bill Shuster, chairman of the House Committee on Transportation & Infrastructure and Jeff Denham, chairman of the Subcommittee on Railroads, Pipelines & Hazardous Materials, about the deaths in which Brightline trains already have been involved:
"These tragic deaths exemplify the concerns I have with the safety of this project, and I urge the Committee to hold a hearing to examine these incidents and the safety of AAF/Brightline, including its many at-grade crossings."
Continued Mast, "AAF/Brightline currently has two Private Activity Bond (PAB) allocations from the Department of Transportation (DOT) — $600 million for Phase I and $1.15 billion for Phase II (West Palm Beach to Orlando, the phase of the project that would run directly through my congressional district without stopping).
"Before one penny of government subsidized funding is spent on this project, I believe the DOT and our Committee must thoroughly investigate the safety issues related to AAF/Brightline."
Sadly, despite a news conference full of pomp and circumstance in Boca Raton Friday to address safety questions, Brightline offered no plans to do much more than educate the public.
"We ask ourselves every day if there's any way to make our railroad safer," railroad President Patrick Goodard told the press. "What we know is, education works."
Brightline has maintained that its systems "functioned as intended." Which sounds like code for "end of conversation."
Are state lawmakers, charged with the well-being of 20 million Floridians, happy with this response?
Move the rail safety bills forward.


Nancy Smith is the editor of Sunshine State News. She started her career at the Daily Mirror and The Observer in London before spending 28 years at The Stuart News/Port St. Lucie News as managing editor and associate editor. She was president of the Florida Society of Newspaper Editors in the mid-1990s. Reach her by email here, or follow her on twitter at @NancyLBSmith.